Managed File Transfer for the Enterprise
EFT™ from Globalscape® is an advanced, powerful managed file transfer (MFT) solution that replaces insecure legacy FTP servers, inflexible and haphazard home-grown file transfer systems, slow physical shipment of data, and expensive leased lines and VANs.
Merge or Replace Legacy File Transfer Systems
Managing multiple systems costs a lot of time and money. EFT is a full-service MFT solution that replaces inefficient, outdated, and insecure file transfer and data management systems. EFT provides secure file sharing and mobile access solutions to give flexibility to employees, customers, and partners—and gives you control of data security.
Track File Movement from Beginning to End
Enterprise data management is not just about security. By understanding how data moves around in your organization, you can identify issues with your file transfer processes and make your business more efficient. Our Enhanced File Transfer™ (EFT™) is designed to give you unparalleled visibility across every aspect of managed file transfer, with a real-time status viewer and a reporting module that combines granular detail with remarkable ease of use.
Scale Your Managed File Transfer Solution as Your Business Grows
Adapt to increasing business demands with a scalable managed file transfer solution. From small businesses to large corporations, there is an Enhanced File Transfer™ (EFT™) configuration perfect for you. EFT has basic capabilities perfect for the small business owner who needs enterprise file transfer software, and, for the large enterprise, EFT has military-grade security along with amazing load capacity and high availability. No matter which version you start with, you can customize your solution with our modules to provide protection for PCI DSS, process files thorough antivirus and data loss prevention tools, auditing and reporting, and more.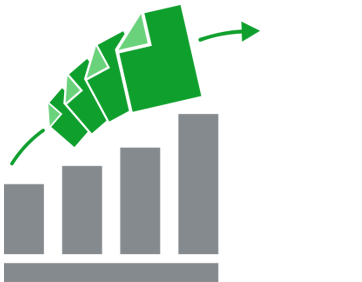 Automate Workflows and Integrate Systems
With file transfer software at the center of so many business-critical processes, security is only the first aspect of a much greater IT concern. When information consumers in your organization rely on manual and intermittent batch processes to deliver the data they need, day-to-day productivity becomes dangerously vulnerable to manpower limitations, vacations, turn-over, and simple human error. Globalscape's secure file transfer solutions offer workflow management capabilities that ease the burden on your team, enabling IT to focus on high priority initiatives rather than daily maintenance.
Meet Compliance Mandates for Managed File Transfer Systems
Our Enhanced File Transfer™ (EFT™) software ensures the highest levels of compliance with government and corporate security policies and privacy regulations, such as PCI DSS, FIPS-140-2, HIPAA, and SOX. Globalscape's flexible platform allows you to customize an MFT solution with modules that meet your specific requirements. Whether your business is obligated to comply or you simply desire the utmost in security standards, EFT can help you secure data transfers, access, and storage.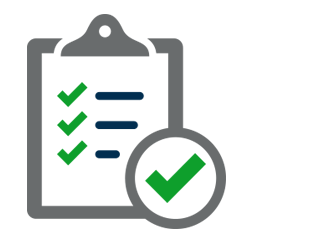 Secure Your File Transfers
Our Enhanced File Transfer™ (EFT™) software enables your organization to securely manage file transfers among worldwide offices, clients, and partners using industry-standard Internet protocols such as HTTP, HTTPS, FTP, FTPS, SFTP, and AS2. EFT is the managed file transfer solution used and trusted by the U.S. Army, Fortune 100 companies, and small to large businesses around the world. With the EFT modular structure, you purchase just the functionality you need, making secure file transfer scalable and affordable.
Securely Access Your Data on any Device Without the Cloud
You don't have to be forced to use a cloud-based file storage solution. Our MFT software lets businesses retain control over their information while giving employees and partners the flexibility to access the information they need, when and where they need it. Businesses benefit from having a centralized location for secure file access on EFT, without needing to upload/sync files with cloud servers or pay for additional cloud storage.
Compare Editions
EFT is offered in six different bundles or "tiers," as described below. The tiers are organized to meet the needs of small, medium, and enterprise businesses. You are not locked in to these specific groupings. For example, if SMB Tier 2 would meet all of your needs, but you also need a secure proxy server in the DMZ, you can add DMZ Gateway. Anything marked "Optional" in the table is available to add to your bundle.
Features
EFT SMB
EFT Enterprise
Tier 1
Tier 2
Tier 3
Tier 1
Tier 2
Tier 3
Core Server Features
FTP Core Server
SSL/TLS & Certificate Management
Authenticate users against internal or external data sources
Active Directory authentication including user impersonation
Resource & access controls (disk quota, mac connections, etc.)
Secure remote administration of settings & users
Execute a process or send an email based on the triggering of an event
Future proof: IPv6 and Windows Server 2012 Gold Certified
Security policies and controls
Run on virtual machines (VMware, Hyper-V, XenServer, etc.)
LDAP Authentication integration
Delegated administration to limit admin control
Backup and restore configurations easily with a single click
SFTP Module
SFTP transfers
SSH Key-based Authentication
High Security Module (HSM)
Active monitoring and alerting of PCI DSS violations
Run PCI DSS compliance reports
FIPS Compliant Libraries
Advanced security including data sanitization (wiping) and idle account cleanup
Basic HTTP/HTTPS Module
HTTP/S transfers
Mobile Friendly Web interface
Use Web Services (WS) calls to invoke workflows
Web Transfer Client (WTC)
Number of Licenses Included
500
500
500
5000
Unlimited
File Transfer integrity Checks
Session Transfer Queue
Resume, Stop, Start Transfers
Drag and Drop interface
Workspaces Module
Number of Licenses Included
25
50
100
Ability to share EFT folders with colleagues or external partners easily via browser and EFT Outlook Add-In
Mobile Transfer Client (MTC)
Number of Licenses Included
99
249
99
249
499
Android and iOS Mobile Apps allows for data synchronization
Mail Express®
Ad hoc, person-to-person file transfer
OpenPGP Module
Encrypt, decrypt, and sign data with OpenPGP
DMZ Gateway®
Add an additional security layer by using a reverse and forward proxy
Single
Site
Multi
Site
Multi
Site
Business Activity Monitoring (BAM)
Business Activity monitoring dashboard and analytics
Business Activity Portal for external partners and users
Audit & Reporting Module (ARM)
Audit to SQL Server and run reports
Audit to Oracle instead of SQL Server
Content Integrity Control (CIC) Module
Integration with Antivirus (AV) and Data Loss Prevention (DLP) using ICAP
AS2 Protocol Module
Send and receive EDI documents using the Drummond certified AS2 protocol
Automation
Schedule automated workflows on a recurring basis (Timer module in SMB)
Copy/Move files (File Transfer Client module for SMB)
Download/Upload files (File transfer Client module for SMB)
Monitor folders cleanup of target folders (Folder Monitor module for SMB)
Monitor inbound and outbound file transfers in real time
Data retention/cleanup policies for targeted folders
Advanced Workflow Engine (AWE)
Build advanced workflows and pick from over 200 automation actions,
including XML/CSV parsing, database connectivity, SNMP, web services, etc.
Accelerate Module
The Accelerate module for EFT Enterprise enables high-speed transfers
over high latency networks using a patented technology over UDP.
Advanced Authentication Module
Two-Factor authentication (RADIUS, RSA SecurID)
CAC authentication
SMS authentication
SAML (Web SSO) authentication