Retain all the detail, and crystal-clear resolution that you capture on your 4K action camera when you import, edit and produce.
End-to-End 360 Video Editing
Now you can edit your 360° action videos and upload them directly to Facebook and YouTube for your friends and followers to enjoy! Trim, add titles, effects and transitions, and switch between viewing modes to get accurate visualizations of how footage will appear.
Action Audio
Plug in any audio track to complete your action video story. Simple tools let you to fade it in, balance it out and mould it to complete your movie.
QUICK

No tedious conversions. No complex tools. It's all action!
No Annoying Format Conversions
ActionDirector is optimized to deliver pixel-perfect editing for the widest range of popular video formats available. While lesser video software converts all your action camera files, ActionDirector has no proprietary formats so there's no waiting around . Simply import the footage from your action camera in whatever format it's been captured and you're ready to go.
Instant Action Movies
ActionDirector's powerful theme-based movie maker is the answer to turning folders of action footage into highlight-filled action clips perfect for sharing.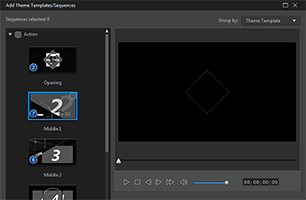 Step 1
Select from a broad range of ready-made action templates.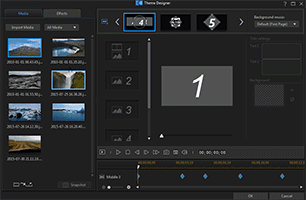 Step 2
Drag and drop your videos and photos into the positions indicated.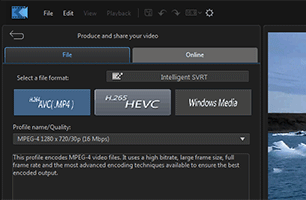 Step 3
Produce your video and share it instantly with friends and family.
Drag 'n' Drop Storyboard Creation
Storyboard movie making is a flexible, quick and very intuitive alternative to timeline editing. Reordering and rearranging of the clips is easily achieved by simple drag 'n' drop. See any added video effects or transitions, and view the entire movie sequence of scenes at once.
EASY

One click enhancements. Step-by-step guides to instant movies
One-click Corrections
Take care of common action video issues with just the click of a button. See it in action with these quick videos.
Lens Correction
Color & White Balance
Video Stability
Clean and Clever Workspace
ActionDirector works hard to keep things simple with an elegantly simple design. All modules contain refined controls designed to guide users through the production of their action showpiece.
All-in-one Action
Find the features you want to use without having to delve through layer upon layer of menu options. ActionDirector groups together all the features you want in one intuitive interface.