Altaro VM Backup is a fast, affordable, high performance backup solution, specially developed for small and mid-market businesses. We've cut the waste and hassle to give you an agile, streamlined solution that is easy to implement, feature-rich, with outstanding support as part of the package.

Up and running quickly, without the need for complex configurations!
With Altaro VM Backup, you can install and run your first virtual machine (VM) backup in less than 15 minutes. Get up and running quickly, without the need for complex configurations or software dependencies.
Altaro VM Backup is designed to give you the power you need, without the hassle and steep learning curve.
Easy to use, intuitive UI - making it easy to implement a rock solid backup strategy
Managing and configuring backup/restore jobs across multiple hosts has never been simpler
Full control & scalability – Monitor and manage all your Hyper-V and VMware hosts from a single console
Altaro Gets you Up and Running in less than 15 minutes!
Powerful and fast centralised full control & scalability
Powerful functionality, easy to use - Offsite backup replication (with WAN acceleration), granular restore options for individual files and Exchange items, automated backup verification, and more!
Flexibility without the complexities – Simply drag and drop selected VMs to your chosen backup schedules and retention policies
Cloud Management Console – Ground-breaking cloud based tool to centrally monitor and manage all your Altaro VM Backup installations from a single online console.
Best deduplication in the industry - Augmented Inline Deduplication
Altaro VM Backup with Augmented Inline Deduplication drastically reduces your storage requirements for your backup repository. When compared to other vendors, it is the best deduplication in the industry creating the smallest backup size. Our deduplication runs across all backup jobs, you don't need to group virtual machines together (no use of post processing). Requiring the least amount of backup space is only one of the benefits; Augmented Inline Deduplication also improves backup and restore speed.
Much lower storage requirements. When compared to other vendors Altaro creates the smallest backup size!
Faster backup and restore speed (less data to transfer)
Savings on storage requirements continue to improve as more VM backups are added
Augmented Inline Deduplication doesn't tax server performance
Best deduplication in the industry not only for creating the smallest backup size but uses Variable Block Size for best efficiency.
Outstanding Support available as part of the package. No hidden costs.
No matter how good a solution is, every environment is unique and unexpected issues do happen. If something goes wrong, you need to be able to rely on fast, knowledgeable and effective support. Altaro's Support team are experts on Hyper-V and VMware and go the extra mile for you.
Available by phone (in less than a minute), email (a reply within the hour) and live chat (almost instantly)
Get solutions quickly, from an actual person rather than receiving a canned response
Speak directly to a product expert – No tier 1 agents or 'Gatekeepers'.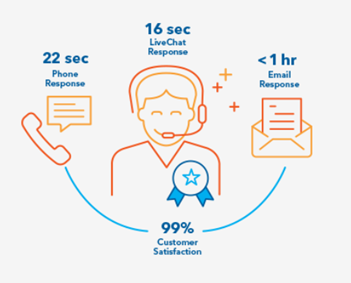 Backup and replication you can bank on
Protecting your data should be easy, yet flexible and powerful enough to meet your disaster recovery needs. Altaro VM Backup features include:
Drastically reduce backup storage requirements on both local and offsite locations, and therefore significantly speed up backups with Altaro's unique Augmented Inline Deduplication process
Concurrency - Run more efficient backup operations, by allowing more VMs to be backed up at the same time, allowing you to drastically reduce your defined backup window.
Back up live VMs by leveraging Microsoft VSS with Zero downtime
Full support for Cluster Shared Volumes & VMware vCenter
Offsite Backup Replication for disaster recovery protection
Compression and military grade Encryption
Schedule backups the way you want them
Specify backup retention policies for individual VMs
Back up VMs to multiple backup locations
Cloud Backup to Azure - Backup to an Azure Block Blob storage account, the most cost-effective Azure storage option.
Fast, reliable restores and recovery
Great backup is meaningless without the speed, flexibility and reliability to get back up and running when your organization's data is on the line. Altaro VM Backup offers you a host of tools to recover what you need, FAST.
Instantly boot any VM version from the backup location without affecting backup integrity
Ensure you always have healthy backups with Altaro's unique Backup Health Monitor, which proactively monitors the health of your backup storage, and should any corruption be detected, the block(s) in question will be repaired automatically as part of the next backup job
Browse through your Exchange VM backup's file system and restore individual emails
Granular Restore Options for full VM or individual files or emails
Retrieve individual files directly from your VM backups with a few clicks
Fast OnePass Restores
Restore an individual or a group of VMs to a different host
Restore from multiple points in time rather than just 'the most recent backup'
Restore Clones
Full control over your backups – A single pane of glass
Being able to execute quickly and easily, having complete control over backup/restore jobs is crucial. Altaro VM Backup provides you with quick access to all hosts in your environment.
Intuitive user interface makes it easy to configure and run backup/restore jobs
Management console - Easily control, configure and monitor jobs for all of your Hyper-V and VMware guest VMs across all hosts, through a single pane of glass.
RESTful API for advanced automation and reporting functionality.
Remotely manage and configure all of your backup/restore jobs.
Queue up backup/restore jobs and move on to the next item on your list
Run multiple backup/restore jobs simultaneously across your hosts
Easily test the integrity of your backups for peace of mind
All features in Altaro VM Backup are available for both Hyper-V and VMware
Exchange and SQL support
Back up Exchange Server and SQL VMs or other applications compatible with Microsoft's VSS Writer.
Linux VM support
Back up file consistent Linux VMs without shutting down the machine.
Flexible Backup Destinations
Save Backups to a local drive or UNC share. Save Offsite copies to local drive, UNC share, to single or multiple locations (swapped) or offsite (WAN) Altaro Backup Server.
Supported Backup Media
USB External Drives and Flash Drives eSata External Drives
File Server Network Shares (via UNC)
NAS devices (via UNC)
Internal Hard Drives (recommended only for evaluation purposes)
RDX Cartridges
Offsite Altaro Backup Server via Internet / WAN