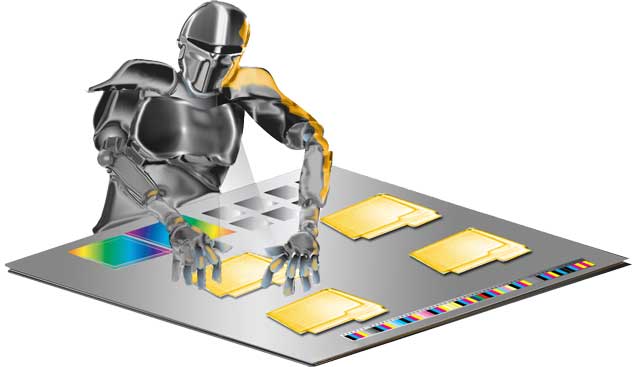 QUITE HOT IMPOSING
Automate with Hot Folders or Command Line
We are always working to create innovative solutions to solve your PDF printing problems. We listened to what you had to say and we are happy to announce the release of QUITE HOT IMPOSING 4.
Latest release: 4.0a (24 August 2016)
Some of the Key Features
NEW! Streamlined design

NEW! Stick on Text and Numbers in your choice of embedded fonts, colours and rotation.

NEW! Stick On PDF Pages function to stick on PDF pages (graphics, adverts, stamps, marks etc.)

NEW! Insert pages or blanks at intervals, for example to add fixed backs. Can be used to merge files.

NEW! Manual imposition can repeat a layout to a large number of pages, and can automatically position pages as fronts/backs. Also smart crop marks which will not overlap.

Tile (Split) pages

Easily duplicate pages

Scale pages equally or anamorphically

Mirror alignment on back of sheets

Add variable data on pages or sheets

Fix orientation – quickly deal with a document that has a mixture of tall and wide

Set up more complex automated sequences

Watched folder and command line. Suitable for server use (single location, not internet)

Work with PDF/X-4 and PDF/X-5 files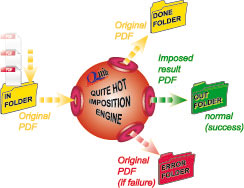 If you impose, and you want a way to automate your workflow and improve productivity and profits then you need Quite Hot Imposing.
Automate your Workflow
XML is rapidly gaining acceptance as a way of transferring information between programs, so it was a natural choice for us in describing imposition tasks. So we will encourage OEMs, integrators and workflow vendors to create customized workflows using its Hot folder or Command-Line (XML) tools.
If you are using Quite Imposing Plus, it makes an XML for every imposition you create, so you already have XML available for Quite Hot Imposing.
Our customers have used the Quite Hot Imposing command line to integrate with industry standard workflow products including
Enfocus Switch

Solimar

Xerox FreeFlow
There is direct support for integrating Quite Hot Imposing with the Switch range of workflow automation products from Enfocus as per the example below.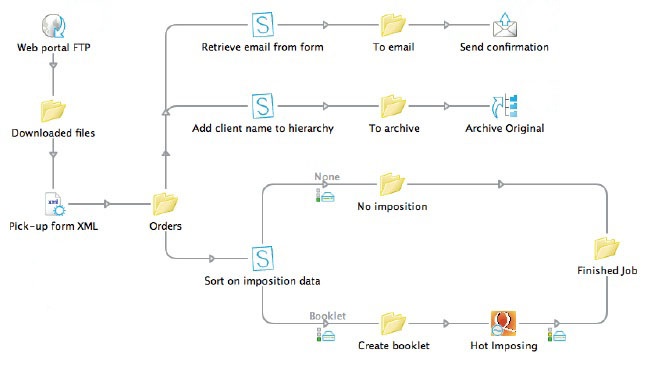 The XML metadata is used to determine how a file should be imposed. You create the imposition layout, then export the settings for use with the Quite Hot Imposing configurator in Switch.