Tailor-made for your business.
Introducing QuickBooks Desktop Premier 2017.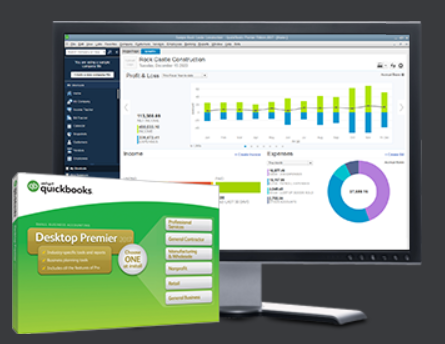 QuickBooks Desktop pricing options.
Both with a 60-day money-back guarantee.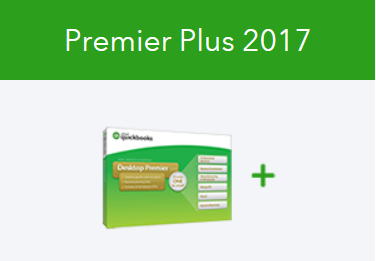 Annual subscription
Support
Data backups
Upgrades
60-day money-back guarantee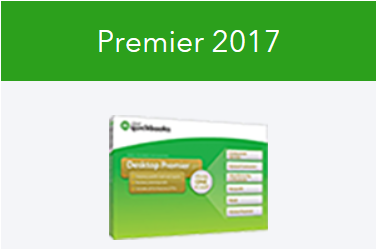 One-time payment
60-day money-back guarantee
Invest in your business.
Skip the high cost networking with QuickBooks Plus Hosting Service powered by Right Networks.
Reliable
Bank-level security11 and ongoing IT maintenance keep your business running smoothly.
Flexible
Scale up or down, add users and access from multiple locations.
Ready
No new training required—just upload your data and go.
Organize your business finances easily.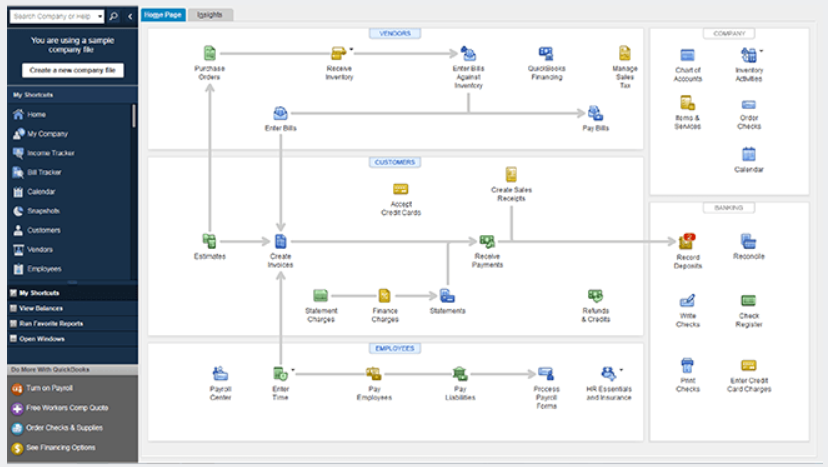 Premier has everything in Pro plus industry-specific features to run your business better.
Welcome to 2017
Easier than ever to run your business.
Automated Reports
Always know that your reports are on time and accurate based on the data provided, automatically generated and emailed to fit your schedule.1
Smart Search
Searching for stored names, account numbers, and transaction amounts is made quicker with a personalized autocomplete feature.
Bill Tracker
A favorite from 2016—see the status of your created bills, print or close purchase orders, and more, making it easier than ever to manage payables.
Report Filters
Apply the same data filters to several reports, then view it all at once on screen so you can easily see what you're looking for.
Do tasks unique to your industry quickly.
General Business

Easily manage inventory items
Quickly locate items and complete inventory related tasks all in one place using the Inventory Center in QuickBooks.
Track your balance sheet by class
Use this built-in, easy-to-access report to track financial data separately by location, department, or profit center.

Bill clients progressively by job phase
Track and bill clients by time and material, job phase, or percentage completion, whatever works best for your unique business.
General Contractor
Create 'Jobs by Vendor' report
Organize your job costs by vendor, and see which vendors still need to be paid.

Create job estimates and track change orders
As a job changes simply enter change orders into the estimate to keep track of the changes and their impact on your bottom line.

Analyze job profitability
Customized job cost reports allow you to see a job's profitability on a detailed, task-by-task level.
Manufacturing & Wholesale

Track inventory reorder point by vendor
Track inventory and set optimal inventory levels. Run a report showing items that need reordering.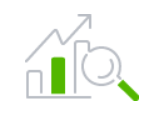 Track profitability by product
Keep track of your biggest moneymakers so you'll know which products to promote and keep in stock, and which to drop from your line.

Easily prioritize which orders to fulfill
See all open sales orders and prioritize them how you want. Instantly see which orders can be shipped and which can't.
Nonprofit

Create end-of-year donation statements
See who your biggest donors are and track their contributions.
Create Form 990 (Statement of Functional Expenses)
Identify your expenses for presentation to your board, major donors, and the IRS.
Run donor contribution summary reports
Track each donor's contribution total as needed.
See all features and what's new in the latest version.
New! Automated reports let you know that your reports are on time and accurate based on the data provided, automatically generated and emailed to you when you schedule them.

Improved! Smart search is a personalized autocomplete feature that helps you search for names, account numbers, and transaction amounts quickly.

New! Reports filters are now easily viewable and can be applied across multiple reports and viewed on one screen.

Bill Tracker lets you see the status of your bills, print or close purchase orders, and more, making it easier than ever to manage payables.

Manage forms in a single step—unclutter your "send forms" queue in a single click.

Advanced reporting features include a "this year to last month" filter.

Get the full picture of your business performance -- see your profit and loss, income and expenses, and top customers instantly on the new Homepage Insights.

Find all reminders and notifications in one single window - overdue items, to-do tasks, system notifications, and notes from accountants.

View and pin important notes about customers, vendors, and employees.

View shipping rates, print labels and track packages through UPS, FedEx or USPS.

Add multiple attachments, customize email templates to include customer or job info, and see prior email conversations with powerful email capabilities.

See all your income-producing transactions in one spot, including overdue invoices so you can remind customers to pay up with new Income Tracker.

Pull in all your banking transactions from multiple banks and accounts so you can view and categorize them for tax time

Track bounced checks, see key reports in just one click, and other improvements our customers asked us for.

Complete everyday tasks faster with simplified customer forms.

Keep Customer, Vendor and Employee contact information at your finger tips.

Easier access to data and transactions with simplified navigation.

Invoice multiple customers for time and expenses in one batch.

See your invoices, billing, and other important tasks in a Calendar View.

Access your inventory items all in one place with the Inventory Center.

Attach and store documents in the Document Center

Access industry-specific report templates created by otherQuickBooks Premier users.

See all your key customer information at a glance with the Customer Snapshot.

Set up Memorized Transactions for recurring billing, invoices, and estimates.

Save your worksheet formatting when you export QuickBooks reports to Excel3.

Create professional looking invoices and forms.

Track sales, sales taxes, and customer payments.

Send invoices and estimates right from your business Yahoo!, Gmail, or Hotmail account.

Create and print deposit slips.

Easily print checks, pay bills, and track expenses

Get a real-time view of your business with Company Snapshot.

Get insights to make better business decisions with the Report Center.

Import your contacts from Excel or other email address books4

Allow up to 5 users to work in QuickBooks at the same time.

Set individual user permissions to control access to sensitive information.

Create a copy of your company file for your accountant.

Track your balance sheet by class such as a location, department, or profit center.

Import data from Excel, Quicken, and prior QuickBooks versions.

Download bank and credit card transactions directly into QuickBooks

Track your balance sheet by class such as a location, department, or profit center.

View customized sales and profitability reports.

Run 'Cost to Complete Job' report.

Track time and expenses by employee, project, client, or service.

Bill clients progressively by job phase.

Document and track change orders.

Pay W-2 employees and file payroll taxes

Accept credit card payments in QuickBooks or on a mobile device
Technical Specifications
•Windows 7 SP1, 8.1 Update 1, or Windows 10 (all 32-bit & 64-bit)
•2.5 GB disk space recommended (additional space required for data files)
•Windows Server 2008 R2 SP1, 2012 R2
•2.4 GHz processor
•4 GB of RAM (8 GB recommended)
•4x DVD-ROM drive
•Payroll and online features require Internet access (1 Mbps recommended speed)
•Product registration required
•Optimized for 1280x1024 screen resolution or higher. Supports up to 2 extended monitors. Optimized for Default DPI settings.