Take Control of Your File Data Management with Quotas and Blocking
In the early days of unstructured file data management, it became clear that users who were given unlimited storage space would save everything ― even personal files that had no business relevance. To solve this challenge, disk quotas were incorporated to manage the explosive growth of data storage files. But are your file data management challenges really solved?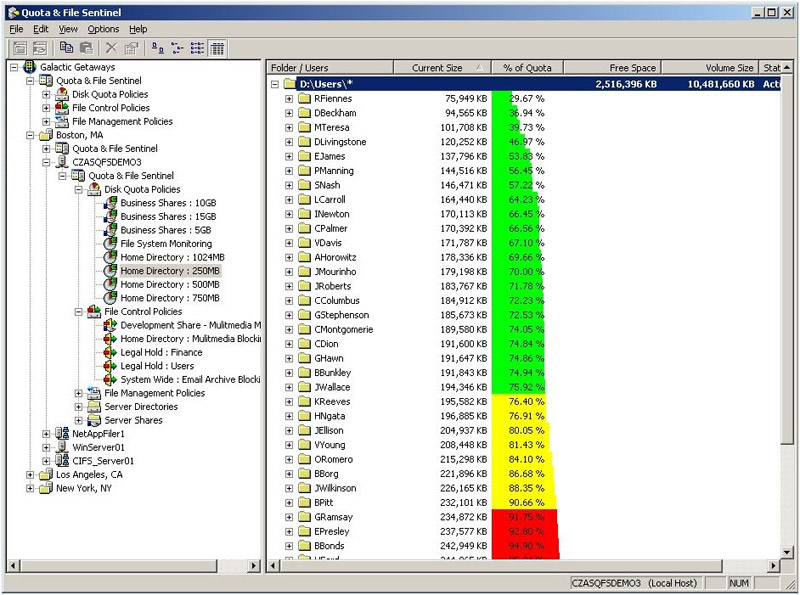 Do native file data management solutions give you the power to take control of your storage? Can they help you leverage quotas and blocking to reduce costs?
Why integrate quotas and blocking into your file data management?
Unlike alternative software solutions, the QFS file data management system lets you customize your policies to meet the specific needs of your individual users. Just as your accounting and marketing departments have different responsibilities, they also have different storage requirements. QFS lets you preset and configure your file blocking and quota policies to meet their unique needs at both the share and directory levels. File management blocking is done automatically to reduce your storage consumption.
NTP Software's QFS gives you the power to:
Optimize the End User Infrastructure (EUSI)
Manage Disk Quota Policies to limit user consumption
Reduce your risk and storage growth with advanced File Blocking
Apply NetApp Quotas, Celerra Quotas, VNX Quotas, HNAS Quotas, and other solutions
Provide tools for users to understand and purge unnecessary data
Work seamlessly with other tiering and stubbing-based models
How is NTP Software's approach to file data management and quotas different? We are focused on solutions that make a difference to your data storage, and your budget. Our patented software solutions are designed to support multiple data centers and thousands of users. And unlike other vendors, we are committed to open solutions without a vendor lock in ― that's the NTP Software advantage. Take control of your file data management with NTP Software's QFS.

Control
Get the complete control you require for your growing data and storage needs.
Multi-platform
Enterprise-wide data management, regardless of storage type or platform.

Engage end users
Get your end users to comply with data use policies by getting them involved.
Savings
Junk data clutters disk while offering no business value. Don't pay to store it.
Integrated
Save time and environment through a single interface.

Availability
Ensure storage is available for everyone and completely control all aspects of its use.