Powerful Data Analysis Software for Flexible Reporting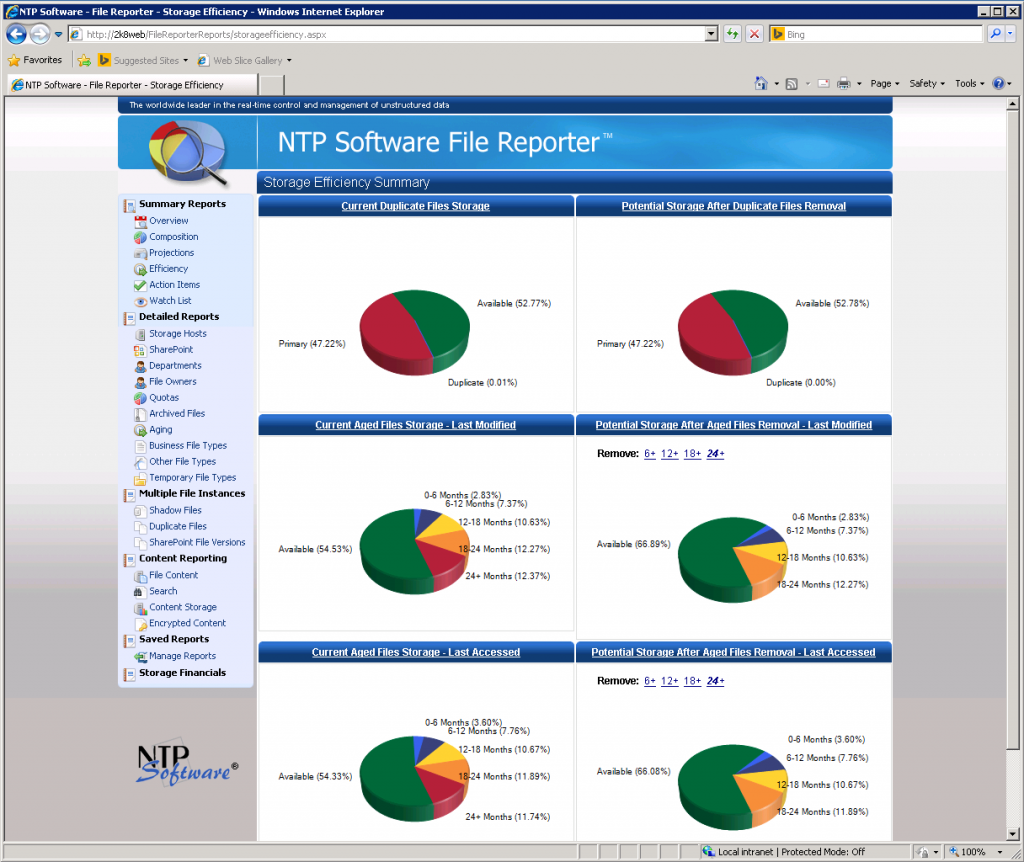 With NTP Software's File Reporter, there's no need to guess about your future storage needs. Instead, you'll have the hard numbers you need to set clear specifications and unstructured file data management policies for your storage environment.
Why NTP Software's File Reporter?
File Reporter delivers powerful and flexible unstructured file data analysis software with a robust reporting solution already built-in. File data reports are in-depth and easy-to-read so that you can hone in on the important trends and events. Instead of waiting until you reach storage capacity, you can plan in advance so that future needs are already met. This software solution also helps you correctly report on all stub types to enhance storage efficiency.
How does File Reporter do this?
It's actually quite simple. Through granular and flexible reporting, File Reporter gives you the details you need to make profitable decisions about your unstructured file data management strategy. The software assists with file data quota management, file blocking, file tiering, and even helps you understand when you might need to add additional storage. With File Reporter, you'll gain keen insights into the composition of your unstructured file data that range from trends to costs to possible risks.
And it doesn't end there. In the changing world of technology, it can be difficult to predict the future. What would happen if a new solution for looking at old file data suddenly emerged? With NTP Software's File Reporter, you'd be able to quickly adapt by creating customized reports to leverage new opportunities right away.
What could you do with that kind of power?
Look to NTP Software's File Reporter to:
Identify problem areas to address immediately
Accurately plan and budget based on real numbers and trends
Deliver correct reports on all stub types
Spot patterns across platforms and data storage types
Understand allocation costs and generate bills, so you can create financial models to control storage growth
Every business decision is guided by the numbers. From new product development to next year's sales forecast, you depend on the numbers to give you the insight you need for solid decision making. And the numbers you have — or don't have — can be the difference between failure and success. It's no different with file data analysis software. Understand, manage and control your unstructured file data with File Reporter data analysis software.
Features
What's in your storage
5 Terabytes can easily contain 100 million files. How are you keeping track of them all?

When will you need more?
See the trends in your environment before your eyes, and never get caught off guard.
Are you prepared?
Know when your storage needs will change and be ready for it.