The modern tool for importing Adobe's IDML documents into QuarkXPress.
IDML Import is an XTension for QuarkXPress 2016 and 2015 that allows you to easily import IDML files created with Adobe InDesign into QuarkXPress. In just seconds, IDML Import will build all document pages and spreads, import colors, master pages, style sheets and layers, create all text boxes, picture boxes, vector shapes, tables, frames and groups, format text stories, and import all graphics.
And since IDML files are supported starting with version CS4 of Adobe InDesign, you can import any IDML file created with InDesign CS4, CS5, CS6, CC 2014, CC 2015 and CC 2017.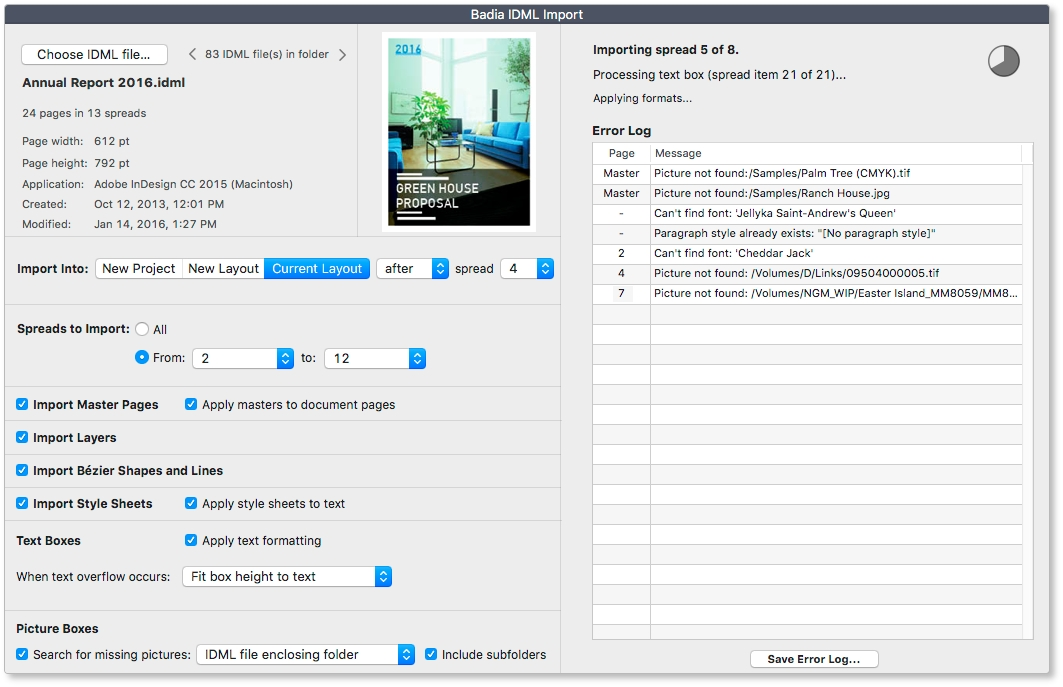 IDML Import retains the look and feel of the original InDesign
Although IDML Import is not a conversion tool, it does a great job of retaining the layout and styles of the original InDesign file. It replicates page dimensions and margins, pages per spread, master pages, item coordinates, rotations and skews, layering and stack ordering, text formatting and styles, tabs and rules, frames, backgrounds, tables, colors and blends.
Here's an example of a document as seen in InDesign and after importing the IDML file into QuarkXPress using IDML Import:

Importing text attributes and style sheets.
IDML Import imports all standard text and paragraph attributes, including tab stops and paragraph rules.
It will also import and apply character and paragraph style sheets for you, as well as link (thread) text stories spanning across text boxes.
A handy tool of IDML Import automatically expands text boxes to fit the text within, changing the height or width of the text box, or resizes the text until it fits.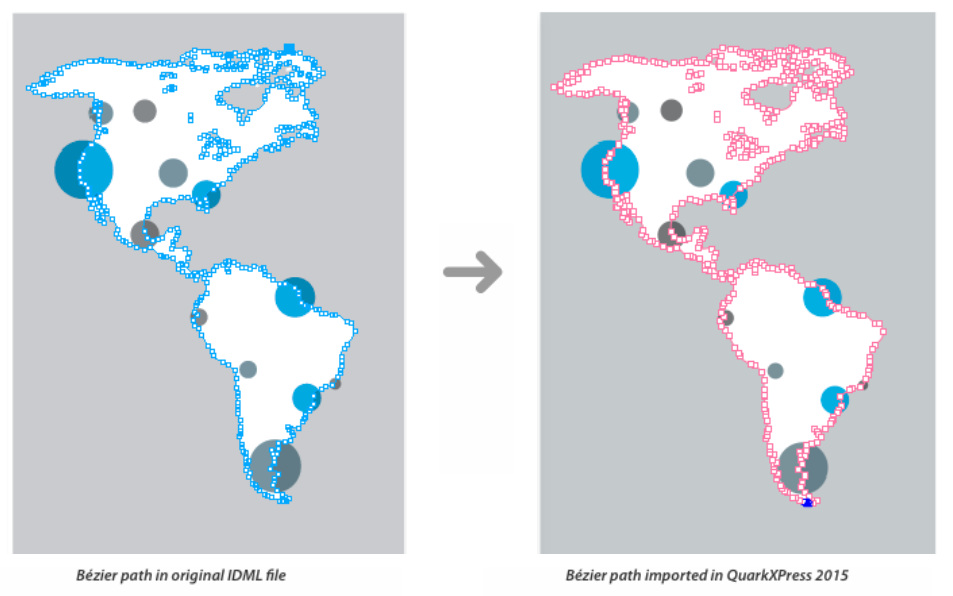 Vector shapes and lines.
IDML Import allows you to import bézier (vector) shapes and lines contained in the IDML as well. It will recreate all the points that make up the shape, and then treat it as a regular box, so it can be colorized, rotated, filled with text, etc.
Therefore, virtually any vector art contained in the IDML file can now be imported and fully edited in QuarkXPress 2016 and 2015.*

Import into an existing QuarkXPress document, or create a new one. Select which spreads from the IDML file to import.
You can import the IDML file into a new QuarkXPress project, a new layout within an existing project, or into the current layout of an open document. For this last option, you can select where to insert it – before or after any given spread.
IDML Import also allows you to select which spreads from the IDML file you wish to import, or all of them.
Search for missing images while importing IDML files.
IDML Import can also search for, and automatically link, missing images in the IDML file while importing pages and spreads. Choose to search its enclosing folder, or any custom folder and volume. You also have the option to include subfolders.