Product introduction
Articulate Studio is the world's most popular and widely used rapid e-learning tool. It is based on Microsoft'S PowerPoint. Contains four core tools: Articulate Engage, Articulate Quizmaker, Articulate Video Encoder and Articulate Presenter. E-learning writers can start with the design and development of e-learning from PowerPoint. You can add voice-over, video, Flash animation, interactive modules, test questions, etc., and export the PPT into Flash or HTML 5 courseware conforming to AICC or SCORM standard. Suitable for users who want to quickly convert powerpoint presentations into online courses.
Articulate Studio 13 combines the functions of Video Encoder 09 into presenters. It combines the original four core tools into three. Articulate Studio 13 makes it easy to add content to PowerPoint. The built-in Articulate Replay allows you to easily create video files, Articulate Engage13 allows you to create interactive forms, and Articulate Quizmaker13 allows you to quickly create quiz questions. All in all, Articulate Studio 13 provides a lot of interesting and practical features. Both the interface and the built-in features are refreshing. It focuses on addressing the unsupported HTML 5 format and iPad playback. He has become the leading product in PPT e-learning courseware software, and continues to lead the market of e-learning courseware making tools.
This feature is added to Articulate Studio 13
1. The built-in character function has been added. Users can easily import dozens of cartoon characters and freely set their expressions, directions and poses. It provides great help for courseware design. This feature is available in Presenter 13, Engage 13, and Quizmaker 13.
2. Improved the ability to insert videos. In 09, only Flv or Swf videos can be imported, while in 13, videos can be imported in various formats. The ability to record live Video via WebCamera is also integrated into Presenter 13, so Studio 13 does not require Video Encoder.
3.Presenter 13 provides flexible navigation and player features for each page, such as the next page button, directory navigation, playbar, etc. This feature is a big improvement over 2009. If you've used Storyline, the page properties and player functionality are almost as good as Storyline. In addition, the buttons on the player can also be added or deleted according to the need, very convenient. After the release of courseware, the interface is more exquisite.
4. Publish as HTML 5 to run on iPad. This publish feature is available in Presenter 13, Engage 13, Quizmaker 13.
5. Engage 13 can import videos of various formats, adding more wonderful interactive models. You can update the Engage file from version 09 to the new interactive format in version 13 and release it in an iPad supported format.
6. The interface for Engage 13 and Presenter 13 have a good consistency, which is not the same as in 09.
7. Quizmaker 13 allows you to create more free types of questions, such as drag and drop questions, multiple choice photo questions, etc. This is exactly the same as Free Form in Storyline.
8. Quizmaker 13 can import quiz questions from Excel/TXT files. It makes a lot of sense! It is very convenient to help you create and update online exams.
9. The speed of distribution between components is greatly increased and it is easier to use. Presenter 13 is faster and more stable at delivering powerpoint.
10. Added replay component, recording video and computer screen.
Articulate Studio 13 features
Articulate Presenter 13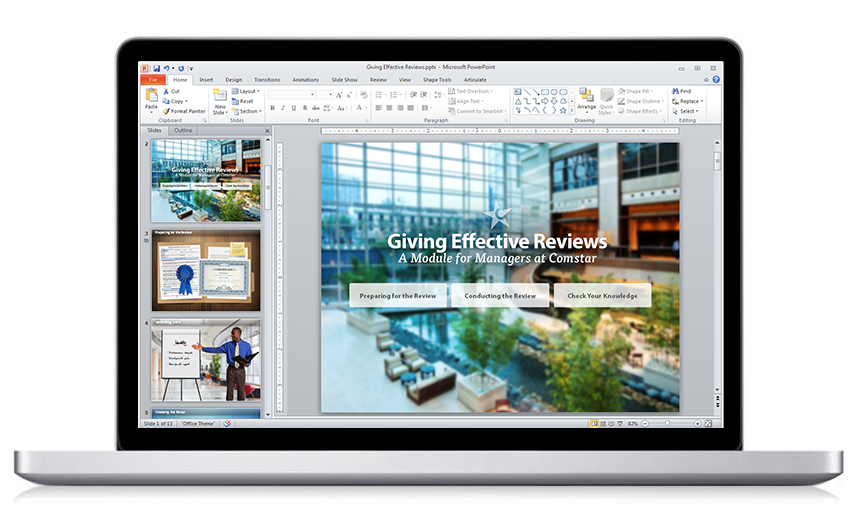 1, can be published as HTML 5 format, support iPad playback
Previously, we knew that only Articulate Storyline could be published as HTML 5, but now Articulate Studio13 can also be published! In addition, all the new interactive models of Articulate Engage can be published as HTML 5, and the old Articulate Engage 09 can be converted into a new template corresponding to Articulate Engage13 and published as HTML 5. Of course, the same is true of Articulate Quizmaker 13. This gives us unlimited imagination! Isn't it? Of course, we also find that the HTML5 courseware released by Articulate Studio 13 still has many shortcomings compared with the HTML5 courseware released by Articulate Storyline. We hope to fix them in the later patch.
2. Unified interface
The new Articulate Studio 13 uses a clean, uniform interface, so students can use the same interface whether the course includes the Quizmaker assessment system or the Articulate Engage program. The interface also incorporates page titles, quiz questions, and other interactive items to make the Engage and Quiz pages feel less jarred.
3. Rich choice of characters
In Articulate Studio 13, we can add rich characters to various items of the course. The new version of Articulate Studio has a database of thousands of actions and expressions. In addition, it can be expanded by downloading. The character material in Studio 13 is the same as in Storyline, and it's available in Both Quizmaker 13 and Engage 13.
4. More flexible page property Settings
The Slide Properties page in Articulate Studio 13 is refreshing. Now you can set the page and function components for each page, such as whether to display the left table of contents on a page, whether to use the next page navigation button, etc. This gives the courseware designer more space to play.
5. Video import
Unlike the previous version of Articulate Studio 09, which can only insert Flv or Swf videos, Articulate Studio '13 can insert videos of various formats, so there is no bother to switch video formats.
Articulate Quizmaker 13

1. Simple interface
The redesigned interface of the 13th version of Articulate Quizmaker enables editing of both the question and answer in the same interface, thus improving the efficiency of the curriculum evaluation system.
2, Open topic
The latest Articulate Quizmaker 13 is an open question that allows us to turn any item into an assessment test by adding it to the page view and then switching.
3. Import function of test questions
Articulate Quizmaker 13 supports imports from the question bank or other proposition systems. It can also be imported directly from Excel tables or text files.
Articulate Engage 13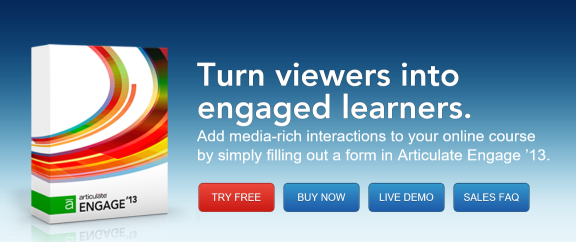 1. Simple interface
With a streamlined interface, Engage enables us to create rich interactive projects such as adding text, multimedia, and graphics.
2. New interactive models
20 new interactive models, more concise, modern and practical, and can be released in HTML5 format!
Articulate Replay 13
Provides a good screen recording and video synchronization tool, you can easily guide students to focus on the key points of the screen demonstration, and insert various materials such as pictures and sound in the demonstration. The demo interface can be optionally switched to screen demo and small video, screen demo and video only. You can publish your work in MP4 format.