FusionCharts for Flex
Interactive charts & gauges for Flex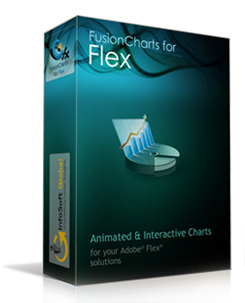 FusionCharts for Flex is a charting component for Adobe Flex solutions. It helps you create interactive charts and gauges in your Flex projects. The charts are powered by FusionCharts v3 and FusionWidgets v3 the industry leader in Adobe Flash Charting.
FusionCharts for Flex offers over 57 types of charts and gauges. Irrespective of whether you are using Flex Builder 2, 3, Flex SDK or any other Flex development kits, FusionCharts for Flex efficiently works with all of them.
FusionCharts for Flex has a flexible and easy to learn API that allows you to create charts in very few lines of code as well as do advanced things like exporting them as images/PDFs and extracting data as CSV/XML.
For individuals
For organizations
Individual License
Small Team License
Team License
Enterprise License
Number

of developers allowed

1 Named Developer
3 Developers
10 Developers
25 Developers
Use in internal

application websites(non SaaS)

Unlimited

Support & upgrades

Includes full

source code

Transfer to

another developer

Upgrade to

higher tier

Use in SaaS

apps or for OEM distribution