COGITO SOFTWARE has the best business consultants, with almost 17 year-experience on software industry informatization, thousands of well-known clients practice, and we put all these together to forming COGITO SOFTWARE consultant service.
COGITO SOFTWARE consultant service, is composed by"4 steps and 7 stages". The 4 steps are: Project Start; Plan; Systems; Acceptance. More details about the 4 steps, dividing into 7 stages: Preparation, Start, Discussion, Initialization, Implementation, Operation, Acceptance. Our implementing principle is: with overall planning, general arrangement and design, first pilot, with implement by step, to expanding gradually, to improving constantly.
COGITO SOFTWARE has the best business consultant team with extensive industry experience, provides very professional project management service based on standard implement procedures, and output the overall professional project management service. Advanced management injection idea of the enterprises is gained through the business consultant training and knowledge transfer, to help the enterprises improving their management bases, optimizing the business process, regularizing management behavior.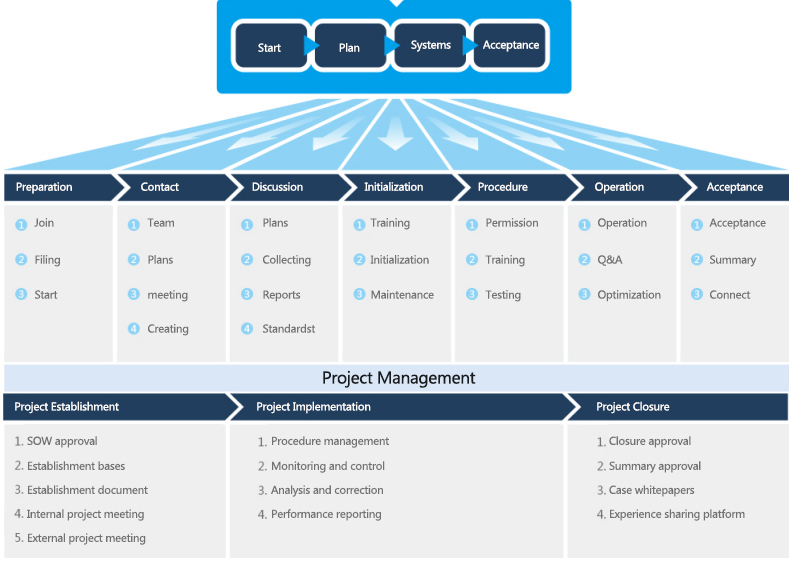 Besides, COGITO SOFTWARE provides the customers the pre-sales technical consulting and after-sales technical supporting; we establish files for the existing and potential customers; we listen to the opinions and suggestions of the customers patiently, and send them feedback as far as possible. Based on the dual user study, we understand their needs at the same time of regulating our service quality; we have our support person trained and contacted with the distributor timely and learned the new technology to improve the service quality; we insist the "people-based and Go for perfect" principle, with constant development, with "customer first" principle, with more our brilliant achievement, to provide customer more "surprise"!