MindView
Introducing MindView Suite
MatchWare proudly introduces MindView Suite that brings you a true multiplatform mind mapping experience! The subscription includes a new Windows version that brings you powerful features such as a new high-resolution Office 2019 interface, Multi-Maps, MindView Drive for collaboration, enhanced Office Integration, superior Citation/Bibliography features, and much more. MindView Suite enables you to increase productivity and collaborate like never before
Major New Features
True Multi-Platform Mind Mapping Solutions
With access to MindView Desktop (Windows/Mac), MindView Online and MindView Drive you will be able to get to your documents from wherever you are, at work, at home, and "on the go" on any device needed
Be in Style with MindView's New Look and Feel
2019 Office Interface
MindView Suite includes the popular MS Office 2019 interface, giving users a familiar environment while working on their mind maps. With high-resolution icons, intuitive menus, and upgraded UI, MindView's new interface guarantees the most intuitive mind mapping experience available.
New Map Design Styles and Clip Art
Communicate clearly and add some pizzazz! MindView's new map styles are sharp and crisp making them ideal for presenting on a large screen or in a conference room.
Add to that 100s of new custom drawn images from MatchWare's award-winning design team, making your mind maps stand out. No copyright and royalty issues, you are good to go.
MindView Drive – Store, Share and Collaborate on Documents
The MindView Drive is the backbone of the MindView Suite's ecosystem that enables you to store, share, control access and collaborate on documents in real time. Whether you are working remotely on a project or a student that needs to continue working on files from home, MindView Drive has you covered.
Sharing Documents and Access Control
Once you have saved your document in MindView Drive, you can select users to share your file with and determine access, enabling students to collaborate on assignments or project managers to optimize projects involving people from various locations. You can prevent users in the document from editing certain branches, thus protecting your work in larger projects.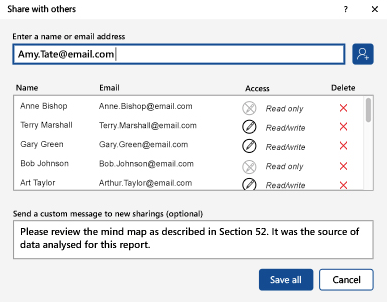 Multi-Maps (Sub-Maps)
Have you ever had issues with overviewing and handling big mind maps? How about overviewing multiple projects? MindView has solved the conundrum!
You can now create sub-maps by "detaching" branches and their sub-branches in different tabs, similar to the sheets of an Excel workbook. The main tab will still illustrate the entire mind map making it the master tab. This is ideal for working on large mind maps, for instance essay writing, because it breaks them down into smaller maps.
Merging several mind maps into one while using the Sub-Map feature allows a project manager to view a project portfolio.
New "too cool for school" PowerPoint Templates
Are you using the PowerPoint exports in MindView? If so, it is time to get excited! The brand new MindView brings you cool and contemporary templates that make you stand out during any presentation. Don't look like the others and use one of these new templates:
Enhanced Word Export/Import
Clear Formatting of Text Notes
Have you ever gathered research in your mind map and exported to Word to find that the formatting wasn't consistent? Well guess what? We solved it!
By default, MindView will now clear all formatting of the text notes during Word export so that paragraph styles, font names, font sizes and line spacing will match the selected Word template.
Bibliography and Citations
The Bibliography and Citations feature has been enhanced and simplified. When exporting and re-importing your document to and from Word (using native Word bibliography sources) citation data is maintained and updated.
Support of All Citation Styles
Are you having a hard time complying with the latest citation format or specific university proprietary citation styles? Now MindView supports all citation formats through the open source CSL library. Simply search within MindView for the required citation style and apply it to your Word export.
Reference Manager Integration
It is now possible to integrate directly with the well-known reference managers Mendeley and Zotero. This is an easy way to re-use sources from a third-party reference manager. Students no longer need to re-create their citation sources.
If you are using RefWorks, EndNote, EasyBib etc. you can import and export the RIS (Research Information Systems) file format to MindView.
But wait, there's more……
Conditional Formatting
Many users have requested automated indications of overdue tasks or being able to define conditional formatting to illustrate branches of importance. For user-friendliness, MindView has built-in preset conditions.
Printing Date Range of Gantt Charts
Have you ever tried to print a Gantt chart and can't read it? Instead of buying new glasses, see what we developed…
MindView is now able to print a specific date range of a Gantt chart making it easy to read.
Dictate
It is now possible to use the Dictate feature within MindView to dictate text into either branch labels or text notes. Simply go through the "Speech Recognition" in Windows to optimize your speaking and start "sweet talking" MindView…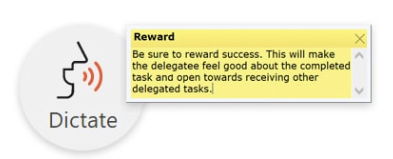 Enhanced Spell Checker
AutoCorrect exceptions has now been added to the MindView spell checker. MindView introduces "First Letter" and "INitial CAps" exceptions.