Xshell 5
Secure Terminal Emulator
Xshell is a powerful terminal emulator that supports SSH, SFTP, TELNET, RLOGIN and SERIAL. It delivers industry leading performance and feature sets that are not available in its free alternatives. Features that enterprise users will find useful include a tabbed environment, dynamic port forwarding, custom key mapping, user defined buttons, VB scripting, and UNICODE terminal for displaying 2 byte characters and international language support.
Replaces insecure telnet clients.
Xshell supports VT100, VT220, VT320, XTERM, LINUX, SCOANSI and ANSI terminal emulation and provides various terminal appearance options replacing legacy telnet clients.
Supports secure connections for X11 and arbitrary TCP/IP applications.
Xshell supports the port forwarding feature over the SSH tunneling mechanism, so that all TCP/IP applications can share a secure connection without any modification to the program.
Don't let others take a peek at your information
Xshell supports various security features such as SSH1/SSH2 protocols, password, and DSA/RSA public key user authentication methods, and encrypts all traffic with various encryption algorithms. It is essential to keep your data safe with the built-in Xshell security feature, because the traditional connection protocols such as TELNET and Rlogin can leave your network traffic vulnerable to anyone with network knowledge. Xshell will help you protect your data from hackers.
The best terminal emulator user experience
Terminal users often have to work with multiple terminal sessions at any given time and need to compare the terminal output with many different hosts or send same set of commands to them. Xshell is designed to resolve these issues. With wide range of user convenient features such as tabbed environment, split window, synchronized key input and session management, you can save time and get more work done faster.
Multiple languages in a single screen? Xshell is ready when you are
Xshell is the first of its kind that has UTF-8 based terminal. With Xshell, multiple languages can be displayed on a single screen and there is no need to switch between different language encodings. As more businesses are moving towards providing their services, databases and applications in UTF-8 format, there is an increasing demand for a terminal emulator that supports UTF-8 encoding. Xshell can help you handle the multiple language environment.
Redirect Key Input to Multiple Terminals
System administrators frequently have to work with multiple remote hosts and tediously perform repetitive tasks over and over. With our new synchronized input redirection feature, what you type can be simultaneously sent across multiple selected terminals. Used in conjunction with split pane windows, you can see the results immediately on these selected terminals. The new input redirection not only sends all key inputs but can also send key combinations and function keys, not just the text strings. This allows for full control over your multiple terminal sessions without the hassle.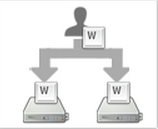 Make Your Sessions More Secure With a Master Password
Xshell encrypts all passwords and passphrases before saving them to a file. The master password adds an extra layer of security to the password encryption algorithm, thus making it harder for hackers to steal your password.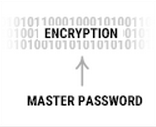 Prevent Unauthorized Access with Automatic Terminal Lock
When you leave your desk but keep a terminal open, anyone passing by can be granted full access to the remote server, and all data in the server can be jeopardized. Xshell's new automatic terminal lock feature prevents unwanted users from accessing the terminal session. Xshell checks, at a preconfigured time limit, if the user is still interacting with Windows and then locks the terminal screen when no interaction is detected.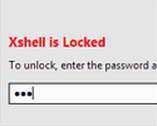 Edit Terminal Contents With a User Defined Text Editor
With Xshell 5, you can quickly open the terminal contents with a user defined 3rd party text editor. Users can configure Xshell to use an external text editor such as Sublime or Visual Studio to edit the terminal contents allowing smoother integration with the your workflow.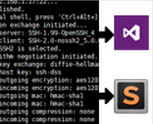 Powerful Automation With More Scripting Language Support
Script is now more powerful with more scripting languages supported. Xshell 5 supports VB script, Javascript and Python. You can now automate tedious and repetitive tasks with script.