combit Report Server:
First BI Solution with Guaranteed Success!
Generate powerful reports on an ad hoc basis. Browser-based, intuitive, and ready to use out-of-the-box, the combit Report Server is the perfect Business Intelligence solution for all kinds of data.

On top, combit is granting a success guarantee to all Report Server customers. Our Starter Package combit Report Server will help you to begin working productively with the Report Server as quickly as possible.
Benefits for managers
Keep a handle on big data

Access data on the go

Accelerate workflows and reduce costs

Enable your employees to work independently
Benefits for business users
Business Users
Create reports independently

Generate powerful reports for senior executives

Increase efficiency in the long term

Work flexibly from a smartphone, laptop or tablet PC
Benefits for IT professionals
IT Professionals
Integrate a host of data sources

Complete set-up in record time

Administrate with minimal effort

Distribute tasks to your team efficiently
Benefits for managers
Empower Staff to Do DIY Reporting
With the combit Report Server, you can provide your employees with comprehensive and intuitive reporting and analysis functionality. Whatever device they use, they will then be able to directly identify trends and success factors across all corporate units. This new level of transparency means you remain in constant control of the situation and can significantly accelerate your work processes.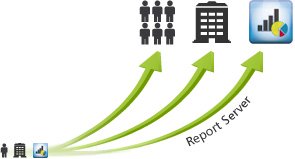 Ready For the Big Data Era
The Report Server's ability to flexibly integrate all your key data sources makes it the ideal solution for crunching big data. When your business grows, it simply grows with it – you can increase user numbers almost without limit by distributing the load across countless worker services or by moving to the cloud. This scalability ensures your reporting solution can be deployed well into the future, keeping costs down.
Reduce Your IT Department's Workload
Once the Report Server is set up, all users can access "their" reports, and assuming they have the corresponding rights, generate and manage new reports. This new self-service solution relieves the IT department of a significant amount of work, freeing up their time for more pressing projects
Generate Your Own Reports Where Required
As a manager, you need to have reliable information on all parts of the company at all times. With the combit Report Server, you can intuitively generate ad hoc tables and diagrams whenever you need to. You can set up automated reporting, send reports to colleagues, and stay in the driver's seat even when you're not in the office – thanks to mobile access.
A Proven Foundation
The combit Report Server comes with a powerful report designer already deployed to millions of users: List & Label – the multiple award-winning reporting tool. Even complete beginners will immediately become familiar with the solution thanks to drag & drop functionality, and be able to generate insightful reports incorporating tables and a vast range of diagram types.
Systematic Rights Management
Your organization will have a variety of roles and responsibilities – and the combit Report Server reflects this. Its user-friendly rights management system, based on groups, enables you to precisely define which users are permitted to generate or view specific reports, for example. This ensures that clear boundaries are drawn, and that sensitive internal information is reserved for authorized persons only.
Benefits for Business Users
DIY Reporting
Thanks to the combit Report Server's intuitive, self-service set-up, you can easily access, generate, manage and distribute reports yourself without the need for extensive IT skills. You'll become a reporting expert before you know it, with excellent visibility into annual sales, cost of goods etc. This gives you a better insight within the company and enables you to impress senior managers with powerful presentations.
Anyplace Access to Reports
The combit Report Server enables you to access your enterprise reports at all times and in all places, from the device of your choice – smartphone, tablet or PC – using any browser. This keeps you up to date with the latest figures, and lets you respond rapidly to developments where required.
Powerful Design Tool
Because the Report Server comes with the combit Report Server Designer – based on the List & Label Report Designer – you reap all the rewards of an exceptional tool already deployed to millions of users. Thanks to the intuitive interface, you will quickly become familiar with the solution and be able to generate powerful reports in no time. You can visualize your data as a table or as a bar, pie, donut, area or line chart – and that's just the beginning.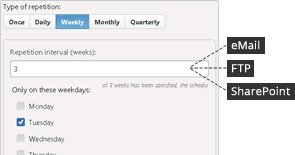 Output and Distribution
In the past, you may have had to go to the IT department for the latest KPI reports. Now, you can manage your own reports without help. You might want to automatically generate them on a certain date and distribute them via email, or upload them to an FTP or Microsoft SharePoint server. The combit Report Server gives you a host of options. Many leading output formats are available, and if you have administrator rights, you can even manage your colleagues' user settings.
Benefits for IT Professionels
Up and Running in No Time
The combit Report Server is incredibly easy to install and administrate: all you need is at least a Windows Server 2008 SP2, and the corresponding log-on information. You simply hook up your data sources guided by the intuitive interface, and then enable your users to access the Report Server via their browser. It doesn't get much easier than that!
Suitable for All Major Browsers and Devices
With the combit Report Server, you have full freedom of choice. You can generate output on tablets, smartphones and laptops, using any operating system, and with user-friendly touchscreen functionality. To design reports you need a Windows OS. When it comes to browsers, the combit Report Server supports the entire spectrum (from Firefox to Opera and Chrome).
Integrate all Major Data Sources
The combit Report Server provides direct access to all your key data sources. This means you can provide your colleagues, and therefore the entire enterprise, with the reporting functionality they need to work efficiently.
Scale the Solution to Your Needs
As your business grows, the combit Report Server grows with it – by distributing the load across any number of worker services. What's more, there is virtually unlimited scope to scale up user numbers. Both editions of the Report Server – Professional and Enterprise – come with five users included. You can then purchase additional named-user licenses in increments of five.
Delegate Tasks to Business Users
Empower your colleagues and managers to discover the combit Report Server for themselves. They will quickly become familiar with this intuitive, self-service solution – and be able to generate, manage and distribute their reports by themselves. Thanks to that you accelerate your business's reporting processes. This leaves you free to dedicate more time to projects where your specialist skills are really needed.
Advanced Technology
The combit Report Server is built around the latest in IT – it is based on ASP.NET MVC and .NET Framework, incorporates the best elements of jQuery Mobile, and has List & Label at its heart for a rock-solid foundation. Millions of end users worldwide already use the award-winning List & Label reporting tool, valuing its comprehensive, user-friendly functions. But that's not all the Report Server incorporates: it comes with a reliable internal database – in the shape of either Microsoft SQL Server or PostgreSQL – plus Internet Information Services for the seamless transfer of content to the web.
Cloud Ready
Where desired, you can take our enterprise reporting solution to the cloud and let it support your business goals from there. The Report Server supports Microsoft Azure, Amazon Web Services, and most other platforms. What's more, cloud-based deployment enables you to easily scale up your user numbers as required.
Setting Up and Managing Reports
With the Report Server, rights and user management is based on a group concept. That means that you define which groups can and can't create, view, edit and distribute reports. This can easily be configured via system settings. Users are then free to design reports, harnessing the full capabilities of the award-winning List & Label Designer.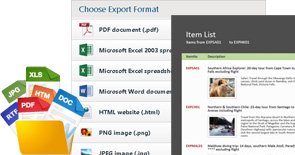 Boundless Export Possibilities
The combit Report Server supports all key export formats: from PDF and PDF/A, to Word, PowerPoint, RTF, Excel, HTML, MHTML, XHTML, XML, XPS, JPEG, PNG, TIFF/Multi-page TIFF, EMF, SVG and text formats such as CSV – giving the user unlimited choice.
Professional Distribution
In the Enterprise Edition, you can set up the Report Server to automatically generate reports at predefined intervals and then distribute them via email, FTP or SharePoint.