Powerful Syslog Server for Windows OS
Syslog Watcher can collect, parse, store and analyze syslogs from:
firewalls / switches / routers / modems of any vendor
network hosts and servers (Windows, Unix, Linux, etc.)
syslog forwarders (to forward Windows Event Log use Eventlog Inspector)
any syslog enabled devices or appliances
any software that can send logs via syslog protocol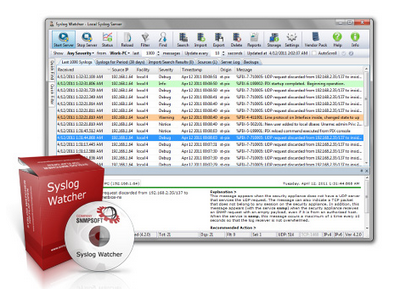 Overview
Syslog Watcher is a Windows-based syslog server for corporate networks. The syslog server collects, stores, parses, displays and explains syslog information to both new and professional network administrators, helping to improve the stability and reliability of the network.
Syslog Watcher installs a dedicated syslog server, integrating log data from multiple network appliances into a single, easily manageable and accessible place. Collecting and analyzing syslogs is essential for maintaining network stability and auditing network security.
Syslog Watcher notifies system administrators about important syslog messages, allowing you to fix network problems sooner and improving network reliability. The syslog server parses both standard-compliant and non-standard messages, easily processing corrupted and non-standard system logs without error. Syslog Watcher is designed to work under heavy load, and is able to process millions of syslog records without a problem.
Syslog Watcher VendorPack
VendorPack is a complete syslog reference that explains the meaning of more than 14,000 syslog messages to new and professional system administrators, allowing them to make a more informed decision about the network situation.
Licensing
| | | |
| --- | --- | --- |
| Personal License | Standard License | Pro License |
| Fully-featured | Fully-featured | Fully-featured |
| Non-commercial personal use only | personal or commercial use | personal or commercial use |
| up to 5 syslog sources | up to 10 syslog sources | unlimited syslog sources |
Features
General
Windows XP – Windows 10 compatible
Works as Windows service (no user login necessary)
Multithreaded high-performance architecture
Handles 5000+ syslog messages per second
Network
Supports IPv4 and pure IPv6 networks
Resolves source names via DNS (full or relative)
Syslog Protocol
Collects syslogs over UDP as described in RFC3164
Collects syslogs over TCP (Cisco PIX/ASA, Netscreen, etc.)
Supports RFC3264 syslog format as well as vendor-specific formats
Smart syslog parser and VendorPack knowledge-base
Email Alerts
Generates email alerts for configured list of conditions
Storage
Performance optimized file-based syslog storage
Max keep time depends on syslog message's severity
Allows to keep more important messages longer
Up to 1TB of collected data per syslog severity level
Viewer
Shows last collected messages virtually in real-time
Full storage search according to extensive rule set
Sorting, QuickFind and QuickFilter feature for loaded grid
Custom text/background color for messages based on filters
Export
Exports collected syslog to text files
Supports CSV, XML, TXT or any custom formats
Fully customizable subfolder/filename schema
Exports collected syslogs to a database (ODBC)
Filtration rules, manual and auto exporting
Syslog Protocol
Syslog protocol is a network logging standard supported by a wide range of network devices. Supported by a variety of network appliances, syslog protocol contains information on network events and errors. Syslog is invaluable for maintaining the network. It is used by system administrators for network management and security auditing. Syslog is supported by a variety of stand-alone and PC-based network devices and appliances. With a dedicated syslog server, the syslog protocol allows consolidating logs from all over the network into a single central repository.