QuarkXPress 2016: The Better Alternative for Creative Professionals
QuarkXPress 2016 builds on the success of its predecessor, which 66% of users* rated as the best version of QuarkXPress ever. With its 64-bit architecture, QuarkXPress 2016 delivers outstanding performance across the board, from file handling and layout rendering to PDF export. Add in a raft of innovative new capabilities and long requested features and you have a winning combination for creatives who only want the best.
Convert PDF, Illustrator and EPS Files to Native QuarkXPress Objects
Say goodbye to time-consuming projects (think rebuilding logos and reconstructing PDF files sent by your clients). QuarkXPress is the first layout application to import PDF, Illustrator and EPS files and convert them to native objects.? Look forward to fully editable Bezier versions of vector graphics, real text and automatically extracted colors and font information.
Copy and Paste Objects from Illustrator, PowerPoint and Others to QuarkXPress
Simply copy items from other applications such as PowerPoint, Illustrator or even InDesign and paste them into your QuarkXPress layout as Native QuarkXPress Objects?, allowing you to easily complete or reuse them up in QuarkXPress 2016.
Multi-Color Gradients
Some things are worth waiting for. With the new Multi-Color Gradients you have all the flexibility you've yearned for when designing color blends. Create as many color stops as you like, use sliders or numeric settings, opt for the full radial setting or set the aspect ratio. Unlike other layout software, you can even set different opacity levels for each color stop.
Export as HTML5 Publications
Building on the popularity of reflowable and fixed layout eBooks and stunning interactive apps from App Studio, QuarkXPress 2016 adds another digital output format. You can now create HTML5 Publications without any additional software and no additional digital publishing costs.‡ Just upload HTML5 Publications to your own website and show the world. HTML5 Publications displays pixel-perfect layouts on all modern desktop, tablet, and mobile browsers, providing an easy and effective online experience. With HTML5 Publications you can go beyond static print layouts to add interactive enrichments such as scrollable areas, slide shows, animations and more. Quite possibly the easiest way to share your final magazine, newspaper, comics, reports, ads and more. Even use HTML5 Publications to enable Web-based previews for your customers.
Support for OpenType Stylistic Sets
Typography lovers — it's time to get excited. With modern digital fonts, font designers can group related alternative characters into OpenType Stylistic Sets, which may be switched on together. Stylistic Sets give users the ability to quickly apply these sets with one click. For example, Vollkorn, a free body typeface by Friedrich Althausen, provides two stylistic sets that you can easily switch between. One is a more standard "old-style" set for body text and another "plainer" stylistic set is better suited for headlines while preserving the look of the whole body text. QuarkXPress adds support for Stylistic Sets to its OpenType support and allows you to quickly make use of this powerful feature for automating typography.
XTensions Interface Consistency
If you have already invested in a publishing system or third party software that integrates with QuarkXPress 2015, there's good news. You can continue to work with QuarkXPress 2016 without disruption. As the plug-in interface is the same between QuarkXPress 2016 and QuarkXPress 2015, your XTensions will work in the new version uninterrupted (provided the XTension does not conflict with any of the new functionality).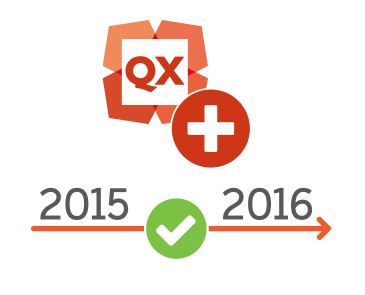 More Features you may not have discovered yet
If you're on a previous version of QuarkXPress — or perhaps you just haven't discovered these features yet — QuarkXPress 2016 also includes hundreds of features that support your workflow.
Easy to Use
Easy Installation and Activation

64-Bit Support

Xenon Graphics Engine

HiDPI/Retina® Support

Streamlined, Modern, Intuitive Interface

Intelligent Palettes

Full Screen View ( Mac Only)

Adaptive Resolution Technology

Task-based Tools

Page Navigator

Libraries

Multiple Views

Learn Once for Multiple Channels

Drag and Drop

Auto-open Documents

Custom Shortcut Keys (Mac Only)
Powerful Design Tools
ShapeMaker

Cloner

Transparency and Drop Shadows

Illustration (Bézier/Pen) Tools

Clipping and Masking of Images

Table Creation

QR Code Creator

Advanced Image Control

Layers

Color Blends

Easily Create and Apply Shapes to Any Content

Dynamic Guides and Grids

Space/Align and Distribution

Super Step and Repeat

Automatic Text Runaround

Intelligent Scaling

Orthogonal Line Tool

Larger Page Size

Custom Page Sizes

Relink Images in Usage Dialog

Collect for Output Across Entire Project

Format Painter

Footnotes / Endnotes

New, Faster Tables Including Table Styles
Integration with Other Applications
Import and Manipulate Photoshop (PSD) Documents

Import Tables and Charts from Microsoft Excel (XLS, XLSX)

Import Microsoft Word Text, Style Sheets, Pictures, and Hyperllnks

Import Native Adobe® Illustrator® (AI) Files

Import, Export, and Edit Text (DOC, DOCX, RTF, HTML, XTAGS)

Import PDF, PDF/X, PDF/X-4 Files

Import Wide Range of Image Formats (EPS, GIF, JPG, PDF, PNG, PostScript, TIFF)

Enrich Digital Publishing Projects with Sound and Video
Layout Automation
Synchronize Text, Pictures, and Formatting Automatically

Conditional Styles

Callouts

Composition Zones®

ImageGrid

Job Jackets

Lists

Style Sheets

Item Find/Change

Item Styles

AppleScript

Master Pages

Indexes

Automatic Page Numbering

Integration with QuarkCopyDesk®

Content Variables

Automatic Footnotes and Endnotes
Precision Typography
Hanging Characters

Bullets and Numbering

Page Grids and Grid Styles

Linkster

Story Editor

East Asian Typography

Glyphs Palette

Convert Text to Picture and Text Boxes

Text on a Path

Professional Text Formatting

Create Custom Kerning Pairs and Tracking Curves

Special Characters

Placeholder Text

Create Custom Underline Styles

Unicode and OpenType Support

Customizable H&J (Hyphenation & Justification)
Specifications
Reliable Print Output
Job Jackets

Soft Proofing

Spot Inks (Including PANTONE® Matching System)

Bleed and Registration Marks

Configurable PDF Job Options

Live Print Previews

PDF Pass-Through Transparency

Reusable Output Styles

ICC Color Management / Support for ICCv4 Profiles

Overprint Control

Verified PDF/X-4 Output
Digital Publishing
Design for App Studio

Export Fixed Layout and Reflow ePub for iPad, Kindle and Android Devices

Layout Spaces

Synchronize Text, Pictures, and Formatting Automatically

Learn Once for Multiple Channels

Automatic Image Format Conversion

Convert Print to Digital Publishing Formats

Text-to-image Conversion
Plus
Export Boxes, Partial Pages or Whole Pages as Image

OS X File Extensions are Added to QuarkXPress Files

Flip Shapes Horizontally and Vertically

Easily Join, Extend, and Close Open Bézier Paths

Apply Style Sheets After Creation

Anchored Boxes Without Limit

Support for Portuguese Reformed Hyphenation & Spellcheck

Layout Tab Reordering

Set Default Tool Preferences From Existing Objects

View Persistent Unicode Values In the Glyphs Palette

Set Separate Trim View Pasteboard Color for App Studio

and More
QuarkXPress 2016 System Requirements
QuarkXPress 2016 requires a dual core CPU with at least 2 GB available for QuarkXPress, ideally 4 GB available for QuarkXPress.

QuarkXPress 2016 is supported on OS X Mavericks, OS X Yosemite and El Capitan as well as on Windows 7, 8 and 10 (all 64 bit only).

QuarkXPress 2016 does not run on 32 Bit operating systems.