Spam Filter for Outlook, Outlook Express, Thunderbird, Windows Mail and Windows Live Mail

SPAMfighter has partnered up with Microsoft to build the strongest, safest, and most effective anti spam filter on the market. If you use Outlook, Outlook Express, Windows Mail, Windows Live Mail or Thunderbird and you want to get rid of spam, just install SPAMfighter.
Features
Award winning spam blocking technology
Protects all the email accounts on your PC
Protects against phishing, identity theft, and other email fraud
Privacy Guaranteed - we don't see any of your email
Blacklist and block emails and domains
Spam Abuse Reporting with one click
Unique language filtering tool that empowers you to stop emails written in specific languages
English, German, Spanish, Chinese, French, Italian, Greek, Dutch, Swedish, Norwegian, Suomi, Russian, Bulgarian, Portuguese, Japanese, Thai, Czech, Turkish, Polish, Vietnamese and Danish
SPAMfighter Screenshots
If you use SPAMfighter, it will block spam from your inbox, and if you by chance still receive a spam email, be pro-active by reporting it. This helps remove it from all other community members with a single click.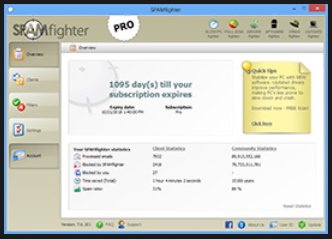 View live statistics of the spam that SPAMfighter has removed.
SPAMfighter has a very simple user interface.
SPAMfighter requires:
Operating System
Microsoft Windows XP (SP2), Windows Vista, Windows 7, Windows 8/8.1 & Windows 10 (32bit and 64bit)
Email client
Outlook 2000, 2002, 2003, 2007, 2010, 2013 and 2016 (Office). Outlook Express 5.5 (and later) (32 Bit).
Windows Mail (Only 32bit), Windows Live Mail (Only POP3) and Mozilla Thunderbird.
Disk Space
10 MB
Memory
128 MB minimum
SPAMfighter info:
Latest version
7.6.131
Release date
2016-09-19
File size
2.47 MB
Compare features
| | | SPAMfighter Standard | SPAMfighter PRO |
| --- | --- | --- | --- |
| Automatic "real mail" protection - means no lost business mails! | | | |
| Interface in multiple languages! | | | |
| Blacklist and block emails and domains | | | |
| Free automatic updates | | | |
| Spam Abuse Reporting with one click | | | |
| Automatic whitelist management | | | |
| Protects against "phishing", identity theft, and other email frauds | | | |
| Protects all the email accounts on your PC | | | |
| The right to use SPAMfighter in a company/organization | | | |
| Unique language filtering tool that empowers you to stop emails written in specific languages | | | |
| Option to move the toolbar in Microsoft Outlook | | | |
| Free phone support - Call us and get help if you need it | | | |
| Unlimited Blacklist/Whitelist entries | | | |
| No SPAMfighter footer in your emails | | | |
| Commercial-free email client | | | |