Program description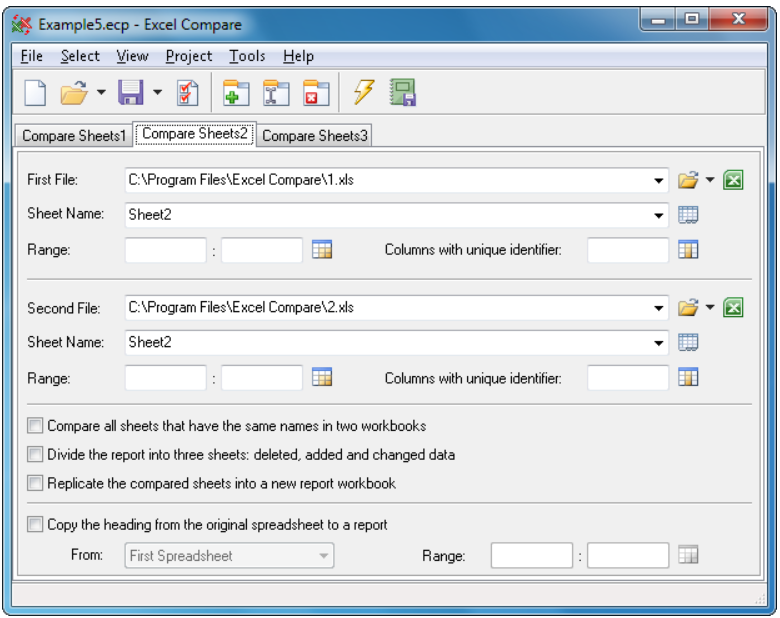 Excel Compare is a tool that saves you the trouble of manually searching for differences and offers you computer-aided comparing of Excel files. Excel Compare allows you to compare Excel files, Excel spreadsheets and selected ranges of sheets. Excel Compare compares data straight from your worksheets, and presents the results on a new Excel sheet as a publication-quality report (Difference Report), that is ready to print or save. The report displays the added, deleted and changed data. Use this tool for analyzing the changes made.
Feature List
•Comparison:
Supports all versions of Microsoft Excel
Allows for comparing of sheets, that contain a database structure
The advanced comparison algorithm for the data not containing unique identifiers
Allows for comparing of any selected ranges of a sheet
Allows for comparing all files located in two different directories
Allows for the comparison of all sheets with the same names in two workbooks
•Output report:
Creates Difference Report as a new Excel sheet
Difference Report keeps the format of the compared data
Highlighting the cells that have changed
Allows for divising of the report into three parts: deleted, added and changed data
•Other:
Allows the automatic addition of user-defined macros to the report workbook
Supports Project settings
Supports Command Line Options.
What our users are saying:
... I wanted to register Excel Compare because of a) it's high speed, b) the novel approach of displaying the Master and Amended rows on one page, highlighting changes, c) full functionality in trial version to allow testing on databases with thousands of rows and hundreds of columns, d) high likelihood of that this tool would become an important basic tool in my toolbox, e) company acceptance to consider my suggestions for improving the program, and offer of free registration if I would provide comments which added value, f) operational problems in other similar programs.
Jim Steinhauer Alberta Government
... It does what I need it to do and has it save me a lot of time. I like the feature of the report being in the same format as the input files, and in Excel format. We have developed a specification for an expert system in Excel. I track changes to the specification with Excel Compare and distribute the change reports to developers.
Bob Armstrong Becton Dickinson
... We have tried several file comparison softwares but nothing came close to ExcelCompare. Instant comparison, complete control and accurate results. We were amazed with the time savings through ExcelCompare. Jobs that used to take us couple of days to complete, now only take several hours.
Tamouh Hakmi HICOMMUNICATIONS