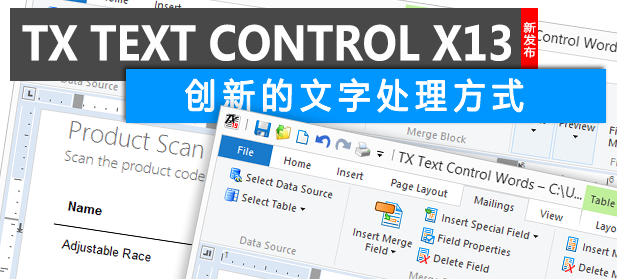 GrapeCity TX Text Control .NET for WPF
TX Text Control is a function similar to MS Word word processing controls, including document creation, editing, printing, mail merge, format conversion, split merge, import and export, batch generation and other functions. Widely used in enterprise document management, website content publishing, electronic medical records in the case of the creation of medical records, medical records, modify history, continuous printing, file archiving and other functions.

WYSIWYG word processing functions
TX Text Control .NET provides developers with improved word processing capabilities that can be easily added to the application.

Report generation
Create business reports that cover master-to-peer data relationships based on MS Word-compatible templates.


Mail merge
MailMerge components will be available directly to Windows Forms and WPF client applications. Which includes principal and subordinate data relationships and all other merge operations.


Mailing label
Use TX Text Control to label or identify designs, fill, and print jobs.


Document conversion
TX Text Control can convert between the supported document formats. For example: DOC to DOCX, DOCX to PDF.


XAML data binding
TX Text Control can be directly bound to the Microsoft Ribbon via XAML, without any code.


Page section
The document can be divided into any number of independent chapters, each with a separate format.

Page columns
You can insert an unlimited number of columns in the document. All columns can be set via the editor.

Background picture
You can specify the Z-Order order of the background image in the document. Can be inserted into the text before, can also be inserted into the text behind. You can even insert a transparent background text box in front of the background image.

Import PDF
You can import and edit a PDF document to restore the main content if its original document source file is missing.