Modern Test Case Management Software for QA and Development Teams
•Efficiently manage test cases, plans and runs
•Boost testing productivity significantly
•Get real-time insights into your testing progress
•Integrates with your issue tracker & test automation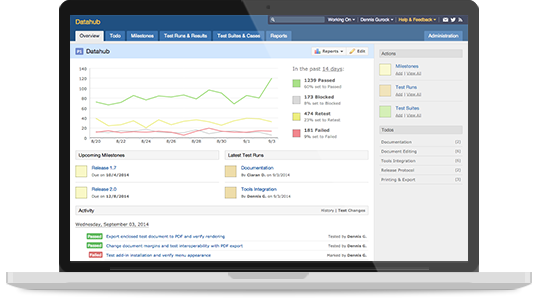 Comprehensive web-based test case management software to
efficiently manage, track and organize your software testing efforts.

Modern Test Management
Modern test management for your team in a central place.
Seamless Integration
Integrate with bug trackers, automated tests and more.

Easily Track Results
Execute your tests and track results that matter.

Increased Productivity
Fast and easy to use for a productive, happy team.

Powerful Reports & Metrics
Actionable reports, metrics and real-time insights.

Scalable and Customizable
Cloud or download, highly customizable & much more.

TestRail helps you manage and track your software testing efforts and organize your QA department. Its intuitive web-based user interface makes it easy to create test cases, manage test runs and coordinate your entire testing process.
Easily track and follow the status of individual tests, milestones and projects with dashboards and activity reports. Get real-time insights into your testing progress and boost productivity with personalized todo lists, filters and email notifications. Efficient test management, get started today!
Modern test management software tool
Modern test management for your team in a central place.
TestRail seamlessly integrates with your existing tools
Our test management tool integrates with issue trackers, test automation tools and more, including:
Test Management
TestRail is one of the most modern and innovative test management applications available today.
Countless hours of research, attention to detail and comprehensive capabilities separate TestRail from other solutions.
Test Management Tool
Whether you are using an agile methodology or a more traditional approach to software development: TestRail just works.
TestRail doesn't force any restrictions or processes upon your team and is flexible to match your needs.
Test Case Management
TestRail's user interface and application structure was carefully designed to be easy-to-use and highly productive.
It comes with a fast web-based user interface that testers love. Don't settle for anything less!
Features:
Modern test management for your team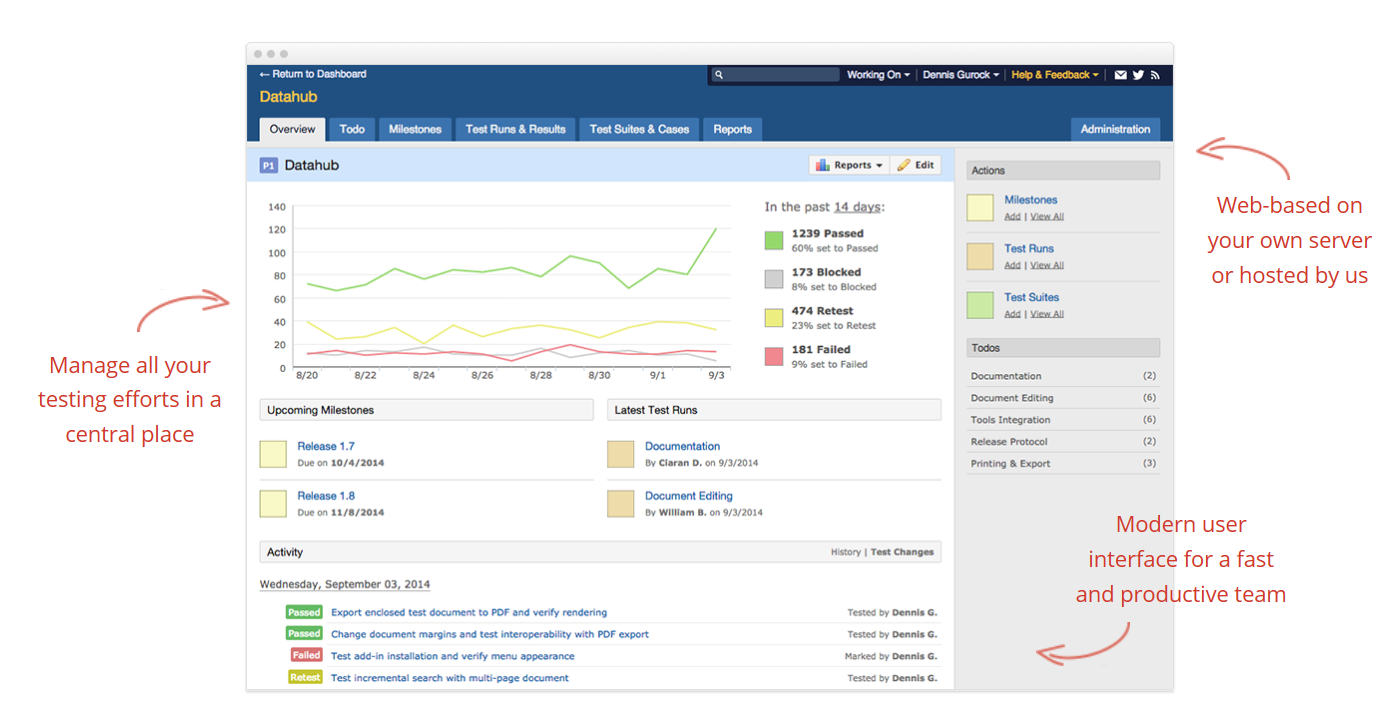 All in one place: manage, organize and track all your testing efforts in a central place.

Web-based: easily access TestRail with your entire team – either hosted on your or our servers.

Modern interface: testing with a beautiful and highly productive user interface.
Perfect for agile & traditional testing approaches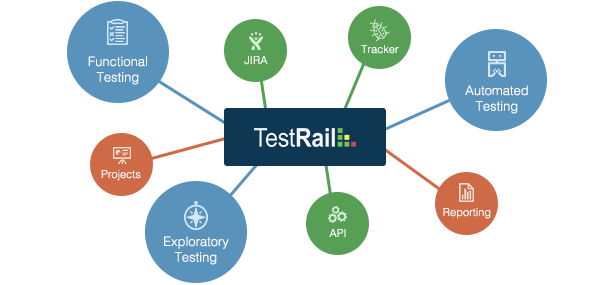 Any workflow: a great choice for any team, whether you use an agile or traditional approach.
Any team size: teams of one to 1000s of testers love working with TestRail every day.
Any method: manage your functional, exploratory and automated tests with ease.
NEW: TestRail FastTrack - Incredibly Productive Testing
TestRail is the most actively developed test management tool, so you benefit from regular product updates to make your team more effective. With TestRail 5.1 we just announced yet another big update and introduced TestRail FastTrack: a unique three-pane view that is incredibly productive. Add results & jump to tests with a single keystroke.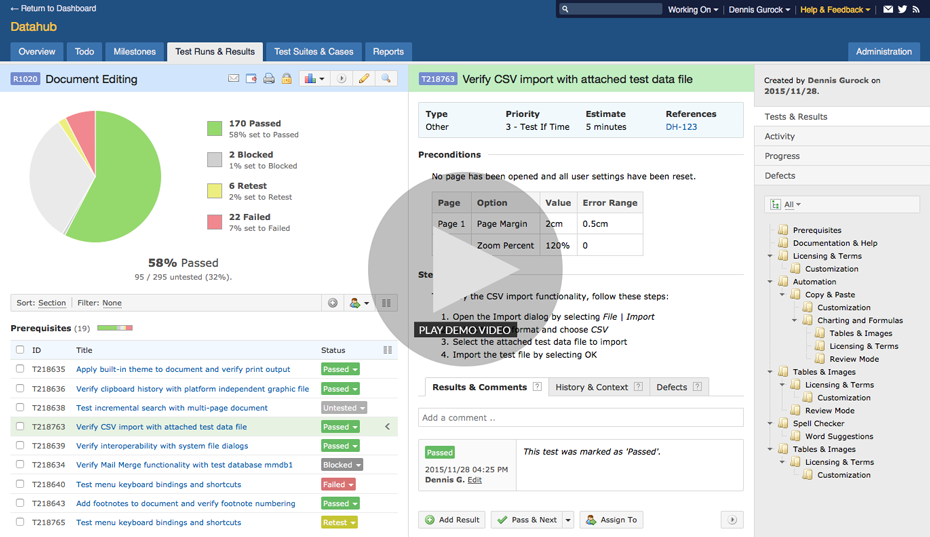 Flexible project organization
Manage all your ongoing test projects in TestRail and have access to all relevant project details at your fingertips, including milestones, active test runs and past results.
Easily archive completed projects, enable multiple project teams to work in parallel and track your projects' progress with TestRail's powerful interface.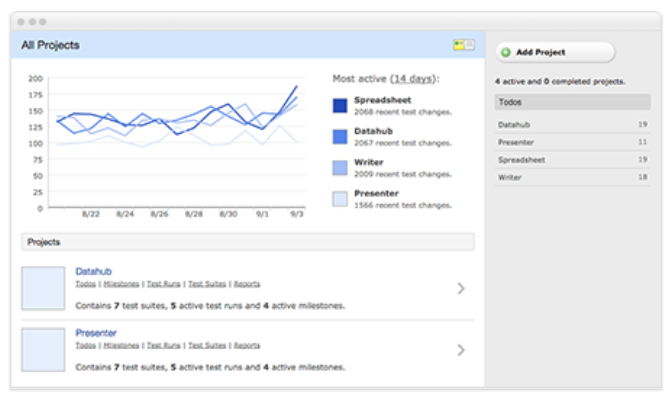 Rich & powerful test case management

Rich test cases help your team verify your application's functionality and requirements.

Easily manage all details in a structured way, including preconditions, steps and expected results.

Use rich-text formatting, attach files & screenshots and customize fields for your needs.
Easily organize test suites, sections & cases