SNMPc Enterprise
Overview
SNMPc Enterprise is a secure distributed Network Management System which delivers proactive real-time monitoring for your entire network infrastructure. Advanced product features and legendary ease of use have led to over 120,000 network managers trusting SNMPc to monitor their mission critical networks.
Key Product Features:
· Monitors SNMP devices, WAN Links, Servers and Applications
· Internet Protocol Version 6 (IPv6) addressing
· Supports SNMP v1, v2c and secure SNMP v3
· Scalable, Distributed Architecture
· Email/Pager Event Notification
· Integrates with SNMPc OnLine web based reporting
· Live/Standby Servers with automatic failover
· Syslog event logging
· Remote Windows and JAVA Consoles
· Automated Network Discovery
· Programming & Scripting Interfaces
· OEM Version Available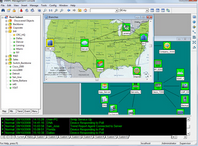 Distributed Architecture
Multiple Login Consoles
SNMPc Enterprise provides remote access consoles through JAVA or Windows based client software. Each remote user is assigned a security level and unique view of the network based on their user login. The ability to provide individual network views is useful in large corporate or MSP/ISP environments.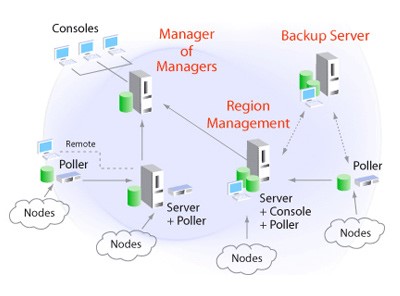 Distributed Polling
SNMPc Enterprise lets you distribute the polling and discovery functionality to strategic points in your network using polling agents. These remote polling agents poll the local devices and only upload status changes or alerts when required. This is a very efficient way of polling networks and helps limit the bandwidth requirements of a SNMP manager.
For security all console commands are routed through the central SNMPc Enterprise server and then the appropriate polling agent. This allows SNMPc Enterprise to support multiple overlapping IP address ranges and NAT environments.
Manager of Managers
SNMPc Enterprise can be deployed as a hierarchical management system providing a single view for multiple branch level SNMPc Enterprise installations. A full peer-to-peer architecture is supported where each SNMPc Enterprise can be both a branch and top level manager simultaneously. This lets you to deploy a scalable fault tolerant management system.
Reliability
Overview
Communication networks are an indispensable part of modern enterprises. Employee and customer interaction, technical support, marketing, sales and procurement activities are all highly dependent on a secure and reliable network infrastructure. With this increasing reliance on data communications, monitoring of the network infrastructure has become more important than ever.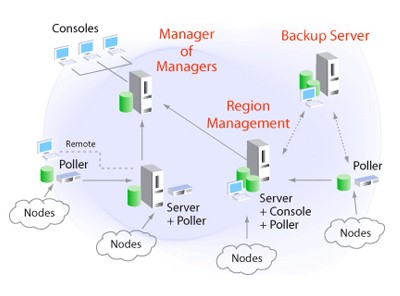 Live/Standby Servers
To ensure a reliable 24/7 network monitoring solution, SNMPc Enterprise supports live/standby management servers. The backup SNMPc Enterprise server continually monitors the primary server and in the event of a failure automatically takes over all network management functions. An automated failover process includes the reconfiguration of any distributed polling agents in the network. Through the standby server feature, users can continue to monitor their network if the primary system is disabled through system failure, human error or other unforeseen circumstances.
User Audit Trails
SNMPc Enterprise delivers improved security and accountability through support for user audit trails. Any user access to the management platform or configuration changes are tracked and written to a log file. Alerts are automatically generated if an intrusion attempt is detected
Console Options
Remote Console
All SNMPc Enterprise functions are available from the windows based remote console. Each user can be assigned a security level and unique view of the network.
SNMPc OnLine Web Interface
SNMPc OnLine is an advanced reporting plug-in for SNMPc Enterprise that provides a dynamic web based interface.
JAVA Console
SNMPc Enterprise supports a JAVA based remote console. The JAVA console can be used from any Internet or Intranet connected computer, including Apple, Linux and Windows systems. The SNMPc Enterprise JAVA Console is optimized for low speed WAN lines, making it well suited for use by outsourced Network Service and Help Desk personnel.
Basic functionality includes user specific topology map displays, event log views, and real-time MIB table/graph displays. Long-term trend reports can be viewed after selection with a calendar control. Also included is a JAVA proxy Telnet application for configuration of Cisco routers and other devices.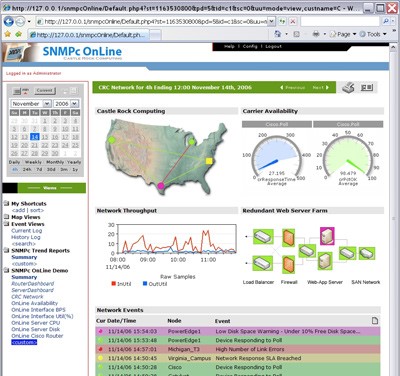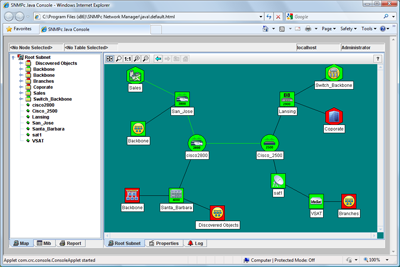 Advanced Network Mapping
SNMPc Enterprise supports a multi-level hierarchical map. Each hierarchy can represent cities, buildings, or subnetworks. Imported bitmaps of geographic maps or floor plans, along with manual or automatic network placement, lets you create a layout that closely matches the actual network.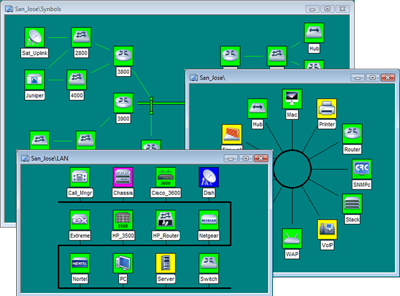 SNMPc Enterprise can automatically lay out each map network as a tree, ring, or bus topology. Each map object uses a device specific or user selected icon, and the object color indicates the device status. You can start any device specific application by double clicking map icons.
The Map Navigation Tool Window displays the map as a tree for direct selection of objects. The Navigation tree also displays the current alarm status of each subnet to quickly locate failing devices.
The map window Full Zoom feature automatically moves and zooms the view so that all devices are always visible in the window. The Pan/Zoom feature lets you select a region to zoom into from the complete set of devices in a view.