iSpring Play is a free mobile app that allows learners to access your content anytime, anywhere, even with no Internet connection.
The Ultimate Bundle of iSpring E-Learning Tools
iSpring Suite contains all iSpring authoring capabilities integrated in one supercharged toolkit. With all these features combined in one place, top-to-bottom content creation is faster than ever.
New Capabilities of iSpring Suite
Now, creating amazing video lectures, quizzes, dialog simulations, interactions, and other educational materials is possible in one program!
New Ready-Made E-Learning Templates and Assets
No more need to start with a blank slide, or browse through dozens of web pages looking for that very image which matches your course. iSpring Suite gives you quick access to a rich collection of course templates, photographic characters and backgrounds, icons, controls, and buttons. It's all you need to build an efficient course, and even more.

New Conversation Simulation Tool
Design interactive dialogue simulations to train your employees' communication skills in a safe environment. Building a scenario doesn't take long: simply create a conversation script, select a character and background, and record voiceovers for interlocutors and feedback messages.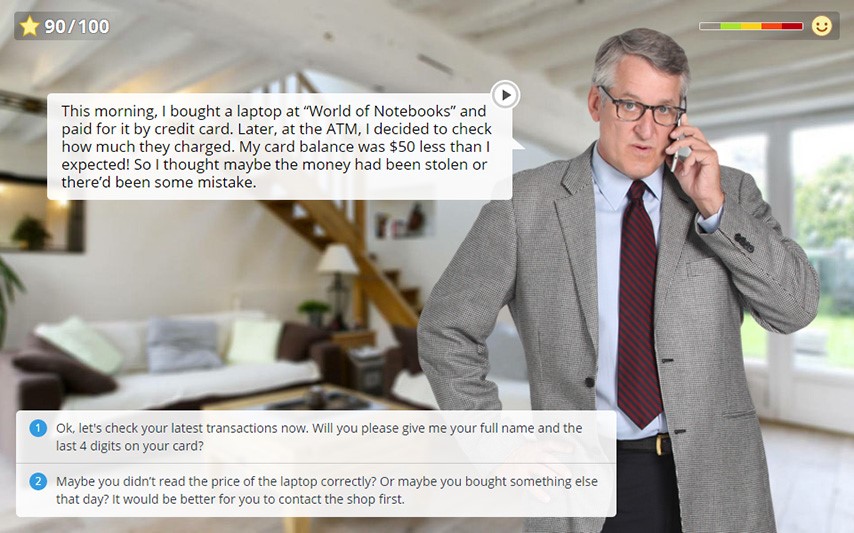 Spell-check
Now the editor can automatically check spelling: it underlines errors and suggests possible corrections.
Hyperlinks in dialogue scenes
Enhance character speech and feedback messages with hyperlinks to useful resources: certain chapters of your course, guides, videos, and other content that students may need.
Release
Knowledge evaluation with simulations
Use dialogue simulations to precisely assess your learners: assign points for correct responses and negative points for inaccurate ones. As learners go through a dialogue, they accumulate points or get penalties, and the final score shows how well they performed.

---
New Tool to Create E-Books
iSpring Flip helps you turn your Word, PDF, or PowerPoint documents into e-books in just two clicks. Deliver e-books to your learners through your LMS, and keep track of what your learners are reading and how far they have progressed.

New Screen Recorder
iSpring Suite introduces a new screen capture function, with which you can record screencasts and insert them into your courses. The built-in iSpring Cam includes a complete set of functions for screencasts, such as audio recording, cursor highlighting, mouse click sound effects, and more.
New Video Lecture Player
The new 50/50 Video Lecture Player allows you to simultaneously display presentation slides and video narration, correctly placing the emphasis between them. The player can be customized: choose which bars and buttons to show, pick the color scheme, and change text labels for captions, tooltips and messages within the player.
New Audio/Video Editor
Now you will be able to fine-tune the audio and video narrations for your course. iSpring Suite now contains an audio and video editor, which contains a complete set of functions for quickly creating professional narrations: deleting fragments of audio and video, background noise removal, audio fade-in/fade-out, and much more.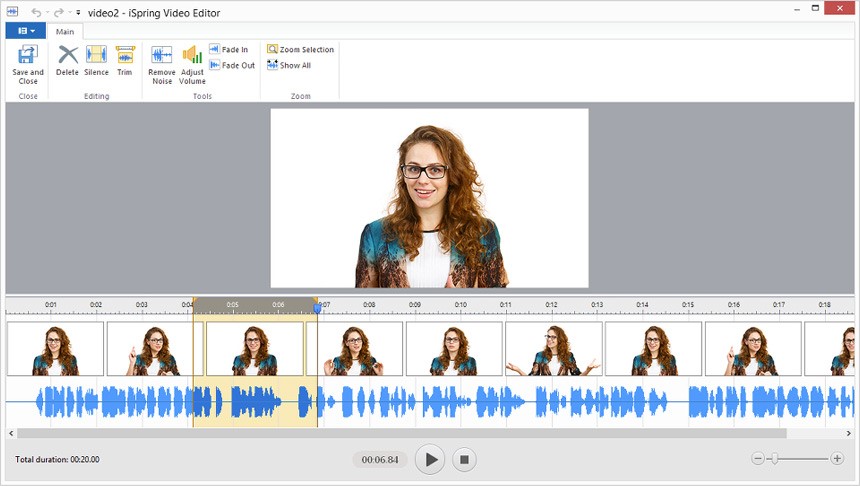 Updated Quiz Editor
Creating interactive quizzes is faster and easier than ever before, thanks to the new visual question editing mode. Now you can customize the design of several questions simultaneously: modify the layout, adjust the color theme, or set the background.
Re-Taking the Course Based on Quiz Results
With this feature, if a student fails a unit test, they can be redirected to the beginning of the unit. After they review the unit, they can try to pass the test again.
Sending Quiz Results to Student's Email
Students' quiz results now can be sent to their emails. This allows students to track their progress and reveal strengths and weaknesses.
Customizable Feedback for Quizzes
Customize the color scheme of your feedback messages and enhance them with images, formulas and audio. Set up default feedback for all the questions, or simply turn it off when it's not necessary.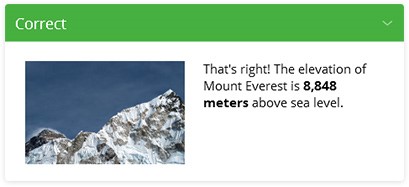 Audio Narration Recording for Quizzes
Now you can record voice overs for your question slides and feedback messages. New integrated audio editor will let you easily fine-tune recorded and imported audio narrations.
Quiz scoring by question groups
With the new version, you can assess multiple topics within a single test. Split questions into groups according to their topics or level of complexity and set a passing score for each of the groups.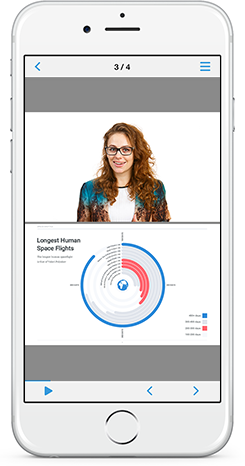 New iPhone App
Provide access to your content anytime and anywhere, even with no Internet connection! The free mobile app is now compatible with iPhones, along with iPads and Android devices. Make your e-Learning courses absolutely mobile!
iSpring Suite 9.3
What's New?
16 new ways to present learning content
Advanced video courses, a superb set of interactions, and new drag-and-drop exercises — iSpring Suite 9 helps you achieve even more learning goals.
Advanced video studio
Create professional video courses even with no video editing skills
Video courses on sales techniques, soft skills, and public speaking
Record an expert session and point out the key highlights to help employees retain the subject material. You can mix videos from multiple tracks, add audio narration, and support the footage with annotations or graphics.
Interactive canvas — just like a PowerPoint slide
You can edit objects right on the canvas: add videos, captions, shapes, and images.
Mixing audio and video from multiple tracks
Use as many tracks as you need. You can merge several videos together, add music, and even show two videos at the same time.
Title screens and annotations
You can upload existing images or create visual hints, diagrams, and captions right in the video editor.
Smooth transitions between scenes
Adjust the transition effects so that one scene smoothly dissolves while the next scene appears.
"Watch and repeat" software tutorials
With iSpring Suite, you can record screencasts to quickly train employees to work with corporate apps. For example, you can show them how to work with an inventory management app, a learning portal, or a CRM system.
"Picture-in-picture" screencasts
You can record your screen and webcam video at the same time, and then show the two streams together or switch between them. For example, enhance a CRM screencast tutorial with a talking-head video.
Software tutorials with annotations
Now, when you record a screencast, iSpring Suite automatically detects keystrokes, mouse clicks, and typing, and adds annotations for these actions to your video.
Engaging interactions
Amazing new interactions for presenting diagrams, instructions, and catalogs
3. Tabs
This interaction helps you quickly structure your info. For example, you can show the principles of SMART goal setting or the SWOT analysis methodology.
4. Accordion
Present a call handling process or host a virtual office tour for new employees in a visually compelling way.
5. Glossary
A fast way to create a dictionary of terms, a directory, or a reference book. For example, you can create a glossary of industry terms or a reference book for account managers.
6. FAQ
Provide answers to common new hire questions to save their colleagues time and effort.
7. Timeline
Show employees the key events of your company's history or product development stages.
8. Steps
Create a guide to communicating with irate customers or explain how to deal with fire in a safety course.
9. Cyclic Process
Illustrate any repetitive process, from raw material processing to the Deming cycle of decision making.
10. Circle Diagram
Present a complex diagram in a compelling way: for example, illustrate the demographics of your target audience or show new hires the values of your brand.
11. Labeled Graphic
Explain what complex mechanisms consist of, show product specs, or describe a new software interface.
12. Guided Image
Give learners a detailed explanation of how equipment works, or visually present a product to customers.
13. Hotspot
Explain what complex systems or mechanisms consist of. For instance, present a human anatomy diagram or a new equipment control panel.
14. Media Catalog
Create an illustrated product catalog so that employees can always stay informed about the range of products on offer.
15. Pyramid
Illustrate the company's levels of management, or turn the pyramid upside down to explain how a sales funnel works.
16. Process
Easily create courses on work standards. For example, you can show how to sell bank products, explain a hiring process, or present the stages of product shipping.
Updated quiz arsenal
Tests and exercises for training and skill building
New drag-and-drop exercises to practice skills
Drag-and-drop activities engage employees and help them master a skill in a game-like environment. With iSpring Suite 9, you can ask learners to arrange objects or group them by categories. For example, enhance a merchandising course with a task to shelve or load goods.
Ask employees to drag the correct answers to the appropriate places. It may be a task to pick the right tools for a job, or review key product specs.
You can also create an exercise for placing objects in the correct order. For example, have a new salesperson repeat the steps of the deal-closing process.
Drill-and-practice activities with extensive feedback
Give detailed feedback to help learners review their mistakes and improve performance. You can explain why an answer is incorrect, and provide useful facts or a whole article on a topic.
You can add several text blocks, images, and shapes, and set transparency, shadows, fill, and outlines — it's just as easy as in PowerPoint.
Test design freedom
Fine-tune question layout and easily design info slides, feedback, surveys, and result slides. Now all these options are right at your fingertips in the visual editor.