iSpring Suite 8.7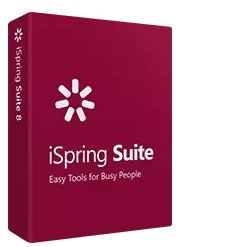 Perfect Integration with PowerPoint
Developing e-Learning content has never been so fast and easy! With iSpring Suite, you can turn your PowerPoint presentations into supercharged e-courses in a snap.

Supercharged to Develop e-Learning Fast and Easy
Take advantage of the most powerful e-Learning toolkit for PowerPoint to develop quality courses, video lectures and assessments that will work on any desktop, laptop and mobile platform.
PowerPoint Conversion
Convert your presentations into online mobile-ready courses.
Video Lectures
Easily create video narrations and synchronize them with your slides.
Interactive Assessments
Develop comprehensive tests with branching and flexible scoring.
Screen Recordings
Record and fine-tune training videos with the integrated screen recorder.
Dialogue Simulations
Build realistic dialogue simulations to train communication skills.
E-Learning Interactions
Present your e-Learning materials in the form of engaging interactions.
Extensive LMS Support
Publish iSpring content to your learning management system.
Adaptive player
Create a course once, enjoy perfect playback on all mobiles and desktops.
Mobile App
Allow your learners to study on the go. Even offline.
Convert PowerPoint into E-Learning Courses
Convert your existing presentations into e-Learning courses. Use your PowerPoint skills to create tons of quality e-Learning content fast and easy without special training.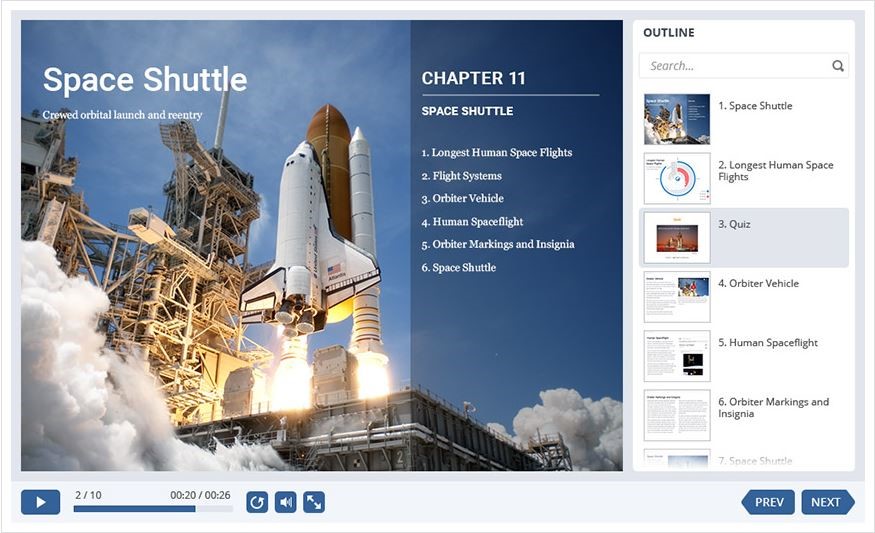 Create Video Lectures
Synchronize your video with your PowerPoint slides and publish it into a video presentation format to reach millions of viewers online.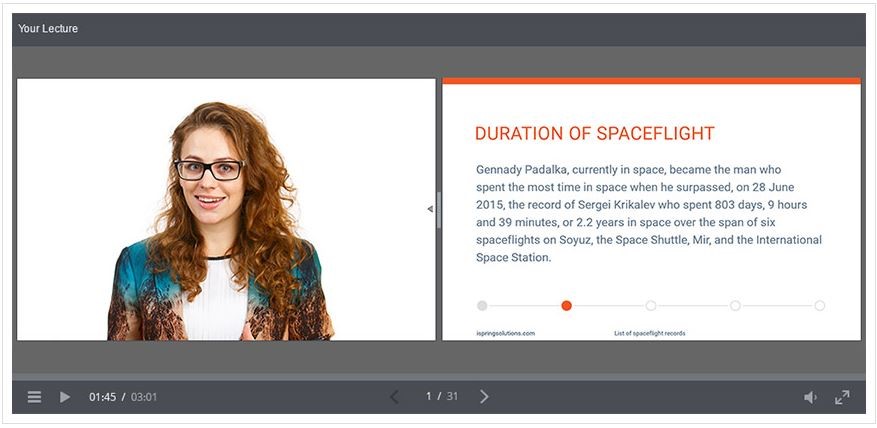 Build Interactive Assessments
Use state-of-the art iSpring tools to create interactive assessments with rich media, video, drag-n-drops, branching, and flexible scoring and testing rules.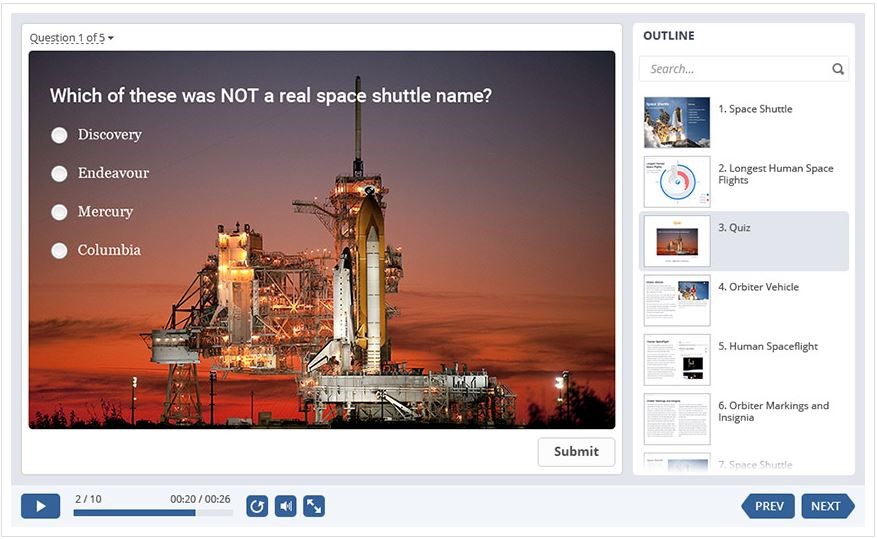 Record Screencasts and Teach Through Video
Now you can record screencasts right in iSpring Suite without using any 3rd-party tools. Capture all or part of your screen with the built-in iSpring Cam tool and paste the video on your slides, or use it as standalone training material.
Develop Conversation Skills
Create conversation simulations to practice your team's communication skills. The built-in TalkMaster tool includes a library of backgrounds and characters to develop realistic dialogue simulations with branching and assessments.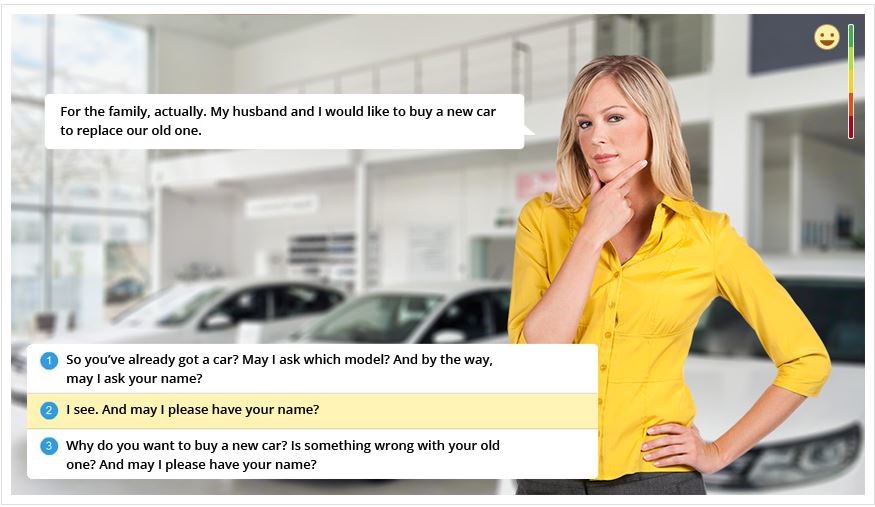 Create E-Learning Interactions
Make your learning materials more visual with iSpring e-Learning interactions that you can create fast and easy with iSpring Suite. Use a set of ready-made templates for creating 3D books, timelines, references, glossaries, catalogs, and FAQs.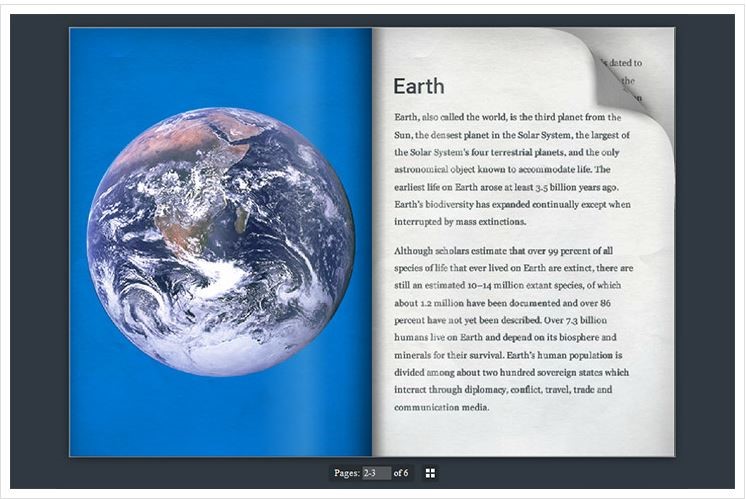 Extensive LMS Compatibility
iSpring Suite produces content that will work well in your LMS. iSpring tools perfectly support all classic and new e-Learning standards: SCORM 1.2, SCORM 2004, AICC, cmi5, and xAPI (Tin Can).
If don't have an LMS yet, feel free to use iSpring Learn LMS and enjoy the advanced reporting capabilities, excellent content playback, and instant one-click publishing.
Adaptive Player That Works Everywhere
Everything you create with iSpring Suite supports Flash and HTML5 for perfect playback on any device, including PCs, Macs, tablets, and smartphones (with Windows, iOS, and Android OS).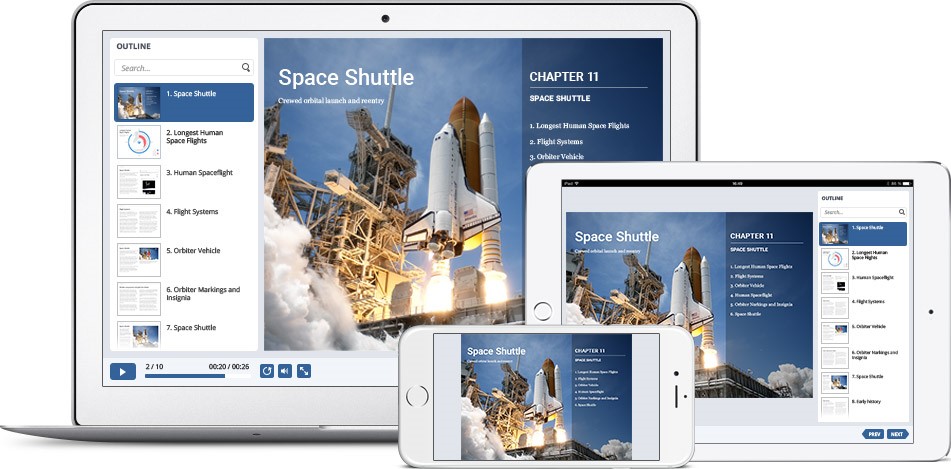 iSpring Play Mobile App
iSpring Play is a mobile app that allows learners to access your content anytime, anywhere, even with no Internet connection.

Content Library
This extensive collection of e-Learning assets includes course templates, backgrounds, characters, controls, and icons. Forget about scrolling through stock photos in search of the right visuals. Everything you need for quick development of professional-looking e-courses is right here.
iSpring Cloud
Your private cloud to safely share courses, presentations, and extensive video lectures online. iSpring Suite publishes your content directly to iSpring Cloud. Then you can put your e-Learning content on a website, post it on social media, or send via messengers. iSpring Cloud helps you easily track viewers' activity in every channel.
Rapid Response Support
The live support team instantly helps you on the phone. 83% of cases are resolved in minutes. iSpring engineers will promptly assist you with any question about our products and content integration with your website or LMS.

Unlimited Upgrades
We add 20 brand new features based on popular suggestions from iSpring users every year. With the latest iSpring Suite, your courses work smoothly with all the newest web browsers, operating systems and mobile devices.
One License,Two PCs
You can use iSpring Suite on two machines: for example, an office PC and a home laptop.