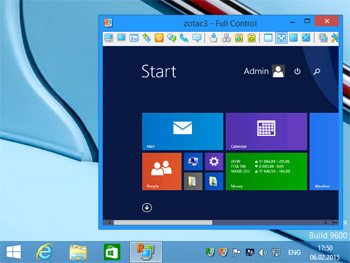 Radmin 3 -
Radmin Viewer 3 - Remote Screen under Windows 7
Radmin is one of the most secure, fastest, and most popular remote access software solutions for Windows.
You can transfer files to and from remote computers, and you can use chat or voice chat to communicate with users on remote computers.
Radmin is a fast and secure remote control and remote access software that allows you to work on a remote computer just as you would sit in front of a remote computer and access remote computers from multiple locations. Radmin fully supports Windows 8 (32-bit and 64-bit), file transfer, multi-user text and voice chat, Windows security, Kerberos authentication, 256-bit AES encryption for all data streams, remote login access, multi-monitor support and unique DirectScreenTransfer ™ technology. Radmin uses the existing TCP / IP protocol - the most widely used protocol on LAN, WAN and the Internet. This means that you can access the remote computer from anywhere in the world. Radmin is used in thousands of enterprise PCs around the world. Among our customers, some companies use Radmin as a standard network management application.
Remote Control Software
Highest working speed
Radmin is the fastest remote control software you can use anywhere. The new DirectScreenTransfer ™ technology uses a video hook kernel-mode driver to increase capture rates to hundreds of screen updates per second. Through its special low-bandwidth optimization capabilities, you can even work with dial-up modems and GPRS connections.
Remote control hardware with support for Intel® AMT technology
Remote control hardware with support for Intel® AMT technology
The Radmin 3 software supports Intel® AMT (Active Management Technology) so you can even manipulate a remote computer when it is turned off or you can not boot its operating system. With Radmin Viewer, you can turn on, restart, or power off remote computers. Users can also view and change the BIOS settings of the remote computer and boot from a local CD or disk image file.
Remote Access Software - Windows 8 Compatible
Fully compatible with Windows 8
Radmin 3.5 fully supports Windows 8 32-bit and 64-bit, including User Account Control (UAC) and Fast User Switching. Radmin Server 3.5 supports Windows 8/7 / Vista / XP / 2012/2008/2003/2000 (32-bit) and Windows 8/7 / Vista / XP / 2012/2008/2003 (64-bit) operating systems. Radmin Viewer 3.5 supports Windows 8/7 / Vista / XP / 2012/2008/2003/2000 / ME / 98/95 / NT4.0 (32-bit) and Windows 8/7 / Vista / XP / (64-bit) operating system.
Remote Access Software - Challenge-response Password Authentication
Highest security level
Radmin works in an encrypted manner, using 256-bit AES strong keys for all data, screen images, mouse movements, and keyboard signals, each with a randomly generated key. Radmin user authentication can use either Windows Active Directory or Kerberos-supported security authentication, or its own individual user rights and secure login / password authentication. Radmin security uses a Diffie-Hellman-based key exchange with a key length of 2048-bits. In addition, IP filters restrict access to feature hosts and networks.
Remote Control Software - Text and Voice Chat
Text and voice chat
Text chat, voice chat and send message mode, are Radmin version 3 newly developed features, they help you connect with the remote computer users to communicate.
Remote Access Software - Easy to use
Easy to use
Radmin is very easy to learn and use. Most of our customers agree that Radmin's main advantage is simplicity. All reporting interfaces are intuitive and the program is very easy to use. Unlike bloatware, Radmin has no useless "value-added" features that make it difficult to use and difficult to learn or drag down its performance.
Remote Control Software - Drag and Drop file Transfer
Secure "drag and drop" file transfer with "Delta Copy" capability
With Radmin, you can easily drag and drop any file on the remote computer in an Explorer-style interface for encrypted transmission. Radmin has the ability to copy files, allowing only a few different files to be updated on both computers. This feature is called Delta Copy because only the differences ("increments") of files are replicated. It allows replication to continue after a network failure, starting from where the failure occurred rather than starting from scratch. This feature is automatically used when copying any file from / to a remote computer.
Remote Control Software - Multiple connections
Support for multiple connections
Radmin supports multiple simultaneous connections to the same remote screen. This means that you can invite a friend or colleague to view your screen remotely (well for meetings) or view or control several remote screens from your own computer screen (ideal for remote outsourcing services or teaching).
Remote Access Software - Free Technical Support
Free technical support through E-mail
Famatech provides free technical support to registered customers via e-mail.

Other features
Compatible with Windows 8, Windows 7 and Windows Vista multi-user sessions.
Radmin Viewer is compatible with Wine (remote control from a Linux machine).
Supports multiple monitors.
Transfer remote screens in 2, 4, 16, 256, 64K, or 16 million colors.
Support for high-resolution mode (maximum display resolution is not limited).
Full support for display animation and alpha-blended remote computer cursors.
Shutdown connection mode.
Telnet mode.
Radmin Server runs as a single service.
Radmin-connected unlimited directories, Explorer-style interfaces, folders, and drag-and-drop support.
Bi-directional clipboard transfer with Unicode support.
Scan for Radmin Servers.
Compatible with Radmin Server 2.x.
The remote screen can be displayed in a window or full screen with smooth zoom and native scale.
Supports mouse wheel.
The shortcuts in the directory record are connected to the desktops listed in the Directory book.
Special keystroke handling, and optional full keyboard control.
IP filters are only allowed from specific hosts and networks.
DNS name and user name information added to the log file.
Five wrong passwords cause security delays.
Multilingual user interface and built-in help.