Xmanager 5
Power of Linux/UNIX on Windows
Xmanager is the market's leading PC X server that brings the power of X applications to a Windows environment. With Xmanager, X applications installed on remote UNIX based machines run seamlessly with Windows application side by side. It provides a powerful session management console, easy-to-use X application launcher, X server profile management tool, SSH module and a high performance PC X server for securely accessing a remote and virtualized UNIX and Linux environment.
Today's IT infrastructure requires various operating systems to run side by side. UNIX and Linux are rapidly replacing mainframes and Windows servers, but Windows is still the platform of choice when it comes to desktop PCs. Since X Window System is the standard technology that any modern UNIX based systems is packaged with, Xmanager requires no additional server side installation and only small to no changes are required to your existing IT infrastructure. Xmanager provides a single point of access to consolidate heterogeneous Operating Systems and provides a flexible work environment to increase productivity. Try Xmanager 5 free for 30 days to see if it is the network connectivity solution for you.
Xmanager is used in various fields of work including large-scale craft and semiconductor designing and server management in an IDC (Internet Data Center). It is widely used by server administrators of universities and corporations, as well as personal users who want to connect to remote hosts over the internet. Xmanager is an easy and powerful PC X server designed to satisfy the needs and wants of these various users.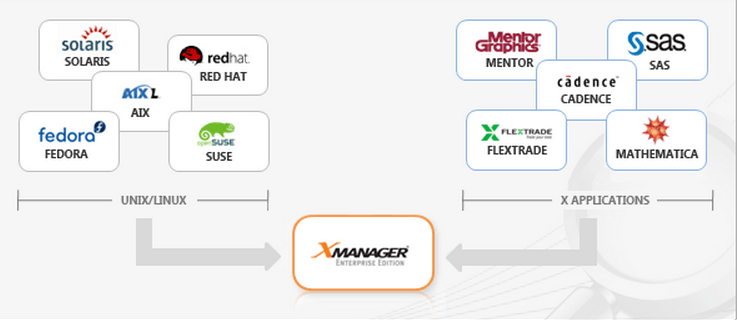 Connect to the remote server system whether you are at work or at home.
If your home and office PC are connected to the internet, you can work remotely from home. It is impossible to handle all business tasks with only text-based terminals (such as telnet). The Secure XDMCP feature of Xmanager 5 will connect from a private network or even from behind a firewall.
Share the X applications and Unix/Linux server systems.
A group of users can share various X applications like CAD/GIS that run on Unix server systems. This is specially useful in an environment such as a company's training facility or computer rooms of schools where user groups often switch in and out.
Run MS Windows and Unix/Linux applications simultaneously.
Xmanager helps you finish your job efficiently in a complex network environment. You can easily switch from window to window on your computer screen.
Be creative with 3D applications
Start your creative work with Xmanager. Other PC X Servers may require you to purchase extra 3D add-on. With version 5, Xmanager Standard come in standard with the OpenGL support. Xmanager supports OpenGL out of box and allows running CAD and other GLX based 3D tools.
OpenGL Support
OpenGL is supported in Xmanager 5. You can enjoy powerful OpenGL supported applications which you could previously only run on the Enterprise edition. 3D applications such as CAD or medical software run smoother at a higher speed with OpenGL support.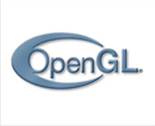 A More Powerful PC X Server
Xmanager 5 supports more X extensions that are required to access the latest Linux operating systems such as Xinerama and RandR. These new extensions allow instantaneous desktop resizing and multi-monitor support and make the remote desktop sessions run flawlessly on a local Windows PC.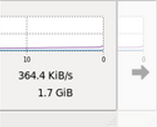 Flexible and Powerful Tabbed Environment
Xmanager 5 introduces our new tabbed environment. It allows you to open multiple tabs in a single window so that you no longer have to switch between multiple remote desktop sessions from the Windows taskbar. With the new tabbed window and RandR extension support, Xmanager 5 provides unparalleled usability that cannot be found in any other X servers.