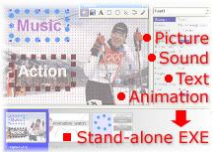 An easy-to-use authoring tool to create interactive animation EXE.
MotionStudio 4 is an easy-to-use, all-in-one multimedia authoring tool. It combines image, sound, interactivity and animation for you to create stand-alone executable files. It is an ideal solution for creating your slide shows, interactive and animated stories, educational materials or just "pictures
to EXE" for your auto-run CD-ROM.
With MotionStudio 4, you can create scalable, vector-based drawing objects as well as adding photos and pictures. With an array of time-saving productivity tools, adding interactive actions and animation is easy. Simplified operation and improved quality is major highlight in this release.
KEY FEATURES
Easy to use, create exactly what you want royalty-free, stand-alone interactive EXE-
MotionStudio combines drawing, painting and animation in one easy-to-use program to save your time and get your job done with a minimum cost.
High productivity, time saving animation features
MotionStudio offers 64 built-in object animation combinations, and a freehand animation to draw any animation path. With 48 built-in visual effects, including fade and dissolve, it's just a few clicks, your animation is done. You can create your own library of objects and reuse them in any other MotionStudio file just drag & drop. Background is a new layer to be used to appear in all frames.
High quality
All drawing objects can be translucent, and all images can have true transparency or adjustable
opacity to blend in. Text quality is also improved and as well the enhanced image editor provides many image processing features.