TechSmith Snagit 2018
What's new
Screen Capture Reimagined
TechSmith Snagit 2018 brings screenshots to life in an incredibly powerful way. Brand new image editing capabilities let you truly transform your screenshots. Familiar features like text capture make a return. And a more advanced screen recorder gives you smoother, more professional recordings.
Smart Move
Toggle to automatically make objects in your screen captures movable. Rearrange buttons, delete text, or edit other elements in your screenshots. Now your graphics will always stay up to date, even when the software or technology you're documenting changes.
Grab Text
Grab Text quickly extracts the text from your screenshots. Capture screen text from an error message, pop-up window, or file menu. Easily copy information without retyping all the text.
Text Replace
Now, Snagit can recognize the text in your screenshots for quick editing. Change the words, font, colors, and size of the text in your screenshots without having to redesign the entire image.
Snapping on Canvas
(Mac only*)
Guides now appear whenever you move a text block or element. Quickly line up items like text blocks, callouts, and shapes and arrange them precisely, with pixel-perfect accuracy.
*Coming soon to Windows
Updates and More
Video Improvements
We've redesigned the webcam recorder to capture up to 4x as many pixels for sharper videos right from the start. And now you can record at an even higher frame rate for smoother, more professional recordings.
Additional Blur Options on Mac
We've made a new improvement to the blur options on Mac. You can now choose between smooth blur or pixellate.
New Mobile Apps
We recently released two brand new iOS apps that let you create content directly on your iOS device. TechSmith Motion bring static images on your mobile device to life by highlighting your product or brand with video effects and text overlays. And TechSmith Capture records your screen for perfect training and app demos.
Grab on Mac Improvements
If you use Grab on Mac, you can now save it directly to Snagit.
Compare Snagit Versions
| | | |
| --- | --- | --- |
| | SNAGIT 2018 | SNAGIT 13 |
| Smart Move (Editable UI) | √ | |
| Grab Text (OCR) | √ | |
| Text Replace (OCR) | √ | |
| 64-bit (Win) | √ | |
| Side-by-Side Install (Mac) | √ | |
| Higher Frame Rate & More Stable Recording | √ | |
| Snapping to Canvas (Mac) | √ | |
| Shared Styles & Themes | √ | √ |
| Background Auto-Fill | √ | √ |
| Magic Wand | √ | √ |
| Translation Workflow | √ | √ |
| Capture Info | √ | √ |
| Webcam Recording | √ | √ |
| Animated GIF Creation | √ | √ |
| Customizable Toolbar | √ | √ |
| New On-the-fly Capture Interface | √ | √ |
| Panoramic Capture | √ | √ |
| Magnify Tool | √ | √ |
| New Modern Callouts & Updated Stamps | √ | √ |
| Support for 4K Capture | √ | √ |
| Higher Video Frame Rate | √ | √ |
| OneDrive for Business Integration | √ | √ |
| DropBox & OneNote 2013 Sharing | √ | √ |
| Exact Capture Dimensions | √ | √ |
| Video Trimming | √ | √ |
| Direct Tagging of Captures | √ | √ |
| Step, Blur, Smooth, & Pixelate Tools | √ | √ |
| Google Drive & TechSmith Fuse Integration | √ | √ |
| Text Padding, Tail Locking, & Spell-Checking in Callouts | √ | √ |
| Video COM Support & MP4 Video Files | √ | √ |
| System Audio Recording in Win 7 & 8 | √ | √ |
| Video Output to Screencast.com, Camtasia, YouTube, FTP, Facebook, & Twitter | √ | √ |
| Transparency | √ | √ |
| Page Curl Effect | √ | √ |
| Rotating Text Boxes | √ | √ |
| Ability to Backup & Restore Saved Captures | √ | √ |
| Autosaving of Captures | √ | √ |
| Persistent Undo for Captures | √ | √ |
| Automatic Metadata Capture | √ | √ |
| Searching Functionality | √ | √ |
| Scrolling Capture | √ | √ |
Simple, powerful screen captureand screen recording software
Create images and videos to clearly get your point across. Spend less time trying to explain things and more time on the work that matters.

Capture Your Screen and Communicate More Effectively
Snagit gives you a simple way to create and edit screenshots or record videos to show a complex process, give detailed feedback, or share important information with the people who need it most.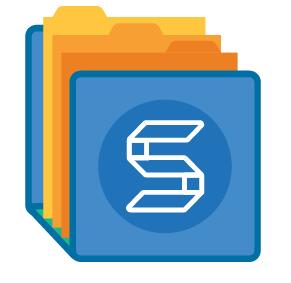 Capture your PC and Mac
Capture an image or video of what you see on your computer screen. Record Skype calls or Google Hangouts with audio. Instead of traveling on site, capture meetings and interviews that you can watch and review later.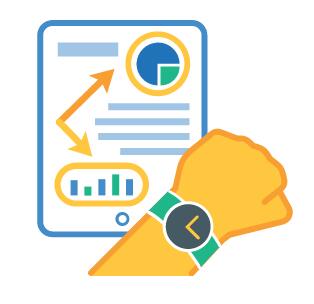 Enhance screenshots
Snagit is way more than just a snipping tool. Every screenshot can be customized with professional-quality markup tools. Quickly show what you're seeing without the frustration of writing out long, detailed explanations.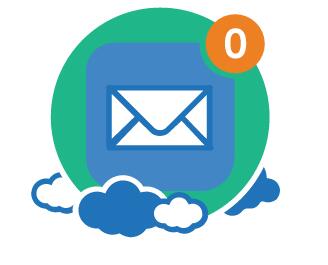 Deliver results
Show others instead of struggling to explain it. Whether you need to capture a website, record an online meeting, or send someone quick feedback in an email, Snagit screen capture helps you deliver key information.
Quickly capture your desktop screen
Snagit's image and video capture is powerful, but not complex. All-in-One Capture® grabs your entire desktop, a region, a window, or a scrolling window from any webpage or application—all with a single hotkey or click.

Image capture - Make sure to capture exactly what you need. Click and drag anywhere on your screen to select a region with pixel perfect accuracy.

Video capture - Sometimes it's easier to talk things through. Create, narrate and trim quick videos of your screen for demos, feedback, reviews, and more.

Mobile capture - Capture beyond your desktop. Get TechSmith Fuse for your Android or iOS phone to send photos and videos from your mobile device straight to the Snagit editor.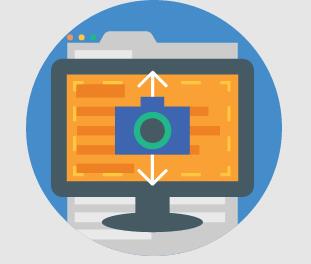 Scrolling capture
Quickly capture a full-page screenshot even if it's not showing on the screen. Grab the horizontal, vertical, or entire scrolling area with just a click.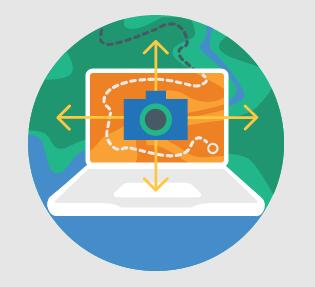 Panoramic capture
Capture wide, horizontal scrolls, infinitely scrolling webpages, and everything in between. Capture once, instead of taking individual captures and manually editing them together.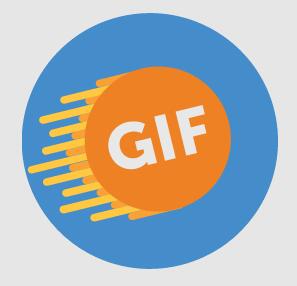 Create Animated GIF
Turn any short screen recording into an animated GIF. Perfect for showing off quick tasks and workflows.
Turn plain screenshots into clear, concise communication
Comment over screenshots using text boxes. Point out your ideas with arrows and shapes. Or simply highlight key areas. And Snagit's toolbar is completely customizable so all of your favorite tools stay front and center.
Add callouts, shapes, and text - Add personality and professionalism to your screenshots with a variety of pre-made styles, or you can create your own.

Combine images - Compare a few items side-by-side, piece together two images, or create a whole new graphic.

Resize images - Get your images to the correct size, right down to the pixel. Use the Resize option to enter new dimensions to scale the size of the image.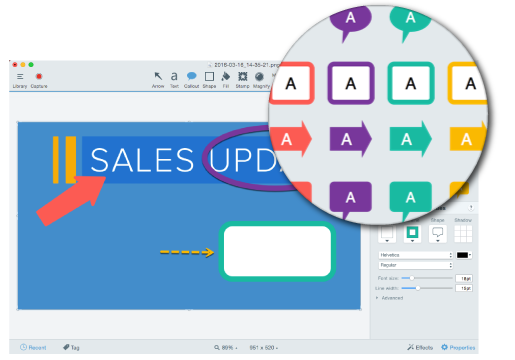 Snagit stamps
Personalize your images with stickers specifically designed for screenshots.

Library
Find all of your past captures without wasting time digging for them. Your screen captures are automatically saved to your library, with the most recent captures viewable all the time. Tag captures to always keep your projects organized.

Special effects
Add effects like border, shadow, and torn edges to your entire screen capture. Or, create your own custom style.
Magnify
Zoom in to show people exactly what you're seeing. Customize the outline color, zoom power, and size of your magnification.
Simple, intuitive video screen capture
Context is everything. Record video of your desktop for simple how-tos, tutorials, or video instructions. Our video screen capture software is the best you'll find. With Snagit, there's no waiting. You can record your video, and share it within seconds.
Webcam recording - Toggle between webcam and screen recording during a video to add a personal touch with teammates or clients, no matter where they are.

Video trimming - Quickly get rid of any unwanted sections from your screen recordings. Remove ums, ahs, coughs, extra time from the beginning, middle, end, or any mistakes you want to correct.

Record audio - Include audio from either a microphone or your computer's system audio.