TeamViewer 13

Cutting-Edge Support* Single user licenses allow connections from up to 3 devices (for example, computers or mobile devices). Multi-user (floating) licenses allow many users to use TeamViewer on any number of devices.
Be at the forefront of mobile support technology to enable IT technicians to solve support cases faster, and provide customers with an outstanding support experience.
iOS Screen Sharing
Experience the first and only iOS Screen Sharing remote support solution. For the first time ever, IT technicians can view remote iPhones and iPads in real time.
Remote support to iOS devices is now much more efficient, meaning the end-user experience is improved since technicians can provide faster, more accurate troubleshooting.
iOS Files App Integration
Improve customer service by reducing the time to resolution for iOS11 technical support service cases with TeamViewer - the first remote support solution to integrate with the new iOS Files app.
The QuickSupport app is available in the Files app, so users can manage all files transferred to or from their device. File transfer now integrates well with any other iOS app that supports the Files app, such as Box or Google Drive.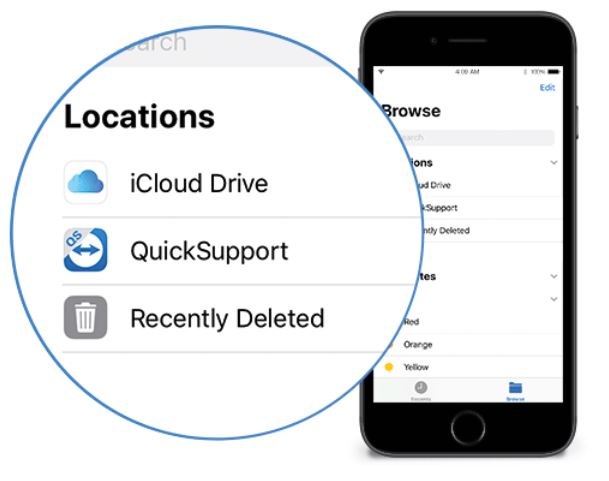 1-click Login and Reduced Data Usage for Android
Instantly access your Computer & Contacts list on your Android device. Enjoy a hassle-free experience when you are on the move or working from a location with poor connectivity.
Reduce the data usage of your Android device by up to 80% with TeamViewer's smart data transfer technology. The bigger your Computers & Contacts list, the more data you will save.
Additional Features:
Unified Android App Experience、Support for Motorola Devices、Android App Overhaul、Android Host Eco-Mode、Samsung Android Enhancement、Improved QuickSupport Experience

Focus on Efficiency
Free up more of your team's time to get things done. Smart workflow features and improvements will take care of the leg work.
Single-Window User Interface
Simpler to navigate, easier to manage, and optimized in collaboration with customers – the all-in-one user interface improves the way you work with TeamViewer. Work faster and with fewer clicks.
9 out of 10 users are extremely satisfied with the new design, that condenses and simplifies multiple windows and tools into one easy-to-use, re-sizable client window, that also remains open when establishing a remote control connection.
Intuitive File Transfer
Optimize your workflow and save time setting up and managing secure file transfers between devices. Gain clarity on which files are being transferred to which device, and monitor the progress.
Access recent folders to quickly locate the needed files, queue multiple stacks of files for transfer, and view the progress of the transfer within an overhauled UI.
Essential Asset Management
Carry out critical maintenance or upgrade tasks more efficiently. Quickly find and take action on devices that meet your task's requirements, without spending time remoting into every device you manage.
View the computer name, operating system, processor, and RAM for each assigned device within the management console, without needing to establish a remote connection.
Additional Features:Automated Service Case Assignment、MacBook Pro Touch Bar Support、Native for Linux、Swiftpoint GT Mouse for iOSCustomer Portal
Additional Features:Automated Service Case Assignment、MacBook Pro Touch Bar Support、Native for Linux、Swiftpoint GT Mouse for iOS、Customer Portal
Reports in servicecamp
The most user-requested enhancement for servicecamp has arrived. Efficiently manage service request workloads, ensure top customers' tickets are prioritized, and use data to transparently communicate with senior management.
Use the in-built reporting functionality, or instantly integrate servicecamp data into tools such as Excel, Power BI, and Tableau, or any other data environment you are familiar with, to gain even greater insights.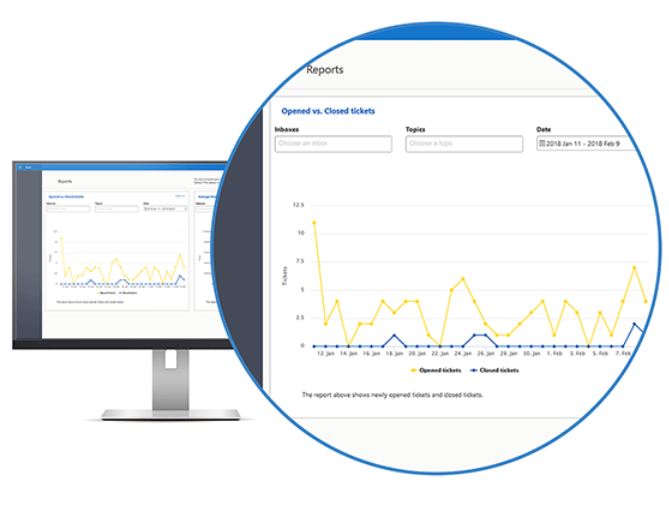 Recent Connections
Quickly re-connect with the devices you interacted with most recently, without needing to search for them again.
Use the Recent Connections group at the top of the Computers & Contacts list to initiate remote control, file transfer, or online meeting connections.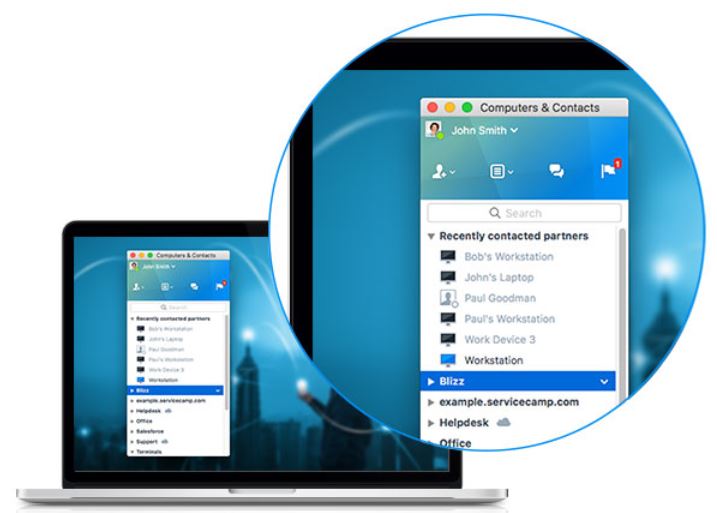 Extended Remote Device Dashboard
Save even more time getting the information you need about a device during a remote connection. Quickly identify any potential issues and move on to a solution.
View information about the uptime, serial number, hard drive health, battery level (and whether it's plugged into a power source), as well as the BIOS version and date.
Additional Features:Hardware Acceleration、Intuitive Desktop UI、Multi-Monitor Support for Mac

Active Directory Connector
Save time and hassle synchronizing users in your company's Active Directory with TeamViewer by using the new downloadable AD Connector.
Ensure the right people always have access to a company TeamViewer account. Use the new graphical user interface of the AD Connector to configure and synchronize multiple AD groups, execute test runs, and set up scheduled synchronizations.
Identity Provider Connection
Enterprise customers can request early access to Identity Provider Connection, to reduce user management overhead, align with security guidelines, and ensure that only approved users can access TeamViewer accounts using corporate email addresses.
Use your Identity Provider (IdP) to centralize, secure, and control account logins, as well as to set up IdP-enabled multi-factor authentication.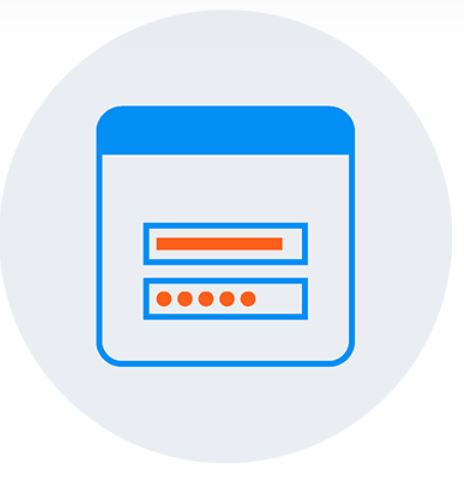 Enhanced Remote Printing
Easily print remote documents locally with better quality than ever before. Save time and avoid misunderstandings by removing the need to create multiple versions of the same document in order to print.
Enable remote printing with HP printers, macOS, and full color, as well as an overall improved user-experience.
Additional Features:Instant Log-in、Improved User Permission Control、Enforced Session Recording
Teamviewer's features in detail
Multi-platform
Cross-platform PC to PC, mobile to PC, and PC to mobile connections that support Windows, Mac OS, Linux, Chrome OS, iOS, Android, Windows App, and BlackBerry.
Maximum compatibility
TeamViewer runs on a broad spectrum of operating systems ranging from state-of-the-art system software to older operating systems.
No configuration
Start and use TeamViewer instantly. TeamViewer even works behind firewalls and automatically detects any proxy configuration.
Easy to understand
Enjoy a state-of-the-art user interface that is clearly arranged, simple, touch-friendly, and quick to operate.
High performance
Intelligent connection and routing, efficient use of bandwidth, fast data transmissions, and automatic quality adjustments ensure an optimized user experience.
High security
TeamViewer utilizes RSA 2048 public/private key exchange, AES (256 bit) session encryption end to end, random passwords for one-time access, optional two-factor authentication, and access controls via black- and whitelists.
International
TeamViewer is available in more than 30 languages and supports international keyboards, which makes it an ideal solution for international use.
Free for testing and personal use
Test TeamViewer for free, without having to provide any personal information. Also, use the software at home for personal use free of charge.
General features
Computers & Contacts management
Arrange, group, and share your computers and contacts as needed. Receive instant alerts for important notifications and see when contacts are online in order to send instant messages or connect with just one click.
Automatic discovery
Automatically discover nearby contacts and devices to make collaboration and interaction even easier.
Integrated monitoring checks
By assigning a device to your TeamViewer account, TeamViewer sends you alerts regarding disk space, Windows updates, antivirus protection, and Windows firewall.
User & device management
Add users and devices to your company (license) and assign rights. Share groups. Manage devices with policy-based settings, or enable secure access controls to connect to devices without the need for a password.
Setting policies
Create setting policies, distribute them, and enforce them if necessary. Any changes to setting policies are automatically applied to the assigned devices.
Channel groups
Create separate channel groups within your license and assign users to them to ensure that specific teams always have access to the channels they need.
Chat
Instant messaging functionality includes group chats, web-based chats, offline messaging, chat history, persistent chat groups, full support for mobile devices, and end-to-end encryption.
File transfer
Share files of any size using convenient methods such as a file manager, contextual menus, drag & drop, and a file box that can link to cloud storage providers.
Whiteboard
During remote control or meeting sessions, use a whiteboard that includes numerous shapes, pens, markers, and a speech bubble.
Remote audio and video
Hear music or system sounds and see videos from the remote computer during a connection.
High-definition VoIP
Enjoy the clarity of high definition audio quality with automatic noise reduction and echo cancellation during Voice over IP transmissions.
Session recording
Record remote control or meeting sessions (including sound, Voice over IP, video, and webcam images) with simple conversion into the AVI video format.
Ultra-high definition
By means of intelligent scaling, TeamViewer provides flawless connections to UHD displays for both remote control and meeting sessions.
Terminal server support
In a terminal server environment, a separate ID is optionally generated for every user, which allows them all to use TeamViewer simultaneously and independently.
Mass deployment
Deploy TeamViewer or TeamViewer Host (silently) to thousands of devices at once via group policy (GPO) in an Active Directory domain. Also, roll out TeamViewer Host to your Android mobile fleet via the Management Console.
Integrated service desk
Manage and track incoming tickets with TeamViewer servicecamp, the integrated service desk. Streamline response times by prioritizing your requests and identifying frequent service or support topics.
Remote control
Direct control
Control a remote computer, Android, or Windows 10 mobile device as if you were the primary user sitting right in front of it.
24/7 access
Install TeamViewer as a system service to enable access to remote devices at any time, ideal for accessing unattended devices such as remote servers.
From your browser
Use TeamViewer from within your web browser to provide remote support or for remote access.
Multiple connections
Open multiple connections simultaneously and use tabs to switch conveniently between them.
For your work environment
TeamViewer supports user account control (UAC), direct LAN connections via TCP/IP, and a true virtual private network (VPN) channel – in addition to pure desktop sharing.
Linux systems without a GUI
Even if there is no graphical user interface (GUI) or attached monitor on the remote Linux computer, you can simply connect to the Linux text console.
Wake-on-LAN
Wake up your computer via another computer using TeamViewer within the local network or via a router.
Restart remote computer
Restart the remote computer with automatic subsequent reconnection – even in safe mode.
Remotely update or install
Remotely update any installed version of TeamViewer or even remotely install TeamViewer (full version or Host) via TeamViewer QuickSupport.
Remote printing
Conveniently print documents from the remote computer to your local printer. Locally installed printers are automatically detected by TeamViewer.
Synchronous clipboard
Copy and paste files, images, and text from one computer to another via the clipboard.
Special keys
Easily send special key combinations to the remote device (e.g. Ctrl+Alt+Del) even if you're using a completely different operating system such as on a mobile device.
Black screen
Make the remote computer monitor dark if you do not want anyone to watch while you are accessing a remote device.
Multi-monitor support
Navigate easily between multiple monitors. Display multiple remote screens simultaneously on your local screens (e.g. two windows for two monitors).
Save connection settings
Save individual connection settings for all future connections to the same computers by group, contact, or computer.
Service queue
All service cases are collected in a service queue and identified based on a session code that can then be prioritized and organized in your team.
Work together
Invite any partner or expert into a current remote control session and solve problems together. Also change directions by reversing the viewing direction during any ongoing session.
Comprehensive reporting
Built in reporting features log connections for who did what, when, and for how long. This can serve as the basis for precise billing. Also take advantage of session commenting capabilities and customer feedback forms.
Connect to mobile devices
Remotely connect to Android, Windows 10 Mobile (with real-time remote control and unattended access possible), and iOS devices to see installed apps and running processes, push & pull settings, and view important device metrics.
---
Meetings / presentations
Scheduling
Schedule, organize, and send invitations to your meetings. Set up your online meetings directly in your Outlook calendar via the integrated TeamViewer button.
Rights management
Rights management allows differentiation between organizer, presenter, and participants. Different presenters can be designated and changed during a meeting.
Effectively communicate
Communicate interactively and effectively via chat, VoIP, video, and telephone conference. Individually set the level of interaction among participants.
Access control
Start meetings without participants for optimal preparation. Use the door lock to provide additional access control of invited participants.
Screen sharing
Share your screen at any time or select only the window of a particular application to share. Escalate chats or video calls into full presentations by sharing your screen at any time.
Video calls
See and talk to multiple participants simultaneously in a single call, and share your screen at any time.
One click
Meetings, video calls, chats, and teleconferences can be started with just a click: simple and spontaneous.
---
Modules
No installation
QuickSupport (remote support) and QuickJoin (meeting participation) can be used without installation, so no administrator rights are necessary.
Unattended access
Install TeamViewer Host to enable permanent access to unattended computers/servers, or access Android devices such as smartphones, point of sale devices, or public displays by using TeamViewer Host for Android.
Custom modules
Create custom QuickSupport, QuickJoin, and Host modules that are branded with your corporate identity, configured for your specific needs, and always available to your customers.
SOS button
Put an icon with your company's name, or a simple call to action, right on customers' desktops to make it extremely easy for them to get support.
---
Integrations
APIs
Use an API to integrate TeamViewer into your applications (e.g. helpdesk or CRM). Add capabilities such as access to computers and contacts, reporting, user management, and session management.
iOS/Android screen sharing SDK
Integrate TeamViewer into your mobile apps using the screen sharing SDK for iOS/Android. Assist users of your app and troubleshoot their issues.
Chat from your web environment
Add full-featured, browser-based chat capabilities to internal web tools such as CRM or helpdesk solutions by means of an embedded TeamViewer chat widget.
Service desk

integration
Clear focus
No matter what kind of request, you are able to focus on your ticket content. Irrelevant information is automatically faded out. Relevant text passages in ticket conversations can be highlighted.
Email client integration
Turn Outlook or Gmail into a service desk. Answer incoming tickets directly from within your email application using full service-desk functionality. There is no need to manually maintain two systems.
Multilayered support
Connect directly to your customers from within your support ticket. Provide support via chat, or start a remote control session. It works even if the customer does not have TeamViewer installed.
Topics
Structure your inbox by sorting tickets into topics. Opening a topic lists all topic-related tickets as well. Easily quantify and measure frequently asked questions or currently relevant support issues and use them to provide fast service.
Collision detection
See if a ticket in your inbox is currently being answered by a colleague. With collision detection, it is simple to improve response times and avoid outgoing double answers to an inquiry.
Bulk actions
Update a large number of tickets at once. Prioritize, sort, answer, and close tickets with a single action, and define for which tickets you want to use bulk actions.
Quoting
Embed quotes from a previous ticket into your current customer answer. When switching back and forth between tickets, the previously edited text remains in your current ticket and can be processed and sent out.
Features According to License Types
| | | |
| --- | --- | --- |
| Business | Premium | Corporate |
| √ Single-Window User Interface | √ Single-Window User Interface | √ Single-Window User Interface |
| √ Recent Connections | √ Recent Connections | √ Recent Connections |
| √ Intuitive File Transfer | √ Intuitive File Transfer | √ Intuitive File Transfer |
| √ Instant Log-in | √ Instant Log-in | √ Instant Log-in |
| √ Enhanced Remote Printing | √ Enhanced Remote Printing | √ Enhanced Remote Printing |
| √ Hardware acceleration | √ Hardware acceleration | √ Hardware acceleration |
| √ Intuitive Desktop UI | √ Intuitive Desktop UI | √ Intuitive Desktop UI |
| √ Android App Overhaul | √ Android App Overhaul | √ Android App Overhaul |
| √ MacBook Pro Touch Bar Support | √ MacBook Pro Touch Bar Support | √ MacBook Pro Touch Bar Support |
| √ Multi-Monitor Support for Mac | √ Multi-Monitor Support for Mac | √ Multi-Monitor Support for Mac |
| √ Native for Linux | √ Native for Linux | √ Native for Linux |
| √ Swiftpoint GT Mouse for iOS | √ Swiftpoint GT Mouse for iOS | √ Swiftpoint GT Mouse for iOS |
| √ Instant Log-in for Android | √ Instant Log-in for Android | √ Instant Log-in for Android |
| √ Unified Android App Experience | √ Unified Android App Experience | √ Unified Android App Experience |
| | √ Active Directory Connector | √ Active Directory Connector |
| | √ Improved User Permission Control | √ Improved User Permission Control |
| | √ Automated Service Case Assignment | √ Automated Service Case Assignment |
| | √ Essential Asset Management | √ Essential Asset Management |
| | √ Extended Remote Device Dashboard | √ Extended Remote Device Dashboard |
| | √ Reports in servicecamp | √ Reports in servicecamp |
| | | √ Enforce Session Recording |
| AddOn support for mobile devices | AddOn support for mobile devices | AddOn support for mobile devices |
| √ iOS Files App Integration | √ iOS Files App Integration | √ iOS Files App Integration |
| √ iOS Screen Sharing | √ iOS Screen Sharing | √ iOS Screen Sharing |
| √ Android Host Eco-Mode | √ Android Host Eco-Mode | √ Android Host Eco-Mode |
| √ Improved QuickSupport Experience | √ Improved QuickSupport Experience | √ Improved QuickSupport Experience |
| √ Support for Motorola Devices | √ Support for Motorola Devices | √ Support for Motorola Devices |
| √ Samsung Android Enhancement | √ Samsung Android Enhancement | √ Samsung Android Enhancement |