Netwrix Auditor for Windows File Servers
Complete visibility into changes, data access and data usage on File Servers

Windows File Server Auditing Software
Netwrix Auditor for Windows File Servers delivers complete visibility into everything happening
on your file servers. It provides actionable audit data about all changes made to files, folders, shares and permissions; reports on both successful and failed access attempts; and enables file analysis reporting for improved data security and information management.
File analysis reports
Delivers detailed information on overexposed data and data ownership; reveals data usage and data volumes; and identifies stale and duplicate files.
Deep insight into every change
Makes it easy to determine who made a change, when the change occurred, and what exactly was changed, including the before and after values — across all your Windows-based file servers.
Complete information about access permissions and access attempts
Shows effective permissions by user and by object, and reports on file access attempts (both failed and successful) across multiple file servers and shares.
Easy comparisons of current and past configurations
Enables you to quickly compare the current state of file systems and permissions with a snapshot from any point in the past.
Streamlined compliance reporting
Provides out-of-the-box reports mapped to common regulatory compliance standards, including PCI DSS 3.0, HIPAA, SOX, FISMA/NIST800-53 and ISO/IEC 27001.
Agentless operation
Collects audit data without the use of agents, so it does not interfere with system processes and performance or cause any system downtime.
To comply with external regulations and ensure business continuity, organizations must audit their file servers to secure sensitive data against leaks and unauthorized modifications. Netwrix Auditor for Windows File Servers automates file server auditing and reporting, thereby mitigating the risk of compliance failures, data breaches and availability problems.
"We needed a way to audit data and files related to police evidence. Netwrix Auditor gives us the ability to provide an audit trail of any file activity and ensures sensitive data is protected."
Barry Goldstrom, IT Supervisor,
The City of Artesia, NM
Establish and prove compliance with continuous file server auditing
Quickly satisfy both internal and external auditors by answering questions such as who changed file permissions or who deleted files from the file server. This information can be stored in the two-tiered (file-based + SQL database) AuditArchive™ for more than 10 years.
Prepare audit reports and troubleshoot
unwanted changes on file servers faster
Overcome the limitations of native auditing tools with Netwrix file server reporting software. Instead of struggling with time-consuming and error-prone manual process, IT administrators can quickly produce reports for stakeholders on changes to files, permissions and data access attempts. They can also quickly identify, investigate and remediate problems — for example, by detecting the unwanted deletion of a business-critical file and restoring it from backup before the change interferes with someone's work.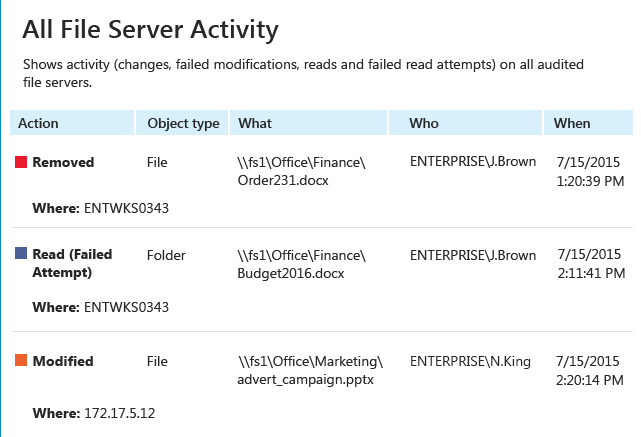 Detect and investigate unauthorized file server configuration changes and data access events before a data leak occurs
Identify suspicious activity that might put data security at risk using out-of-the-box reports on file server changes. You can view additions, deletions and modifications of files and shares; changes to file and folder permissions; and file access attempts (both successful and failed). Then use Interactive Search to investigate the activity further and determine how to prevent similar incidents from occurring in the future.
Make better information management decisions for unstructured data
Quickly detect excessive access rights to find and remediate potentially overexposed data to prevent a data leak. Prevent data sprawl and facilitate cleanup for improved user productivity and optimized storage by identifying empty folders and duplicate or unused files, along with their size and owners.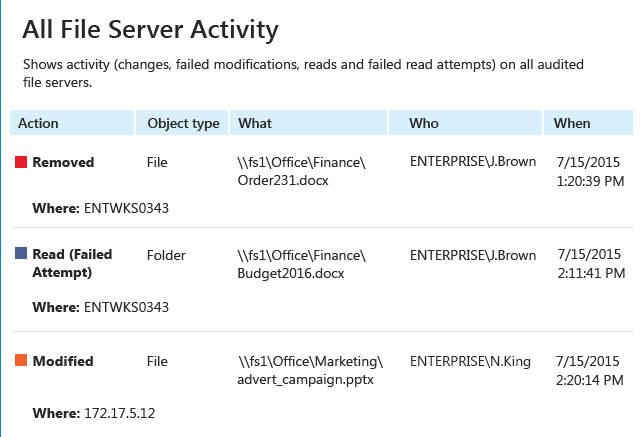 Provide easy access to file server audit data to anyone
in your organization who needs it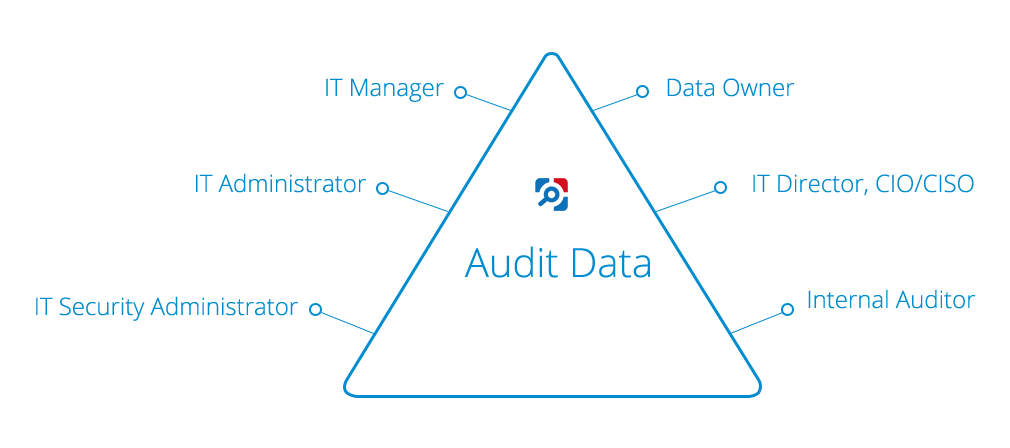 "Controlling access to sensitive data is one of our priorities, since we must comply with numerous industry standards. Netwrix Auditor helps us to ensure that there is no room for unauthorized actions that could potentially compromise sensitive data and damage our customers."
Mark Patten, Director of Corporate Engineering,
FXCM Inc.