Protect Your Data from Threat with File Auditing Software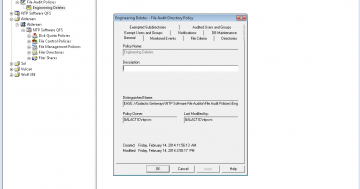 Your stored unstructured file data is growing by volumes every day. With each new user and file, this data is constantly updating and expanding. Industry experts cite that file data can grow by up to 80% a year. And as your file data in primary storage grows, it can become difficult to manage. It's even harder to track without file auditing software.
You still need to maintain a clear accountability path of all data file changes in order to comply with regulatory compliance mandates. Can you trace how and when your critical files are accessed? Are your chain-of-custody logs ready in the event of a security threat or compliance check? Could you pass an audit with your current system right now?
File auditing software gives you the information you need.
With NTP Software's File Auditor, you have an immediate view of who is accessing which documents across your entire storage environment. The view is in real time. This file auditing software gives you automatic reporting and auditing tools. These tools help you build an extra layer of security around your company's sensitive file data and intellectual property. With file auditing software, you'll have confidence knowing that you can trust your storage file data to perform when you need it.
Want to monitor a certain group of users or track particular files?
With File Auditor, you can determine your monitoring parameters from both the user level and the file level to give you a broader view of user access across the entire enterprise. File auditing software also helps you detect high-risk activities such as mass file deletion and other file data movement anomalies. Plus, the file auditing software can help you track if your data file access privileges are ever compromised.
Because the more information you have about your stored data files, the better prepared you are to protect them. Isn't your sensitive file data worth this level of protection?
Look to NTP Software File Auditor to provide:
Audit trails - to simplify compliance with HIPAA and Sarbanes-Oxley compliance regulations
User monitoring - for an added layer of security to protect sensitive file data and intellectual property from unwarranted access
Activity alerts - to gain insight into standard file data patterns vs. high-risk behavior and inappropriate use
Centralized security - to build a central monitoring hub for tracking sensitive files for inappropriate activity
Cross-platform - easy file data access no matter how many storage systems or platforms your enterprise may use
Ready to experience the security benefits of NTP Software's File Auditing Software?
Features

Alerts
Be alerted to unwarranted or abnormal data access by a particular user.

Reduce risk
Reduce the risk of malicious asset destruction, intellectual property theft, or information leaks.
Centralize security
Monitor security and access across multiple storage systems, platforms, and sites with one interface.

Audit
Maintain audit trails of data use for further investigation or legal holds.

User profiles
Understand user patterns to detect sudden shifts is user behavior.