AutoRun Pro Enterprise 14.9
AutoRun Pro Enterprise is a complete rapid application development (RAD) tool to create interactive multimedia applications for Windows - without programming. You don't have to be a programmer, but with AutoRun Pro Enterprise you'll feel like one. Even though it is very easy to learn and use, it has everything you need to develop professional software applications!
Would you like to distribute your product or company presentation, electronic documentation or e-product(s) on a removable storage device such as a CD, DVD or USB stick? You can create autorun CD menu now and publish your presentations, documents, files and software,… on portable media such as CDs, DVDs and USB sticks. Using AutoRun Pro Enterprise you can create an attractive and professional CD menu for your CD or DVD and a front-end menu for your USB stick (USB flash drive).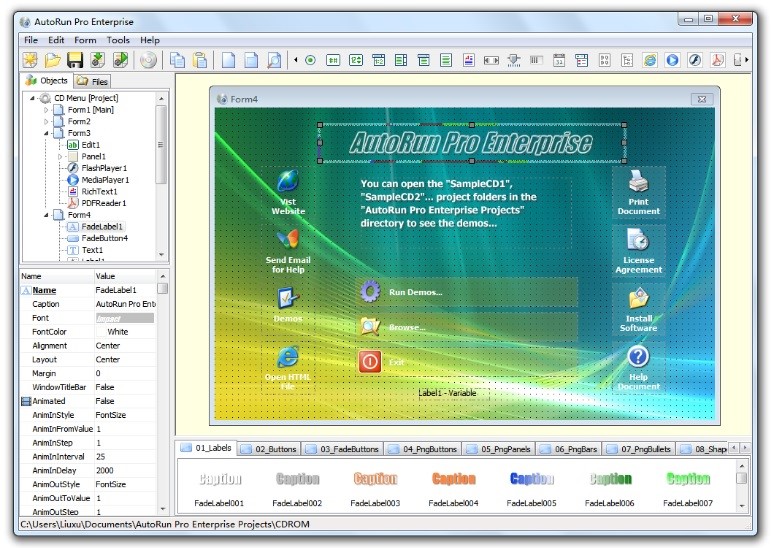 Completely Visual – No programming required
AutoRun Pro Enterprise makes it easy for anyone to create professional looking CD-ROM/DVD-ROM autorun menus. With its easy-to-use visual design environment, you don't have to know a thing about computer programming. If you can use a mouse, you can create interactive multimedia applications with AutoRun Pro Enterprise.
AutoRun Pro Enterprise features a completely visual drag and drop environment. Simply add content such as photos, videos, music and text to your forms and position them using your mouse. We've even included lots of extra content like backgrounds, panels, buttons, sound effects and more to get you started. From opening documents, to running programs, viewing websites and sending email, it couldn't be easier!
AutoRun Pro Enterprise includes 40 built-in object types. You simply add them onto a form and then edit their 'properties' and 'events' to customize them however you want. You'll be able to layout your graphic user interface as fast as you can drag and drop!
Form Templates and Object Templates
One of the features which makes AutoRun Pro Enterprise so quick and easy to work with is the included library of ready-to-use form templates and object templates. To apply a template simply select it in the template list, AutoRun Pro Enterprise will do the rest. All you have to do is substitute your content for the placeholder content and publish. AutoRun Pro Enterprise templates guarantee professional autorun CDs for anyone, in just a few clicks!
Built-in CD/DVD Burner
Whether you prefer to distribute your projects via CD-ROM, USB stick, the internet, AutoRun Pro Enterprise makes it a breeze with the handy Publishing Wizard. With just a few clicks you can generate all the files you need to get the job done quickly and correctly. AutoRun Pro Enterprise can even directly burn your autorun CDs or ISO CD images without any need for external CD burning software.