Easy Redmine 2016 - Project Management Solution
This is your future project management solution - improved Redmine. It has all the features as basic Redmine + many great enhancements. It organizes all work in a company into projects and tasks. People are aware of the priorities and know what to do. Time spent on projects and tasks is logged. Managers save time and owners have organized business which increases on value.
Explore all the features of basic Easy Redmine 2016 now!
Projects and tasks
A task is a basic system entity which users pass on to make it done. Tasks are organized in projects which can be divided into sub-projects or milestones. Easy Redmine watches over the due dates, no tasks are forgotten and all information is shared – these are the basics of the project management software.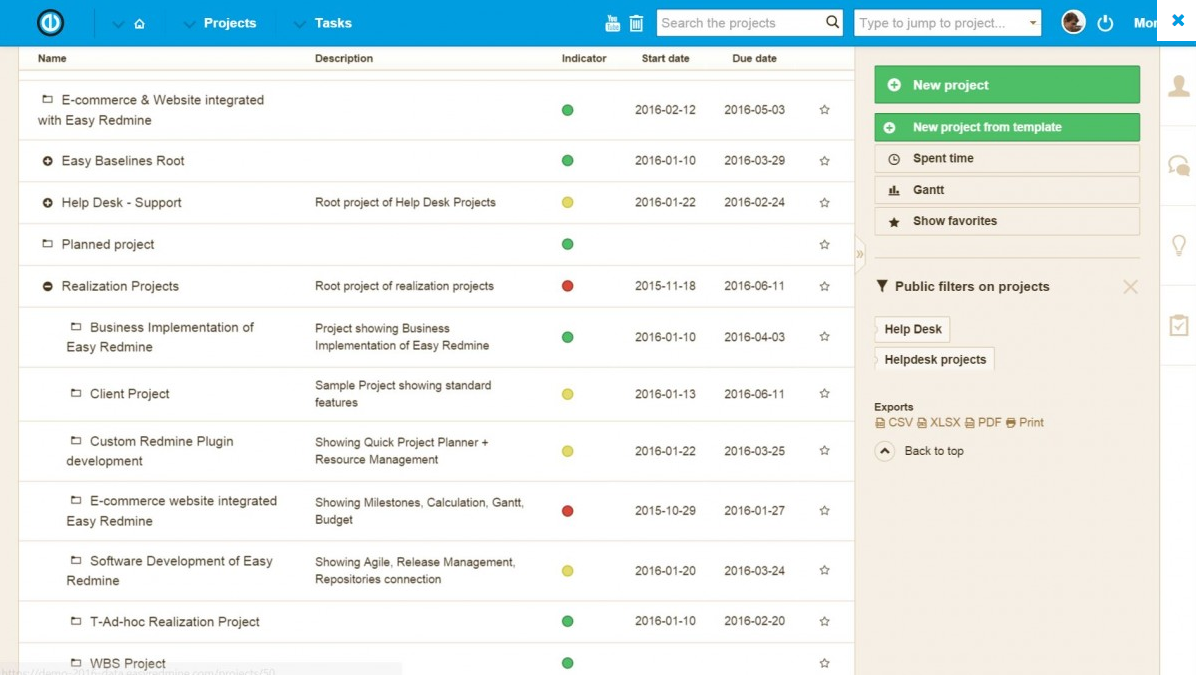 Personal dashboard for work management
Every user has a personal dashboard which organizes daily work.The dashboard is customizable, moreover, dashboard templates for basic roles are already prepared for you. A dashboard usually contains tasks a user is supposed to work on (list or calendar), calendar for logging time spent, documents etc.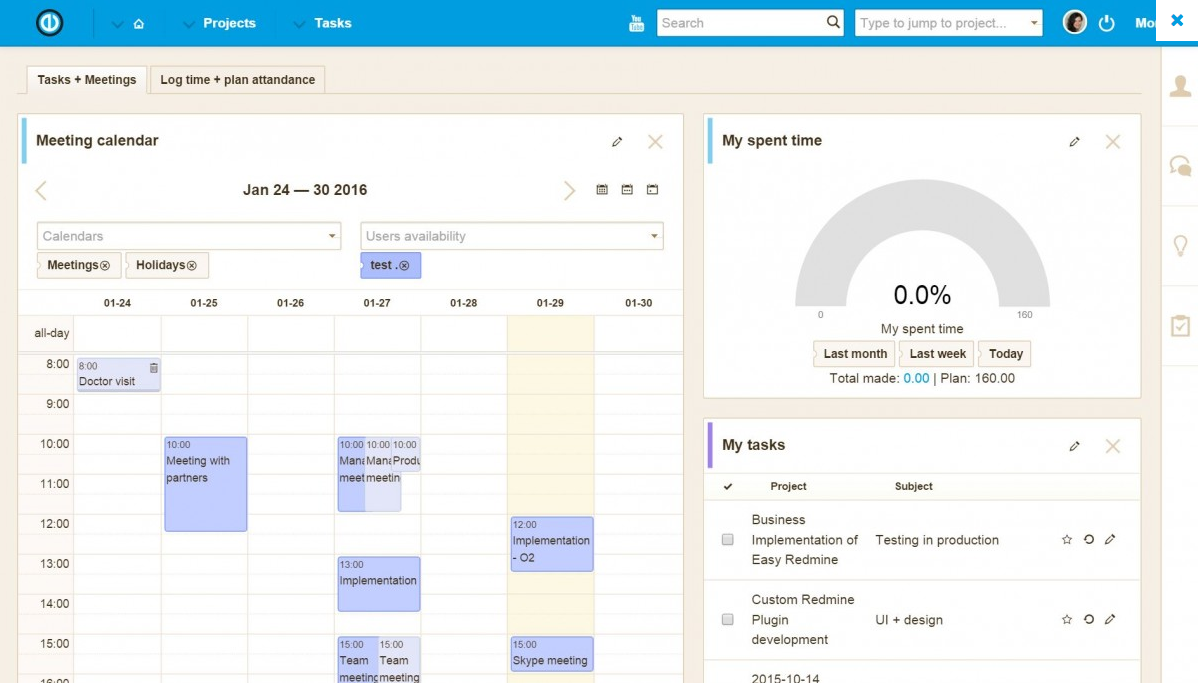 Project dashboards
Each project has a customizable dashboard which fits to every manager. Project dashboard summarizes basic project facts and figures on one page for all the project members.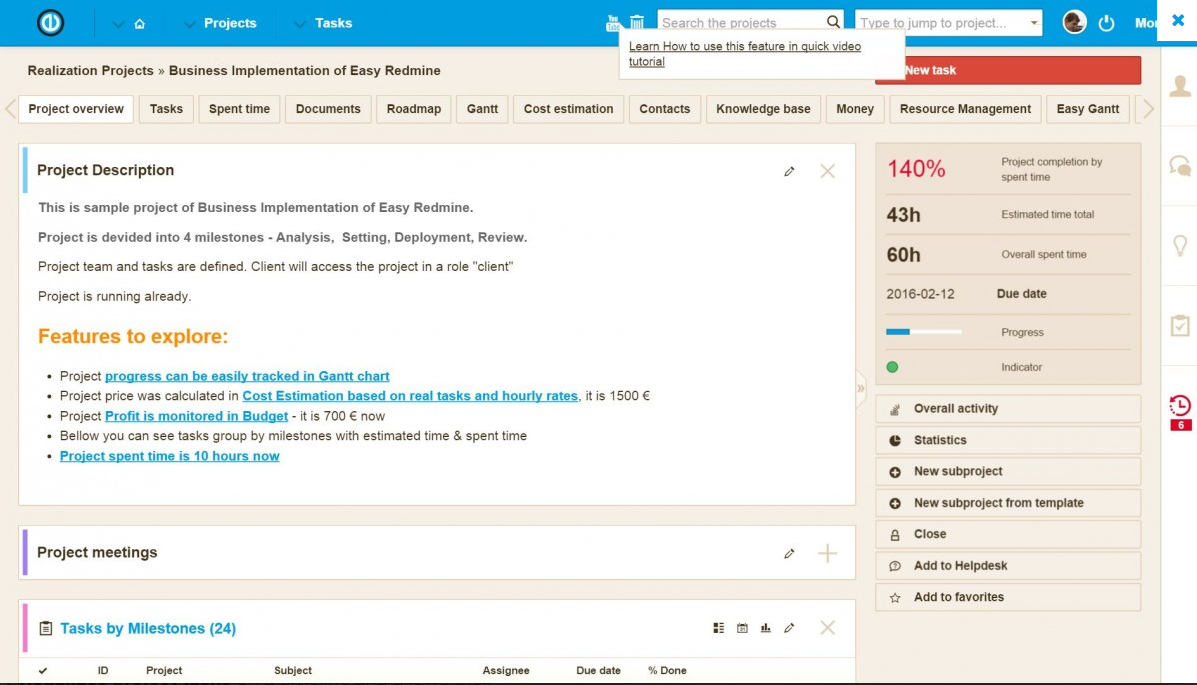 Gantt chart for project planning
Gantt chart visualizes project tasks on a timeline and allows their convenient planning. Using a drag & drop feature, you can move tasks on a timeline and thus plan them. You can also apply relations, create sub-tasks and milestones. A Gantt chart is an essential tool for both simple and complex projects.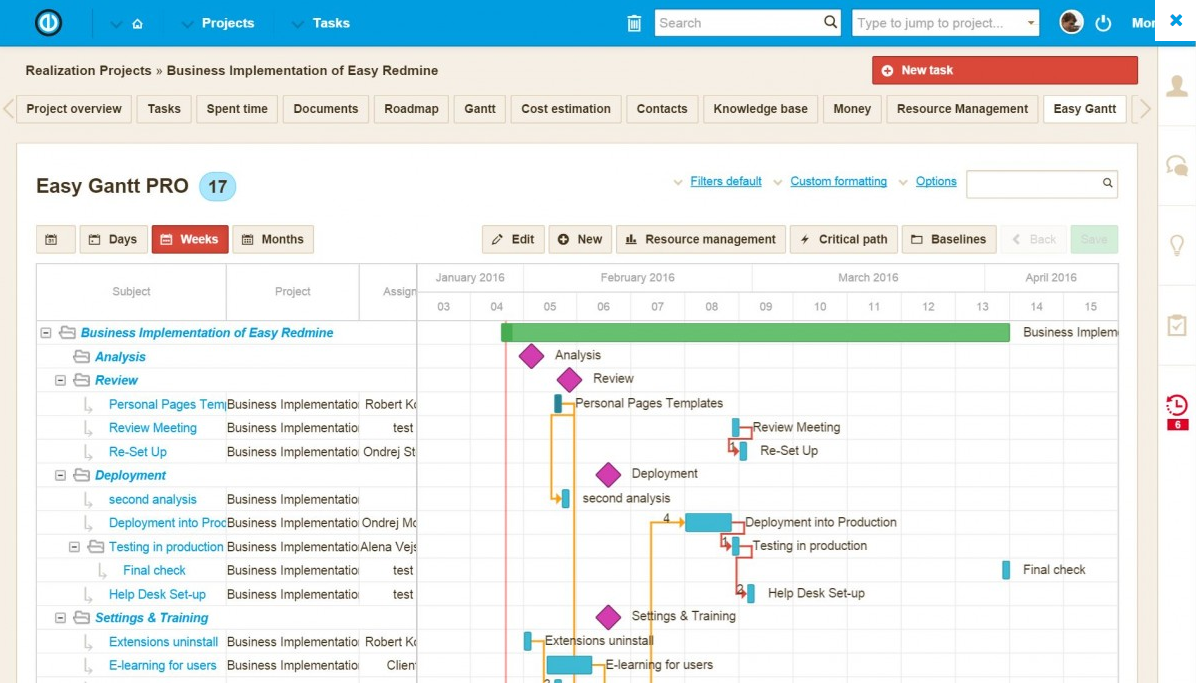 Project management in mobiles
Easy Redmine offers professional native apps for Android & IPhone. Therefore your projects are under control wherever you are. Workers easily log time spent or follow-up on tasks. Managers track tasks and projects progress and assign new tasks.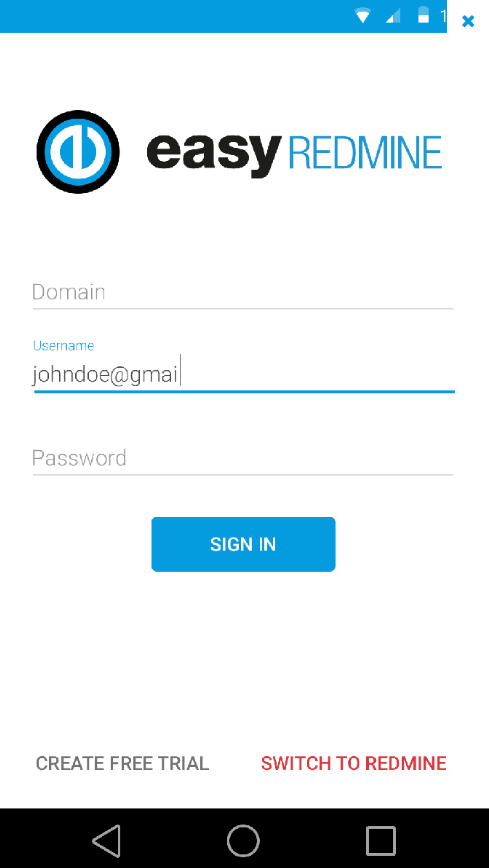 Project documents
Documents can be attached to projects or tasks. On a project level, there are document categories with roles-based access rights. Documents attached to tasks within the project are listed clearly in a "task attachments" category. Documents are versioned, searchable and editable on-line.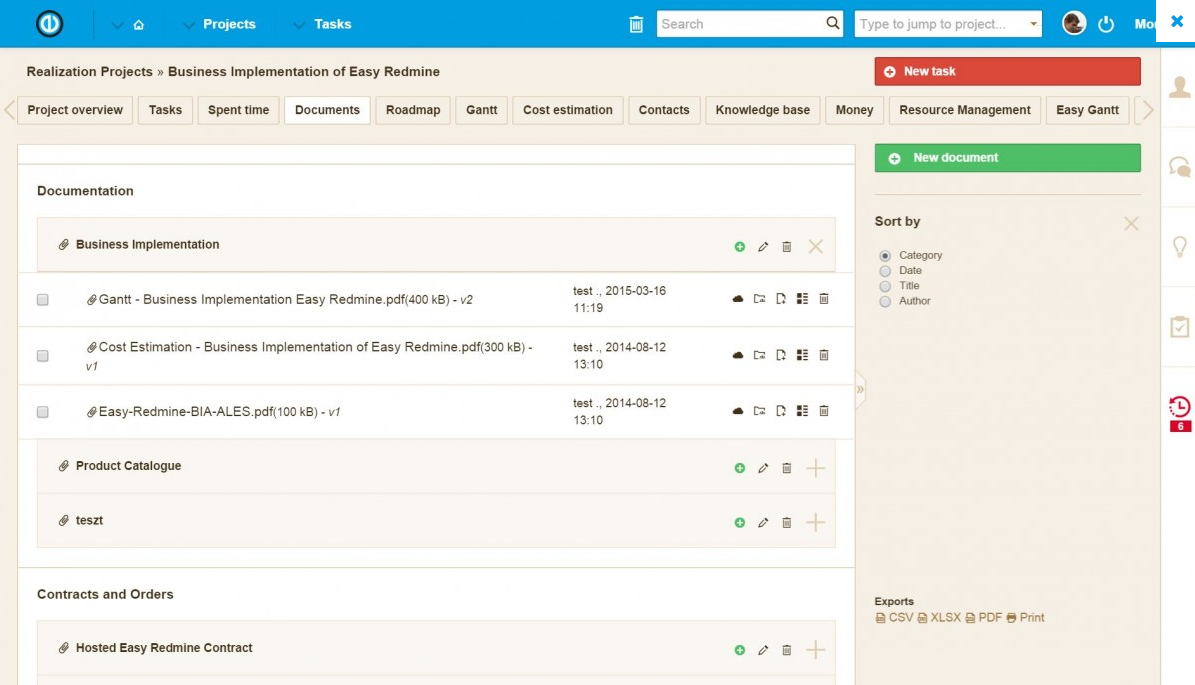 Time tracking on projects, tasks, by users
Users have several ways how to log & track time spent – from their personal dashboard, while updating tasks and automatically using a stopwatch. Information about time tracking on the projects is the key for profitability.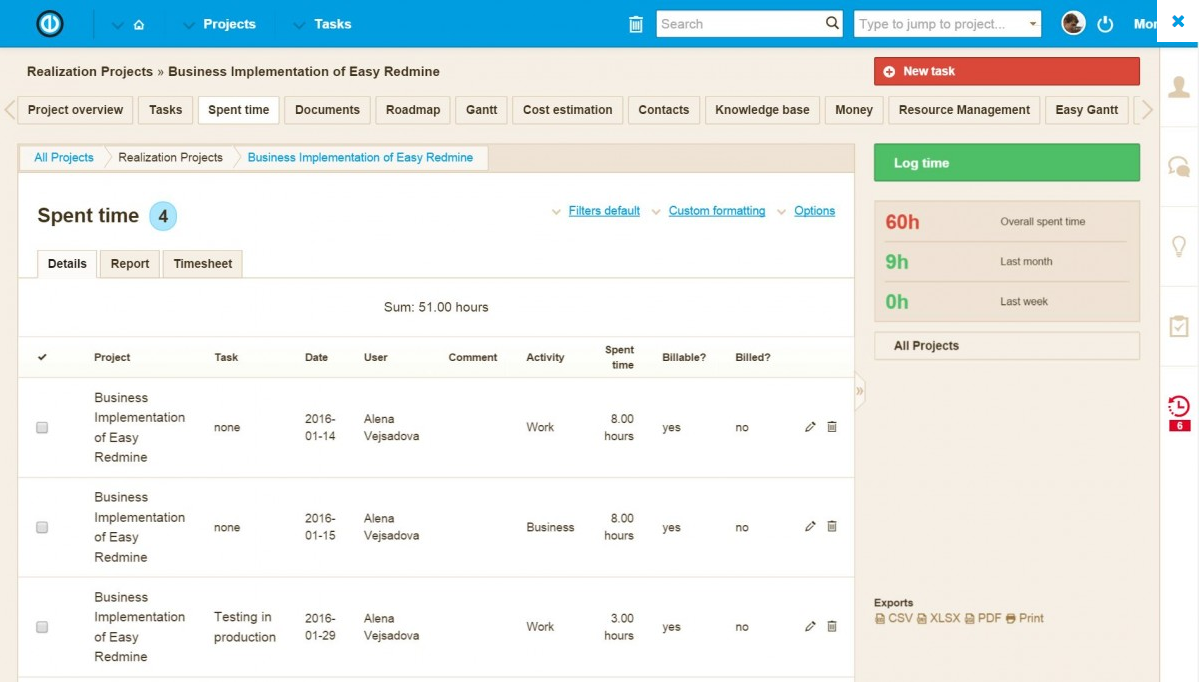 Project templates
The whole project (with tasks, milestones, team and documents etc) can be saved as a template and this template can be used for a new project initialization in the future. Templates save huge amount of time on the project start and make them bulletproof. Templates should be continuously developed to improve the project delivery.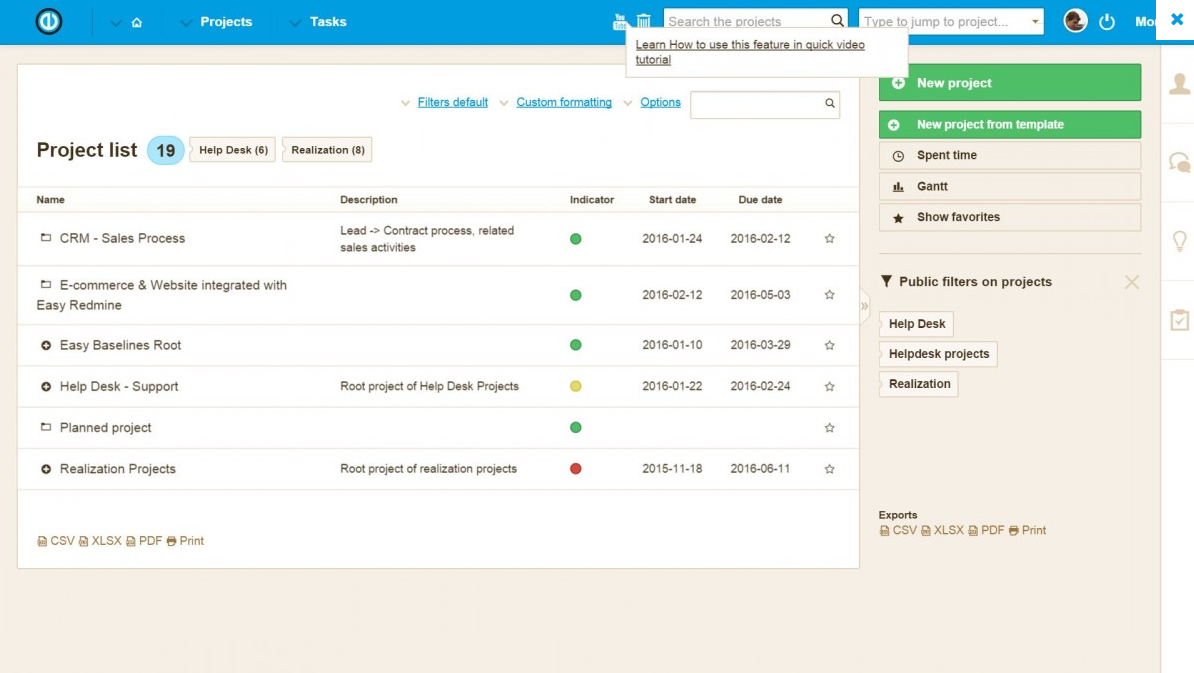 Quick project planner
It serves for quick and easy planning of ad-hoc projects where project templates are not applicable. Quick planner allows you to create basic work breakdown structure which is managed in the Gantt chart afterwards.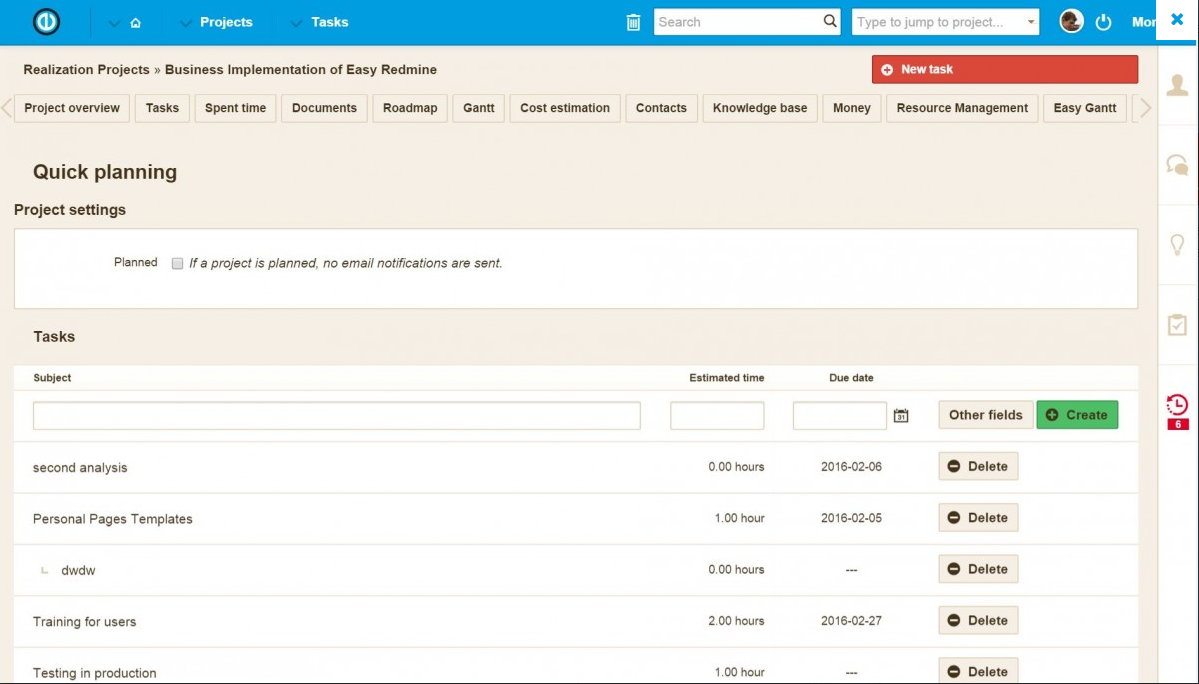 Quick "to-do" reminders
It is a tool for quick "to-do" reminders. Wherever you are in the system, a to-do list is always ready in the right service panel. All "To-do" notes can be turned into tasks by drag & dropping them into a particular project.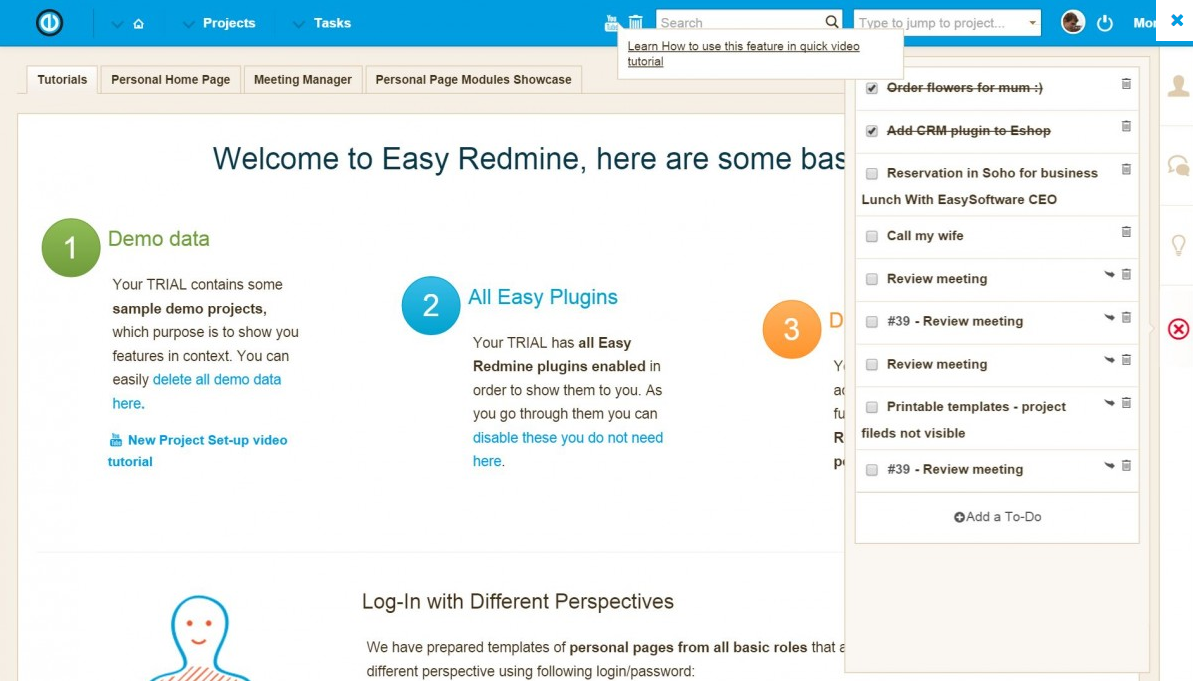 Project chat
The chat is used for instant communication within teams. Just search for a colleague and write to him. The message will pop from the right service panel in the user's Easy Redmine.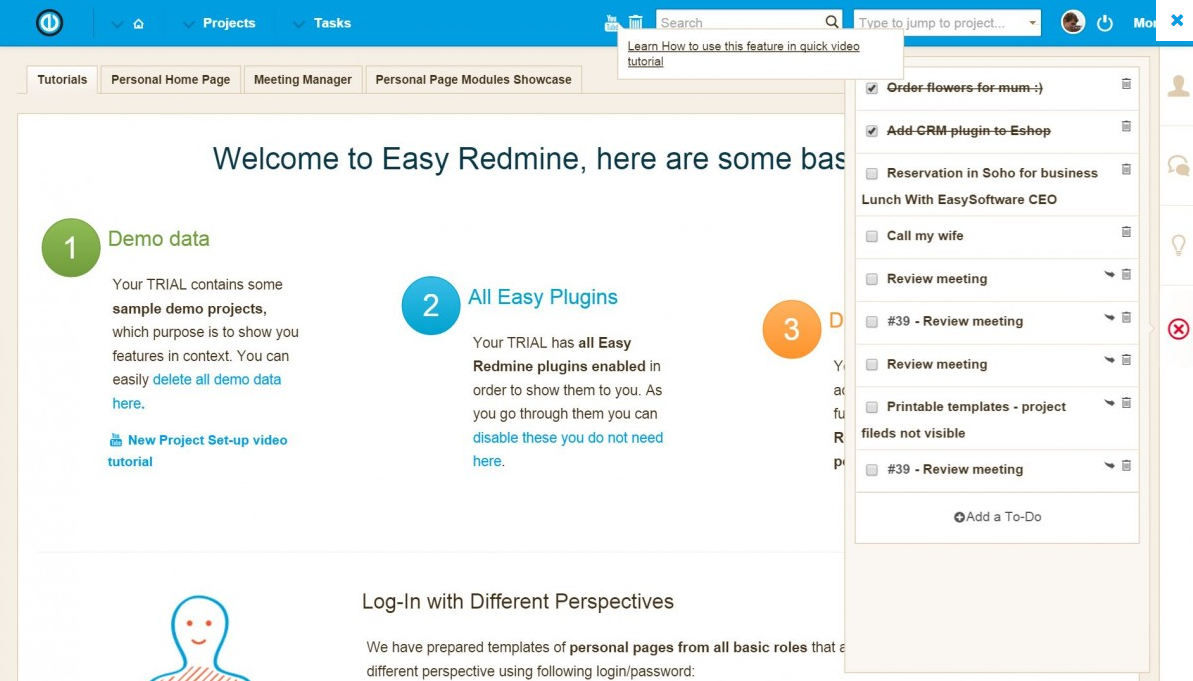 Branded PDF exports
All data from the system can be exported into a PDF with your logo and company colors. Example of exports: any task list, project, Gantt chart, simply anything.
Project statistics
Comprehensive project statistics are always at your fingertips. Total time spent versus estimated time, opened tasks, tasks by status, tasks by tracker or assignee. Furthermore generic gauge chart can be used to visualize any project data.
Project graphs and charts
Any list of entries (projects, tasks, time entries etc) can be visualized in a graph or chart which are completely customizable. Pie, bar or line charts are available.