Serv-U Managed File Transfer Server
Enhance security and control over file transfers across your organization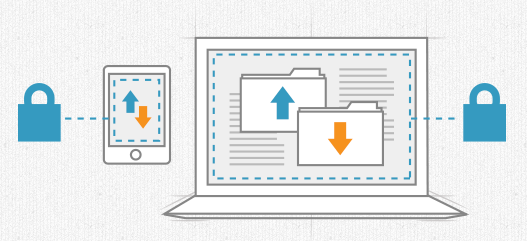 Easy-to-use, automated and secure file transfer and file sharing from an intuitive, central console
Supports FTP, FTPS, SFTP and HTTP/S over IPv4 and IPv6 networks.
Helps comply with PCI DSS, HIPAA, FISMA, SOX, etc.
Allows ad hoc file transfers from Web and mobile devices.
Key Features
Reliable FTP server software for secure file transfer
Supports FTP, FTPS, SFTP and HTTP/S protocols for file transfer over IPv4 and IPv6 networks.

Ad hoc file sharing to easily send and request files
Peer-to-peer file sharing simplifies sending and requesting files on an ad hoc basis.

Anywhere, anytime file transfer from Web and mobile devices
Instantly transfer files using simple drag-and-drop Web and mobile interfaces.

Centralized file transfer management and automation
Automate file transfer management and administration tasks from a centralized Web-based console.

Fast and easy upload and download of large files
Enable fast and reliable large (>2GB) file transfers and folder synchronization.
Helps meet PCI DSS and other regulatory compliance requirements
Optional Serv-U Gateway add-on provides defense-in-depth security to Serv-U MFT Server deployment.
More Features
Integrates with existing Active Directory and LDAP servers
Integrate Serv-U with existing AD/LDAP servers to sync user accounts and simplify authentication.
Integrates with existing storage and database infrastructure
Integrate with NAS/SAN and external database servers for easy storage access and clustered deployments.
Quick, do-it-yourself deployment
Easily install and deploy FTP server software on your Windows and Linux platforms.
Monitor FTP server and domain logs online
Track file server startup, configuration and domain activity logs for fast and easy troubleshooting.
Execute automated actions based on triggered events
Send email, run programs, delete files and write to Windows event log messages based on triggered events.
Managed file transfer permissions and user access
Apply limits and custom settings for file transfer operations to users, groups, domains and server.
Remote file transfer session monitoring
Monitor real-time session and user statistics from a Web-based management dashboard.
Custom branding of Web client
Add custom logos, text and advanced CSS and templates to customize the file access Web interface for your end-users.
Optimal availability and scalability of FTP server
Deploy and configure multiple Serv-U MFT Servers as a Web farm for high availability of services through horizontal scaling.
What Our Customers Are Saying
"Our old FTP server was not meeting the needs of our organization in terms of security and ease of use. People were resorting to other personal solutions such as Dropbox. Serv-U has allowed us to keep our file transfer services in house, and eliminate our usage of third-party tools."
"Serv-U Managed File Transfer Server is a versatile, easy to deploy solution that integrates well into existing infrastructure meeting all our compliance requirements, and ensuring peace of mind for file transfers."
"We use Serv-U to securely transfer sensitive health data from clients for troubleshooting of our product. Serv-U is an excellent solution with a great package. Straightforward, and easy to set up and integrate with AD. Excellent support, should you need any!"
Screenshots
File transfers from Web browsers and mobile devices
Use intuitive drag-and-drop file transfer option to access files from anywhere.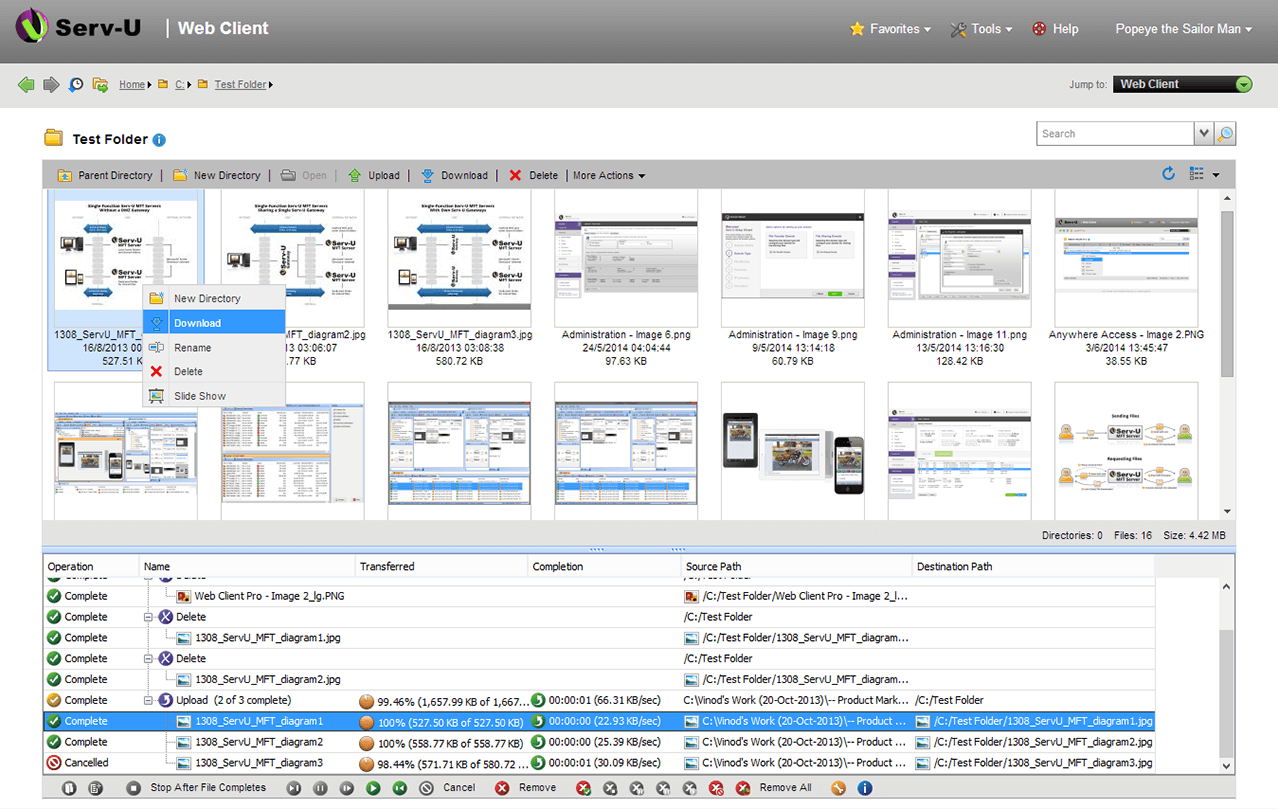 Screenshots
Large file transfer (>2GB), multiple file transfer and folder synchronization
Easily transfer large files (>2GB) with Serv-U Managed File Transfer (MFT) Server.
Screenshots
Secure file sharing (send and request files)
Send and request files instantly with an easy-to-use file sharing interface.
Screenshots
Easily manage files on Serv-U FTP Server
Easily manage files on Serv-U FTP Server Search for and automatically manage, move and delete files on the FTP server.
Screenshots
Managed file transfer with centralized administration
Use Serv-U MFT Server's Web console for remote file transfer, management and administration.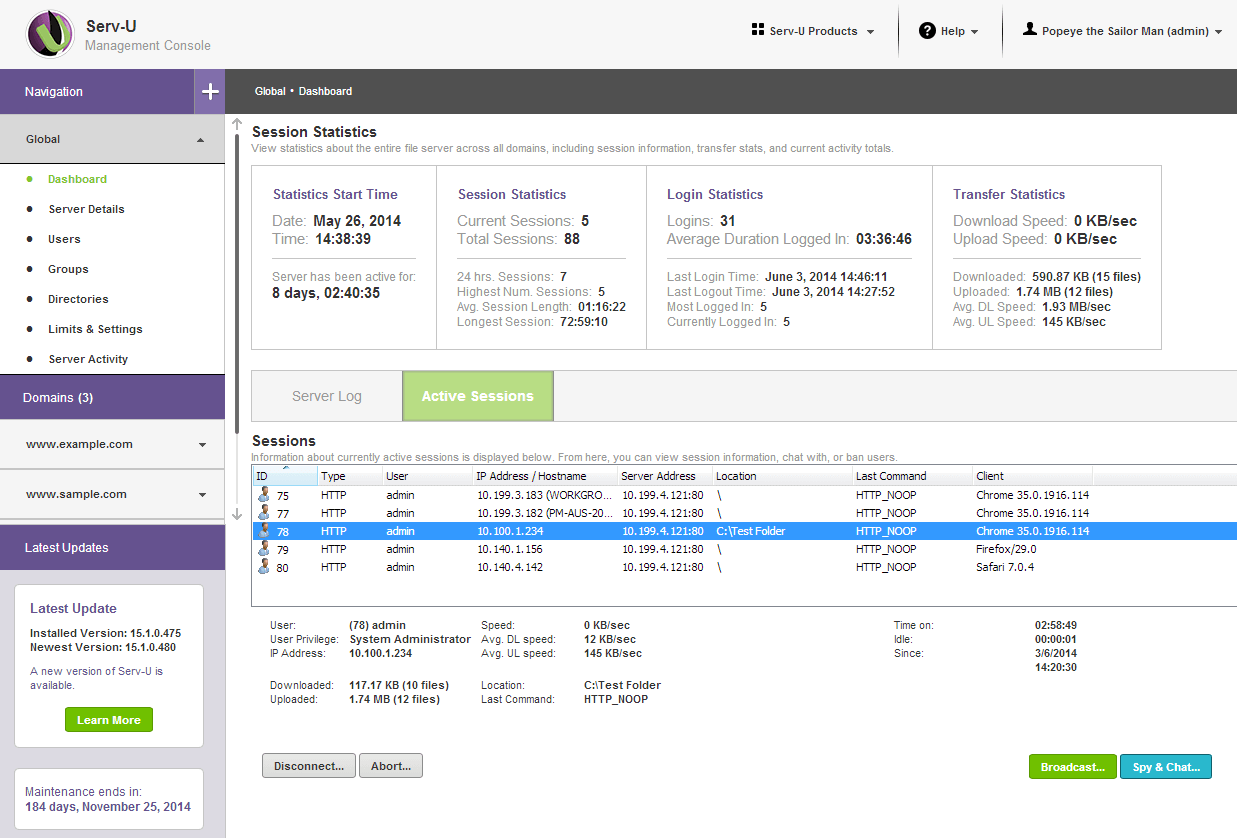 Screenshots
Secure file transfer and FTP server software
Use Serv-U MFT Server to help with compliance to PCI DSS, HIPAA, FISMA, SOX, etc. policies.
Screenshots
Customizable file transfer permissions and user access
Set limits and permissions for FTP operations and file sharing processes.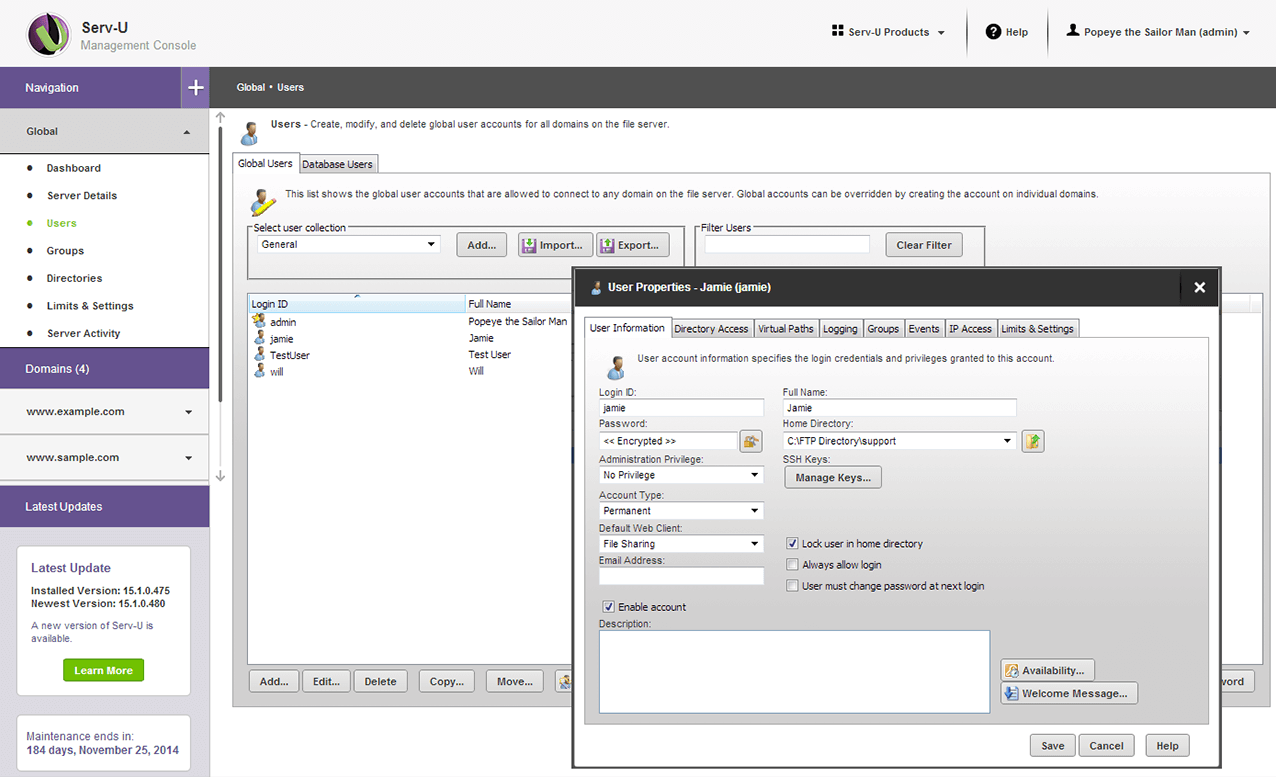 Screenshots
Integration with existing AD, LDAP, database and storage infrastructures
Integrate Serv-U MFT Server with your existing IT infrastructure to enable secure file transfer.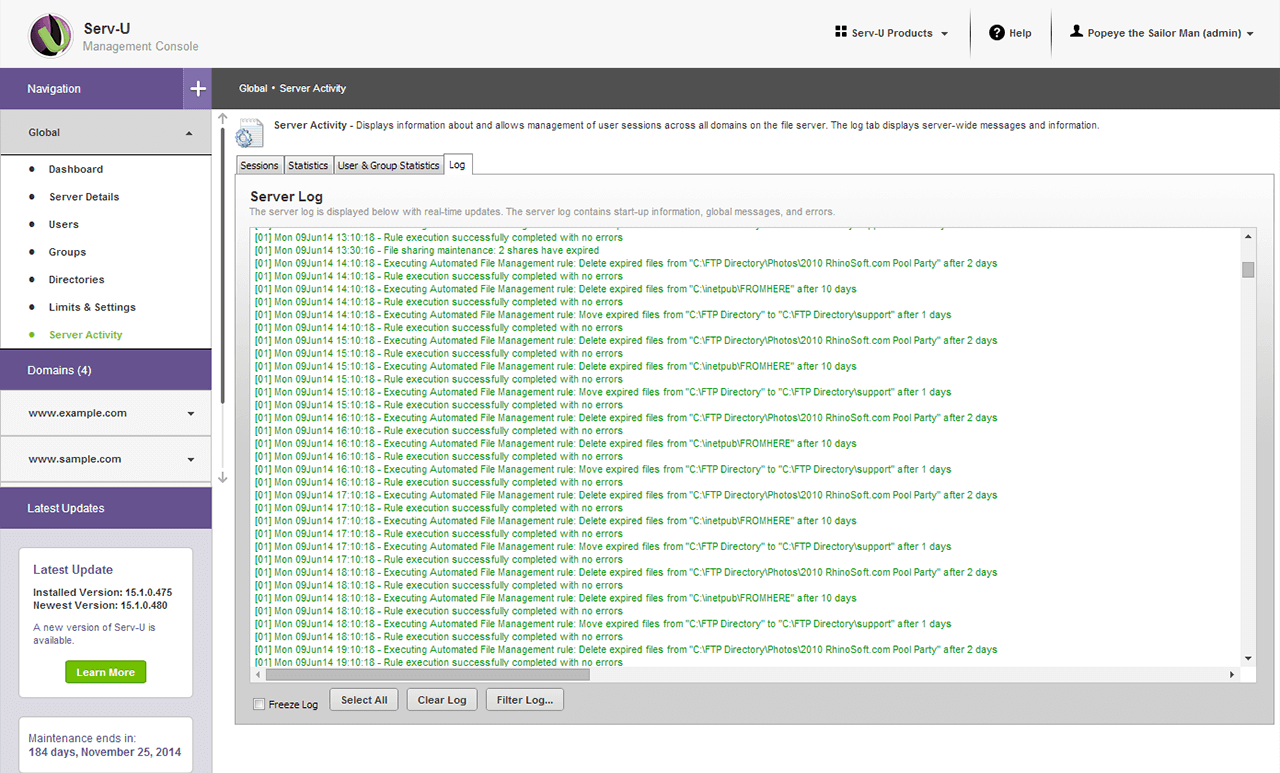 Screenshots
Monitor FTP server logs online for troubleshooting and compliance reporting
View and monitor FTP server and domain logs online.
Screenshots
Execute automated actions based on triggered events
Automate and perform specific tasks based on events generated on the server, domain and user groups.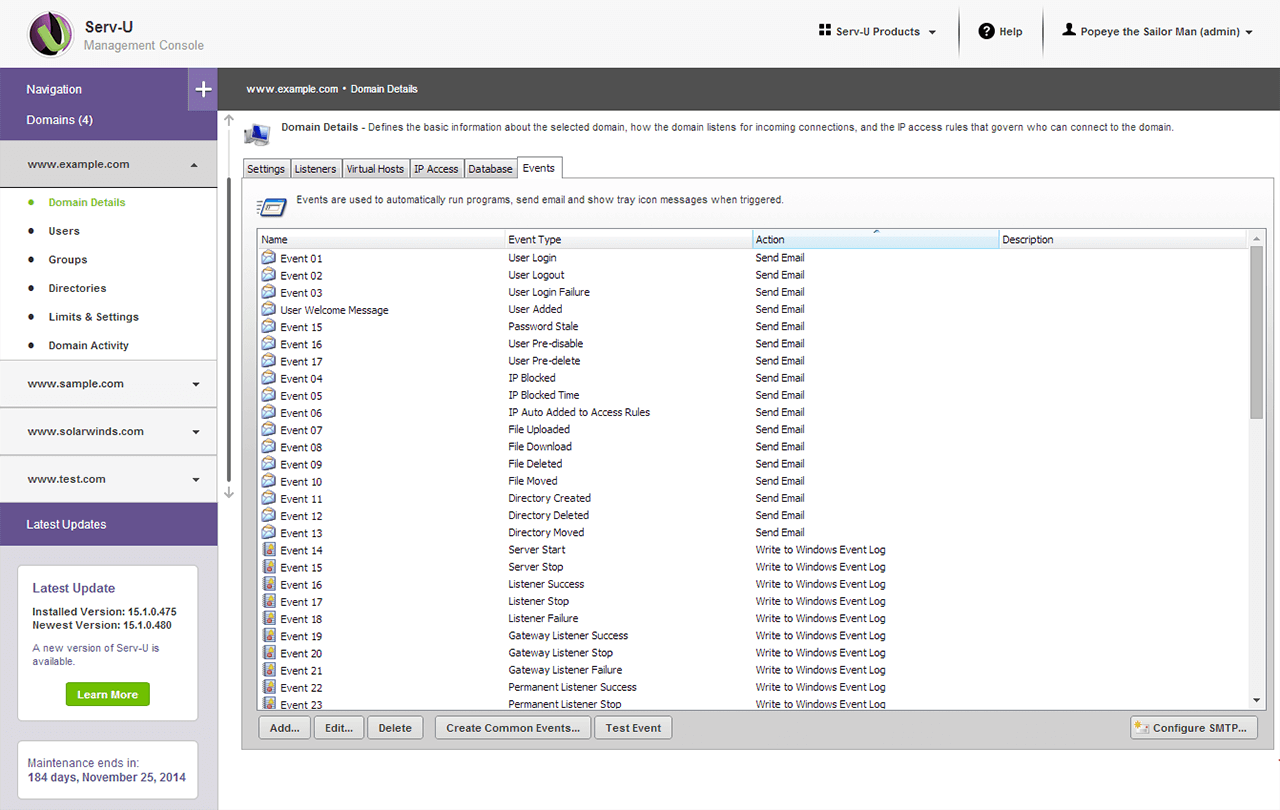 Screenshots
Secure Gateway for File Transfer in DMZ Networks
Serv-U Gateway is an optional add-on that allows you to safely terminate file transfer connections in your DMZ.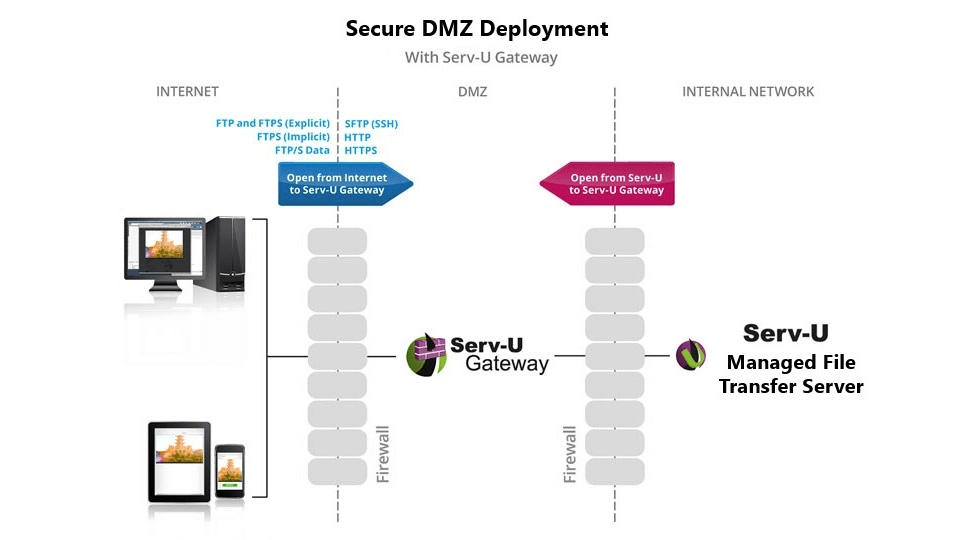 Screenshots
Custom Branding of Web Client
Add custom logo, text, and advanced custom CSS and templates to design your own Serv-U Web interface.
System Requirements
Memory
256MB (or minimum required by operating system)
CPU
1GHz processor (dual-core recommended)
Database
ODBC-compliant databases such as SQL Server, Oracle and MySQL are optional
Operating System
Licensed version supported on:
Windows Server 2003, 2008, 2008 R2, 2012, 2012 R2, 32-bit or 64-bit
CentOS 6.4, 32-bit or 64-bit
Red Hat Linux (RHEL) 6.4, 32-bit or 64-bit
Fedora 19, 32-bit or 64-bit
Ubuntu
OpenSUSE
Free trial/evaluation version also supported on: Windows XP, Windows Vista, Windows 7, 8 and 8.1
Application Ports
21/FTP for FTP and Explicit FTPS
990 for Implicit FTPS
Small range of high ports for FTPS
22/SSH for SFTP
443/HTTPS and 80/HTTP for Web transfer, file sharing and administration (See Serv-U Firewall Guide for details)
Note:
This hard drive requirement is for the Serv--U application only. Additional local or UNC-accessible storage is usually required for user's home folders, shared folders, file sharing storage and log files.