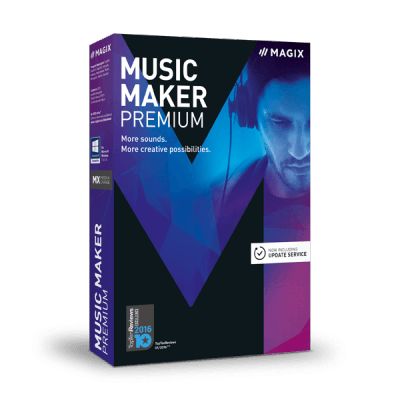 MAGIX Music Maker Premium
Take your songs to the next level. Music Maker Premium is a unique virtual studio with more than 8,000 included sounds, intuitive drag & drop controls, countless instruments and professional functions for mixing & mastering. New! Customize your version of Music Maker with exclusive loop packages, new effects presets and top software instruments. Add them easily and directly within the program via the Store.

More space for your creativity –the new Media pool.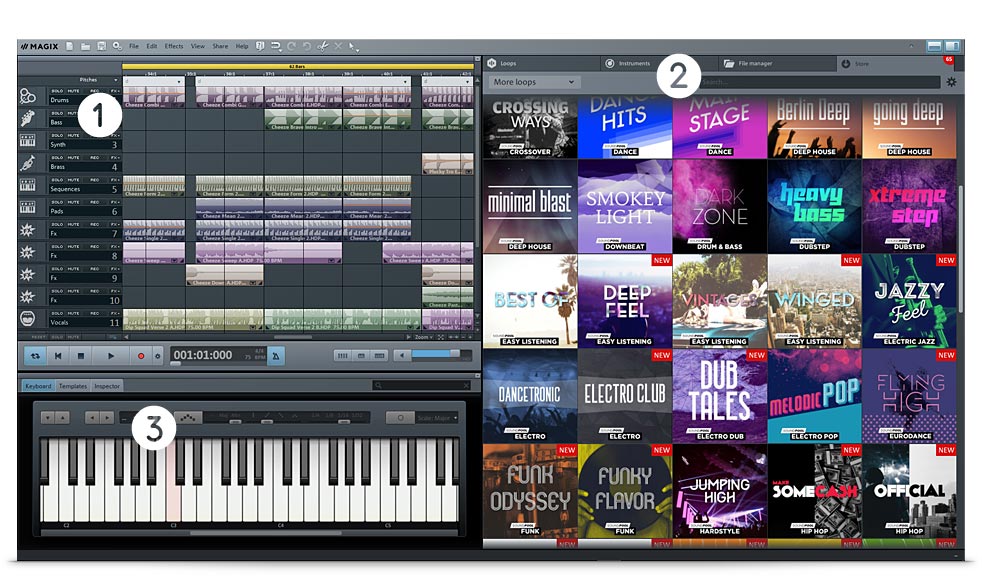 1. Record Unlimited tracks. Endless fun. Music Maker Premium gives you plenty of space for countless MIDI and audio tracks.
2. Arrange The new Mediapool is now found on the right side, offering you even better access to all sounds, loops & instruments.
3. Mix There's no limit to your creativity with studio effects, external VST3 plug-ins and Mastering Suite.

The most important features:
All features, instruments and sounds in Music Maker and Music Maker Live
More than 8,000 Sounds & Loops
12 Soundpools for popular music genres like Dubstep, Trap and many more
Exclusive premium instruments: Cinematic Soundscapes, Choir Church Organ
MIDI Editor with piano roll
Mastering Suite with Auto Mastering
Unlimited number of tracks

New in November:A whole new world of sounds
True creative freedom: Customize your version of Music Maker Premium with new sounds. Choose your favorites from the Soundpools, new presets and software instruments. Add everything in a few clicks directly within the program via the new Store. And best of all: New loops & instruments are released regularly.
More sounds. More instruments. Even more fun.
Premium Advantages:

4 exclusive Premium Soundpools
Included only in Music Maker Premium Score (film music), Chillout, Dance and Ambient Soundpools.
The exclusive Soundpool score "Dramatic Stories" accentuates dramatic strings arrangements and exciting horn sets. The chillout Soundpool "Mother Earth" brings together summery synthesizer sounds with mystical sound textures and exotic percussion elements.
Additional sounds for Dance pump up the dance floor, while Ambient brings the relaxation you need afterwards.

Cinematic Soundscapes Give your productions a whole new level of depth and character. With Cinematic Soundscapes you can create complex textures to use as scores.

A complete virtual choir The Choir virtual instrument lets you play vocals using your keyboard and comes in three different voices (male, female and mixed).

Church Organ
The impressive Church Organ lets you create majestic soundscapes. Playfully create soulful ballads, epic soundtracks or hot dance tracks.
Sense of rhythm included: music production with the Live Pad mode. The Live Pad mode is an intuitive music making tool. With it, you can play Music Maker Premium just like an instrument. With one click you can start the drums, switch on the bass and let melodies and vocals flow. And you'll always stay on beat. You get 30 Live Sets for EDM, Trap, Hip Hop, Techno and many more.


Orange Vocoder ME by Zynaptiq You haven't heard yourself like this before – make your voice sound like Daft Punk or modulate your whole arrangement. With the Vocoder you can change your voice, virtual instruments or your own recordings. You'll always have the right sound at the ready thanks to various presets.

Pop Drums Pop Drums celebrate the comeback of the year. Bring back the shrill, quirky sound of the '80s and produce powerful beats. From synth-pop to trap all the way through to EDM: Pop Drums help you create the foundation for your tracks.

Concert Grand This instrument is based on recordings of a carefully selected concert piano made in an international concert hall. The piano's powerful sound shines in large part thanks to its very clear, lyrical tones.

Lead Synth
Careful – electrically charged: A powerful synthesizer for creating typical sounds from popular current electronic music genres and hip-hop.

Revolta 2 This outstanding synthesizer contains a range of options for creating electronic music that will propel you right into the charts. Perfect for all basses and hooklines.

Drag & drop the beat: soundpools

8,000 sounds & loops Music Maker Premium contains a total of 12 Soundpools with sounds, melodies and rhythms from various genres. Sounds from different Soundpools can be freely combined with each other. Included Soundpools:Electronic: Dubstep, Trap, Deep House, Techno, Hip HopOrganic: Jazz, Rock Pop, Brasil 66Exclusive in the Premium version: Score, Chillout, Dance and Ambient

7 pitches. Endless possibilities. All Soundpools and Live Sets in Music Maker come in 7 different pitches. This gives you even more creative freedom in music production. This makes it even easier to design hooklines, bridges and refrains.

Musical, through and through.Even when it comes to working rhythm.

The latest standard: VST3 interface Integrate external effects plug-ins and virtual instruments into Music Maker Premium via VST3 & VST2 standard.


Free companion app Connect the free MAGIX Audio Remote app to your PC to operate Music Maker using your smartphone or tablet. The app can be used to control effects, as well as the start, stop, record and loop functions.

Effects & Vocal Tune 2
Most effects can be applied using drag & drop. With tools such as Vocal Tune 2, you can record and edit in detail.
Screen keyboard
The touch-optimized screen keyboard now features a new production mode which only plays notes that match the song you are working on.
Time stretching & pitch shifting
The new Élastique Pro algorithm from zplane is one of the world's best time stretching & pitch shifting algorithms and is integrated directly into Music Maker.
Mixing & mastering
Music Maker's professional tools for mixing and mastering, such as the 6-band equalizer, are quick and intuitive to operate.