REMOTE GAMING WITH MONFLO
DISCOVER THE BEST REMOTE GAMING EXPERIENCE ON YOUR ANDROID DEVICE WITH MONFLO!
Monflo provides the fastest and smoothest remote PC access available on the software market! Play your favourite PC games using fully customizable user's control interface and operate your Windows desktop from your every Android device or another Windows personal computer. Download forever-free basic version and try it!
1. PLAY ALL YOUR PC GAMES REMOTELY ON ANDROID DEVICES OR ANOTHER PC!
Try out the best Remote Control software for Windows computers and see how smooth playing games on your Android devices or another PCs can be. All of this in stunning HD quality up to 1080p and 60fps and with ultra-low battery usage!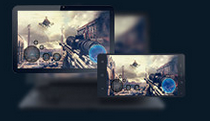 2. THE FASTEST GAMING SOFTWARE FOR ANDROID AND WINDOWS
The unbeatable Monflo's performance guarantees the smoothest - and as lag-free as it can possibly be - real-time HD PC remote control ever! Try Monflo for free and see by yourself - play your PC games, watch videos and control Windows desktop and applications in superb HD quality.
3. EASY TO USE REMOTE GAMING SOFTWARE
With Monflo you get the easiest remote access on the market! Just choose the computer you want to remote to from the list on your client device and it's done! With Monflo's easy and intuitive user interface you won't get lost at any point of using remote control software.
4. PERFECT REMOTE GAMING WITH SMOOTH HD GAMEPLAY QUALITY
Monflo provides the best performance, quality and user experience of PC remote gaming software. Enjoy your PC games and applications in smooth HD quality, both on your Android devices and Windows PCs!
5. FULLY CUSTOMIZABLE GAME CONTROLS FOR ANDROID DEVICES
Monflo's game control layout manager allows to create and duplicate layouts and fully customize all game controls. Import/Export option allows to share favourite game control layouts between your Android devices. Play any PC game on your tablet or smartphone and see how comfortable it is!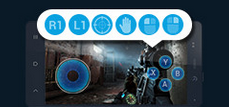 6. COMFORT REMOTE GAMING WITH GAMEPADS SUPPORT
Monflo remote gaming software allows you to connect gamepad to your Android tablet or smartphone. Change it into full-fledged game console and make the gaming as comfortable as it can possibly be!
7. USER-FRIENDLY AND STYLISH USER INTERFACE
Remote PC access with Monflo is easy! Our application provides sleek and user-friendly interface, ultra-fast and easy setup. Preset your own Favourite Lists and access your games and applications faster and with ease and customize your own, unique controls for every game.
8. HIGH PERFORMANCE - LOW RESOURCES USE
Thanks to our cutting-edge technology the ultra-high performance in HD quality is accompanied by very low CPU and GPU usage. It uses Mirillis ultra-fast, multicore optimized application engine, which provides the ultimate performance of HD quality.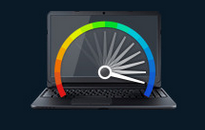 9. INVITE YOUR FRIENDS TO PLAY ON YOUR PC
Invite your friends and let them access your desktop PC computer to play your games. They just have to install our client application and you have to create an invitation for selected users. There is no limit to the number of friends that could be invited. Enjoy!
10. "FAVOURITE GAMES" MENU TO EASILY RUN YOUR GAMES ON ANDROID DEVICE
Create and save lists of your favourite games and application for faster access. You don't have to search for the applications you want to use all over your Windows computer. The Favourite List creator will save your time and allow easy access to all the applications that you need at the time.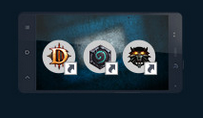 11. FAST AND SECURE CONNECTION
All data transmitted with Monflo, including audio/video and mouse/keyboard data, is encrypted. To avoid unauthorized connections you can require additional device authorization for every new device trying to access your PC. We keep your data and privacy secured.
12. THE MOST EFFICIENT VIDEO CODING
Thanks to the High Efficiency Video Coding (HEVC), also known as H.265, Monflo offers almost double data compression ratio, sustaining the same level of video quality, or considerable improvement of the quality of recorded videos at the same bit rate.