Advanced Diagramming Software and Vector Graphics Drawing Tool
Create flowcharts, organizational charts, mind maps, network diagrams, floor plans, UML diagrams and general business diagrams with MyDraw.
MyDraw Summer Savings

Interested in getting started with MyDraw for Windows or Mac?





The MyDraw team wishes you a wonderful summer!!!

Powerful Diagramming Features

MyDraw includes powerful features to help you with your flowcharts, org charts, mind maps, network diagrams, floor plans, general business diagrams and drawings.

Including libraries with hundreds of diagram shapes and symbols, templates, powerful drawing tools, automatic diagram layouts, advanced printing and exporting capabilities, and many more, MyDraw is the right diagramming solution for your business, or personal projects.
Familiar User Interface
Starting with MyDraw is as easy as it could possibly be - we've optimized it to match the interface which you're already familiar with and thus minimize the learning curve.

How? - We've used the Ribbon UI that you recognize from the MS Office Suite and made it as simple as possible.

If you like arranging your workspace according to your own preferences - MyDraw is perfect for you too! You can switch to command bars (MS Office 2003-like menus) with just two clicks and rearrange the commands as you see fit.

MyDraw UI Themes - you can choose between several user interface themes to work in your favorite environment: Windows 8 or XP, Mac OS El Capitan and others.
Visio® Compatibility
MyDraw is the best Microsoft Visio® alternative for Windows and macOS (Mac OS X).

You can use MyDraw to import your Visio® drawing files (VSDX import) to easily convert your diagrams and work with them in Apple macOS and Windows Operating Systems. With MyDraw you can also export Visio® drawings (VSDX export).
Hundreds of Diagram Examples and Templates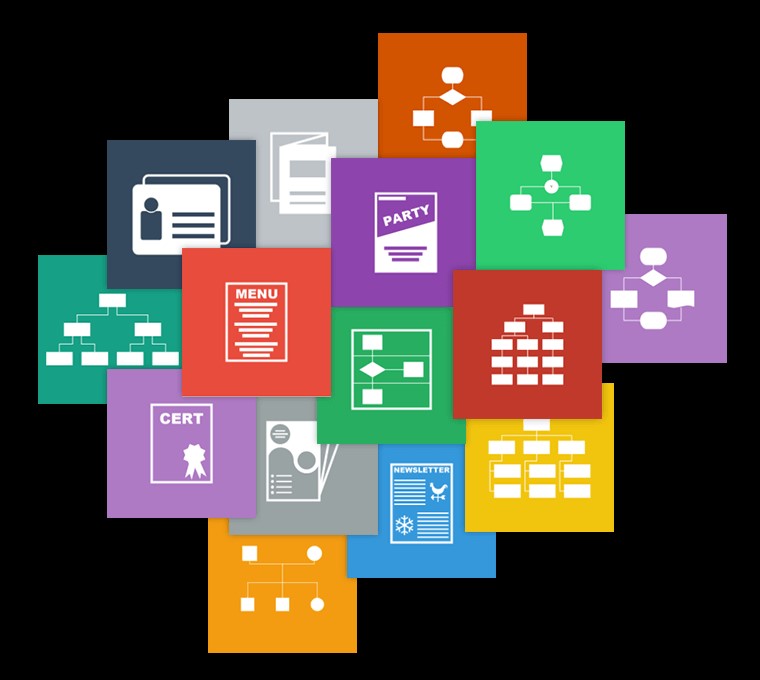 MyDraw includes many ready-to-use templates for flowcharts, organizational charts, flyers, certificates & business cards, and various diagram types. You can easily get started by editing existing diagram templates or by making your own one.

The MyDraw Team is constantly working on creating new templates and examples, new diagram shapes and symbols to support your work, now and in the future.
Diagram Shapes and Symbols
MyDraw is an easy to use diagram tool that comes with a large set of predefined shapes which you can directly drag and drop into your drawings. The shapes are divided in different libraries based on their purpose of usage.

Moreover, MyDraw allows you to create your own custom shapes, arrange them in libraries and reuse them within your diagrams.

Visio-like "smart" shapes - MyDraw provides support for dynamic diagram shapes based on formulas.

Custom diagram shapes development - if you require specific shapes, you can contact the MyDraw Development Team and request a quote.
Powerful Drawing Tools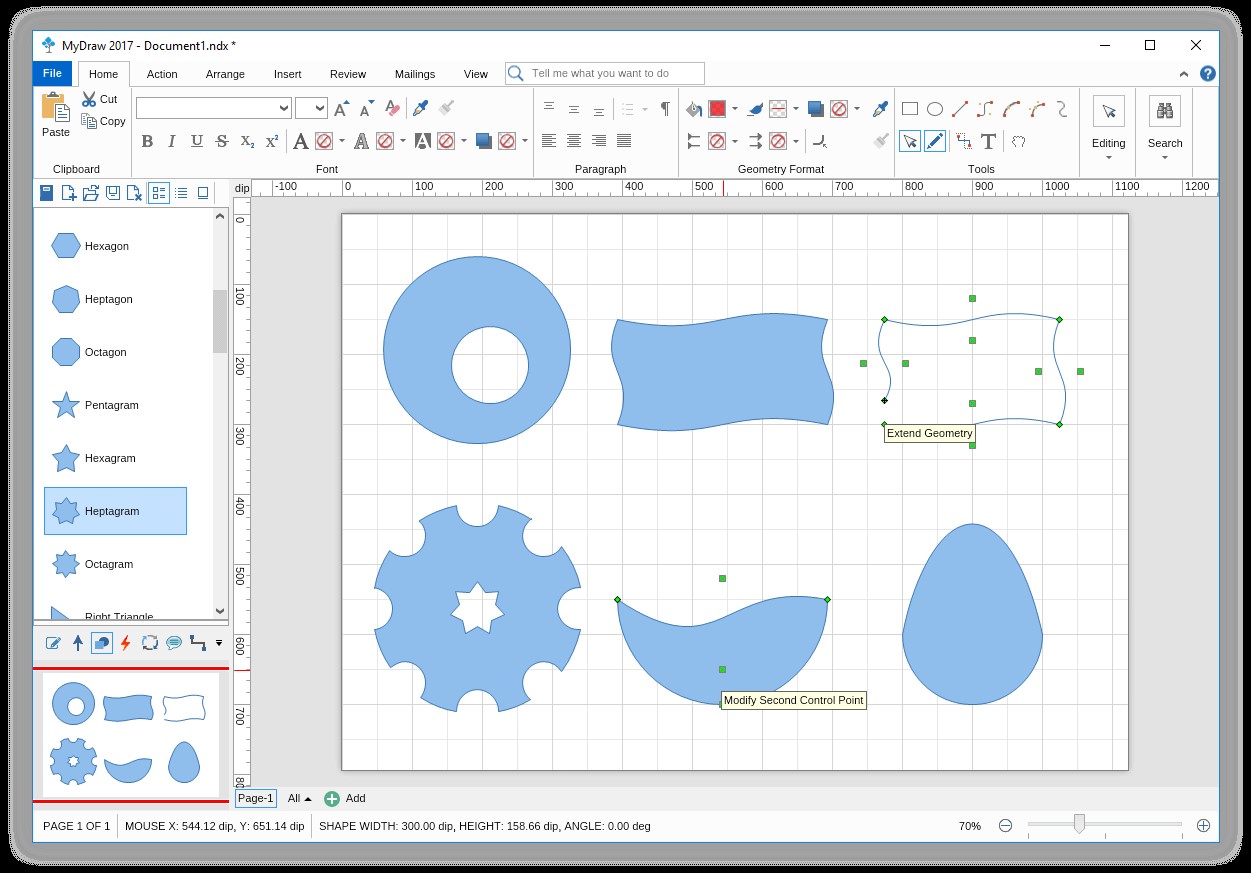 MyDraw comes with a large set of drawing tools which help you easily create any shape you need and style it to match your company's corporate identity or your personal demands. You can freely draw shapes using the Nurbs tool, or use the composing functions (Union, Intersect, Subtract, and Exclusive Or) to create new shapes from the basic ones.

Additionally, you can combine simple shapes into groups and create advanced complex shapes. Save them in your own library for future reuse and edit them at any time.
Advanced Printing and Export Options
With MyDraw you can export your diagrams to images (PNG, JPEG, and BMP), or PDF and SVG vector files in just a few clicks.

You can choose to export your images with high resolution, creating pictures which can be printed even on billboards. MyDraw allows you to select the margins of the page (i.e. how much space remains blank between the end of the page and the end of your diagram / drawing), the orientation of the paper, the zoom level, and others.

A great feature is the ability to specify each shape's permissions and make it unprintable - this will allow you to have shapes which serve simply the purpose of comment boxes or carry information which is not relevant to the printed version of your diagram.
Automatic Diagram Layouts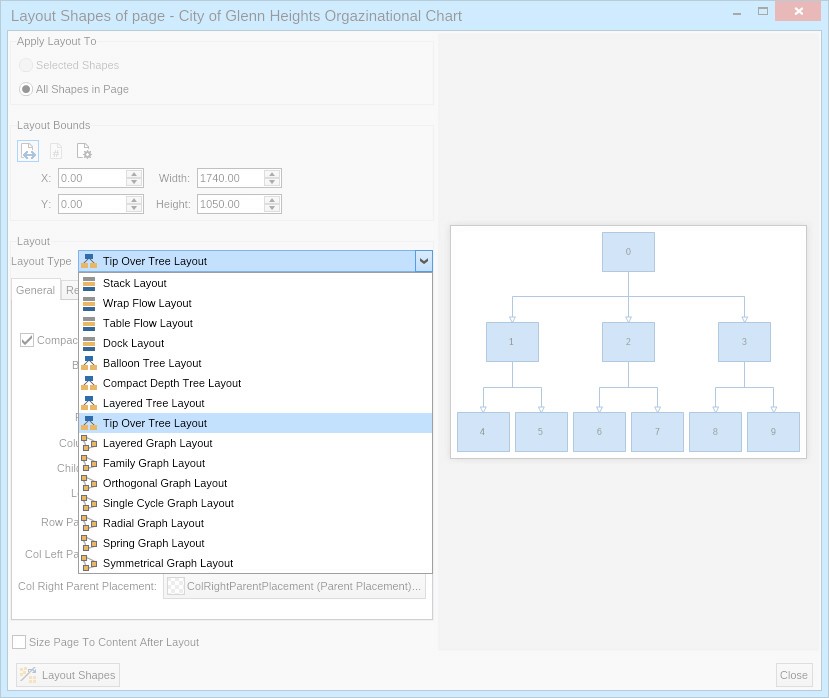 MyDraw comes with lots of Automatic Layouts to help you quickly arrange your diagrams. Whether your diagram is large or small, you can have it perfectly layouted with just a few clicks. Each layout type provides many additional options, allowing you to customize the layout to your specific requirements.

Simply create your diagram without spending additional time on aligning shapes and once you're done - go to the Arrange tab -> Layout Shapes button and arrange your diagram.
Powerful Rich Text Support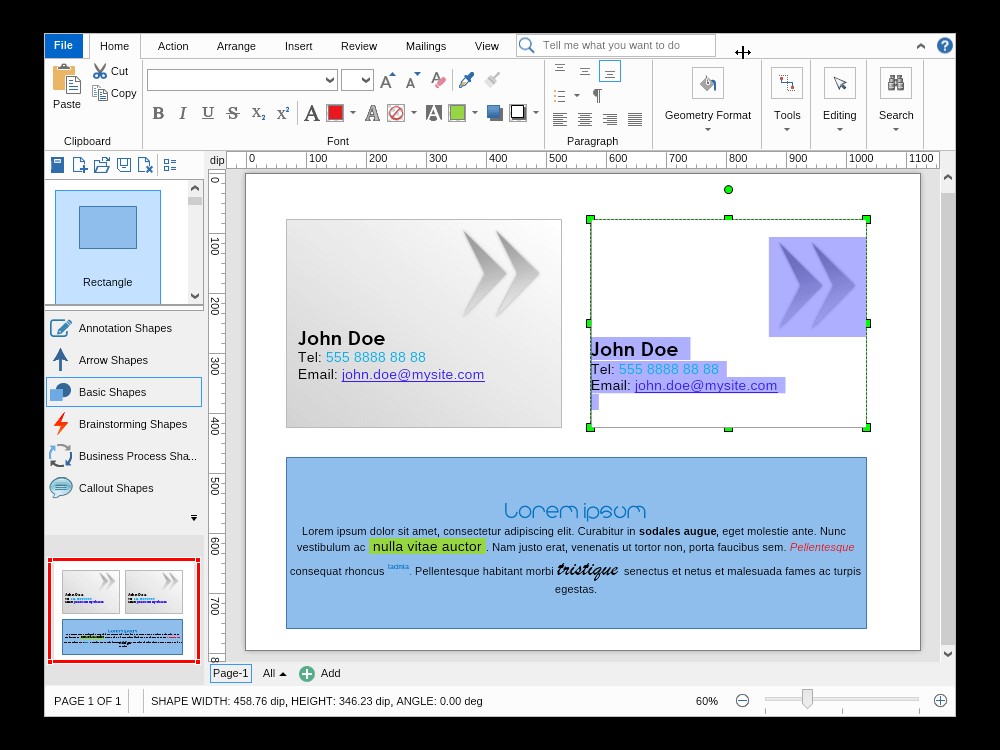 MyDraw has powerful support for rich text and text formatting.

With the advanced text formatting features in MyDraw, you will be able to make your diagrams outstanding. You have control over the text font, text styles, paragraph alignment, bullets and numbering, etc.
Spell Check and Proofing Languages
MyDraw includes a Spell Checker which is compatible with Open Office dictionaries (Hunspell Spell Check Dictionary .OXT files).

By default MyDraw comes with English (United States), Bulgarian (Bulgaria), German (Germany), Spanish (Spain), French (France), Portuguese (Portugal), and Russian (Russia) dictionaries.

You can change the proofing language or load an external one from the Review tab -> Language button.
ESRI Shapefile Import for Drawing Maps
MyDraw supports importing of geographical map data from the popular ESRI shapefile format. This makes it an ideal map drawing software solution.

The shapefile format is a popular geospatial vector data format for geographic information system (GIS) software.
Barcode Drawing
With MyDraw you can insert linear and matrix barcodes in your diagrams.

The barcode widget in MyDraw can help you include additional information within your diagrams and drawings.
User Interface Localization
You can switch the user interface of MyDraw to a preferred language. Currently, supported languages include: English, Spanish, Portuguese, Chinese, Bulgarian, and Russian.

If you are interested in translating MyDraw to your language, feel free to contact the MyDraw Team.
Identical Experience Under Windows and Mac OS X
Choosing between Windows and Mac has never been an easy task - whichever you opt for, there is always something that you need to give up.

Luckily, with MyDraw this is not the case. Developed based on innovative technology, MyDraw is 100% identical under Windows and Mac. No learning curve, no different buttons or varying names: start using it on Windows and continue on Mac (or vice versa) and nothing will change.
GEDCOM Format Family Trees
MyDraw supports importing from and exporting to GEDCOM format. This makes it the perfect tool for drawing family tree diagrams.

A GEDCOM file is plain text, containing genealogical information about individuals and meta data linking these records together.
Mail Merge
MyDraw comes with built-in mail merge functionality. Create your diagram, insert a merge field and connect your diagram to a contact database. You can match any field you have in your database and display it in your diagram.

When the fields are matched you can select to either save copies of your diagram (drawing) for each value of your database or to directly send emails to all recipients.