VM Explorer is a special digital protection software that can deal with the virtual environment. VM Explorer support the latest VMware vSphere and Microsoft Hper-V. Therefore, if your foundational facility includes ESX/ESXi serve or Hyper-V server, you could protect your all data using a single solution. Intuitive, users-friendly website interface can realize quick access,copy, resotre,instant VM recovery and file-level recovery.
VM Explorer provide infrastructure a simple, flexible solution. If you want to fully utilize backup software,including instant VM recovery, encrypted backup, multi-user interface functions and additional functions for cloud backup(public or private) and strong backup/copy function, VM Explorer is undoubtly the right choice.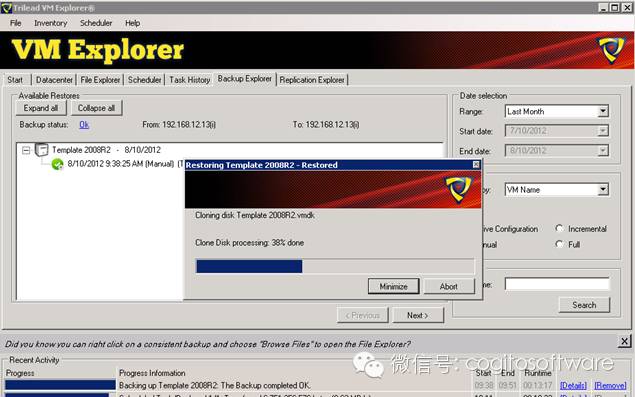 Advantages:
Easy to install and use.
VM Explorer can be installed and used in only a few minutes. If the downloaded software is less than 30 MB, you can just click a few times to finish the installment. You don't need to install other software or dedicated VM on ESX,ESXi or Hyper-V severs.
Istant VM recovery for ESX/ESXi(propessional)
Under the circumstance of diaster, you don't need to waste your time until the restorement stopped. With the help of instant VM recovery, you can simply start VM right from backup in a few seconds. Once the VM is on going, you can use VMwarevMotion to restore VM to produce sever. Istant VM recovery reduced the downtime during disaster recovery significantly, and much quicker than the traditional recovery.
Encrypted backups(Professional)
VM Explorer can use XTS-AES 128 encrption to encrypt backups. Only the effective encryption key can access the protected data.
VM Explorer 6.0: Tape backup, storage snapshot with EMC ScaleIO ,localized web interface
New features of VM Explorer 6.0:
Tape backup
Tape backup is still its critical techniques. It provides long-term storage and cost-effectiveness. VM Explorer now supports the auto loading and unloading equipment and tape libraries, for archive which can backup to tape media.
Storage snapshot with EMC ScaleIO
Snapshot in Hypervisor can make important effects on the virtual equipments' performance. Combined with the support of internal ScaleIO, VM Explorer can take advantage of storage snapshot to reduce the effects on the environment of production.
Localized web interface
VM Explorer has different versions of languages, such as English, Germany and Italian.