Faronics Insight
FLEXIBLE CLASSROOM MANAGEMENT PLATFORM MADE EASY
MINIMIZE DISTRACTIONS AND REDIRECT STUDENT FOCUS
Technology-based learning in the classroom introduces many tempting digital distractions. Thanks to Faronics Insight, teachers can keep students engaged. Instead of spending time monitoring student activities, teachers can maintain classroom focus and promote collaborative learning. Faronics makes classroom management software for educational institutions of all sizes.

FARONICS INSIGHT MAKES CLASSROOM MANAGEMENT EASY
Monitor Classroom Activities
Use the classroom thumbnail monitoring feature to see what the students are doing with a single glance.
Promote Collaboration
Provide encouragement through collaboration and deliver an interactive lesson that keeps students engaged.
See the Whole Picture
Central management helps to eliminate the headache of managing multiple labs, schools, and networks.
Eliminate Distractions
By limiting internet access, teachers no longer have to deal with classroom distractions - such as games, instant messaging, and web surfing - when teaching a class.
Regain Control
Real-time computer monitoring empowers teachers to easily check student progress, engage in face-to-face instruction, and communicate effectively without distracting the class with device disruptions.
Accelerate Student Learning
Allow students to request and receive assistance directly in their workstation session, allowing teachers to give guidance and advance through coursework quickly and effectively.
What's new with version 8.0
Performance Redesign
Chromebook EnhancementsChromebook Enhancements
e-Safety Enhancementse-Safety Enhancements
Android Student EnhancementsAndroid Student Enhancements
We help you manage all types of devices
Windows
Insight Teachers on Windows have the ability to monitor classroom activities, promote collaboration with students, remove distractions and control their online environment.
Macintosh
Insight Teachers and Students on macOS have the same collaborative and productivity enhancing benefits from the Windows version.
Chromebook
Insight on ChromeOS allows Teachers to monitor and manage Student activities, help individual Students, administer tests, disable web browsing, and broadcast the teacher's screen to accelerate student learning.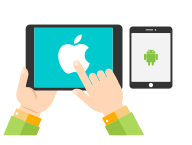 The tablet
Insight on iOS or Android tablets can allow Teachers to broadcast their screens, send messages, administer tests, set voting polls, gather inventory information and provide a safe digital environment.
Faronics Insight is now 8X Faster
Faronics Insight is an effective classroom management tool that helps teachers create a better learning experience, while helping IT professionals manage and support multiple labs with ease.