Monitoring your PC and Android devices has never been easier.
It's all about having the right tools.
Test and monitor your mobile phones and tablets with the all new Android app! The world's leading hardware diagnostic and system information tool keeps your devices running their best. PC-Doctor Toolbox offers you what PC makers worldwide have relied on for years — our industry standard hardware diagnostics, advanced system information, system history, monitoring tools, and more.
Free yourself from the woes of PC troubles. Toolbox automatically monitors key hardware and software components, offering system information with detailed results. Advanced reporting keeps you well informed on system health, vastly improves troubleshooting, and reduces those time-consuming support calls.
Supports...
---
You can benefit from Toolbox if you are a...
Family on the go
Whether your PC investment is for your digital life, or available for an entire family to share, PCs undergo rigorous stresses and use. Yet with Toolbox, computers are well maintained to help them preserve performance and increase longevity.

Small or home office worker
Your PC is essential to your business as a primary tool for your work. Having the proper tools to automatically maintain its efficiency and performance is important to work productivity.

Technicians and advanced users
You are the type who likes to get down and dirty with the internals of your system. With Toolbox you now have access to the same low level diagnostics and system information available to the PC Manufacturers for the past 20 years.
System builders interested in reducing support costs
Your company builds PC's but the support costs are a burden. With Toolbox end users are empowered to troubleshoot their own systems. If hardware issues are found repairs are faster and your customers go away happy!
---
"Must have for my laptop...I especially like the display, which is much easier to understand than the previous versions display...I recommend this app and congratulate AMAZON for carrying such a fine product."
— 5-Star Amazon Review
---
Features and Benefits
All NEW look!
Complete diagnostic refresh!
Supports Windows 10
Blue Screen Troubleshooter
More than 300 hardware tests for all major PC subsystems: storage, audio, graphics, networking, memory, CPU, systemboard, and peripherals
Detailed system information to give a clear picture of the current configuration
Comprehensive system history shows changes and events that have occurred
Status and settings for your backup and security solutions
Monitoring of Windows updates, system performance, and hardware health
Links to Windows tools and support resources
Supports Windows Vista and up
Supports English, Dutch, French, German, Italian, Japanese, Portuguese, Simplified Chinese, Spanish, Traditional Chinese
---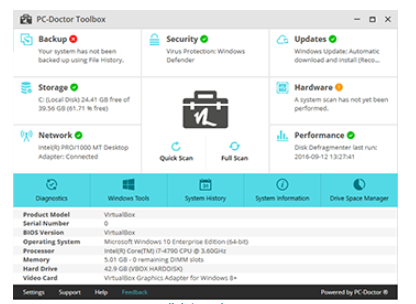 Dashboard
Toolbox monitors key hardware and software components of a PC to keep it running at its best. When action is needed the Dashboard describes the problem and directs you with the recommended actions.
Toolbox alerts you when critical areas need attention.
---
Hardware Diagnostics
With Toolbox you can now have the same world class hardware diagnostics that have been used by top PC manufacturers for years. Take the guesswork out of troubleshooting so you can get back to what really matters!
---
System Information
Knowledge is power! Toolbox provides the most complete and easy-to-access System Information available. Understanding your system components is critical to keeping your system healthy.
---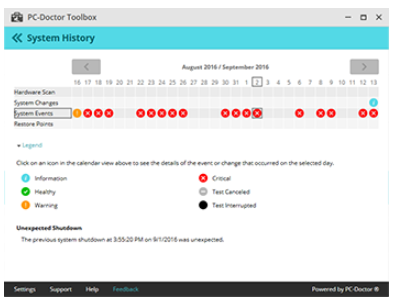 System History
Your system is crashing! You are constantly seeing the dreaded Blue Screen of Death! With Toolbox's System History you can see when your system started having issues, and what system changes occurred just before that point. Revert changes and get your system back to a healthy state!
---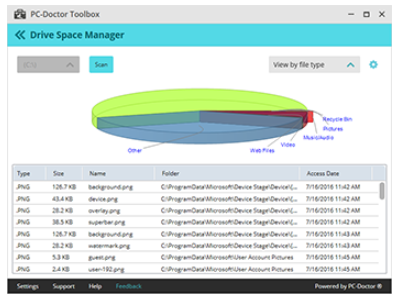 Drive Space Manager
Wondering where all of your drive space has gone? Toolbox Drive Space Manager helps you control shrinking disk space.
---
PC-Doctor Toolbox is the top app for system health, accurately identifying critical health issues for all your Android devices. The easy-to-use interface puts you one touch away from tools that keep your device running smoothly. Get proactive, identify issues, and avoid downtime—download Toolbox today or learn more at pcdapp.com!
"The application has an amazing look to it. Outstanding job on the application itself.
Can't wait to see what the future holds."
— Jordan Vashey, Beta Tester
---
The Toolbox that offers it all...
Dashboard
Beautifully designed tools critical to keeping your device running smoothly.
My Device
Access detailed device information and identify the need for system updates.
Diagnostics
Quick, full, stress or component level testing offers a thorough device check.
Apps
Know what's installed and running. View per app usage and easily access app settings.
Storage
Always know the space available to download your favorite apps, music, videos, and more!

Battery
Monitor detailed information including time remaining, charge, temperature, and voltage.

Network
Track data usage by monitoring connection speeds and the apps using the most data.
History
Understand when and why device issues occur via historical diagnostic results events.
Performance
Quickly see if your CPU, memory, and storage are operating effectively.
Sensors
Beautifully graphed real-time data for GPS, accelerometer, gyroscope, and more.
---
Beautifully crafted, easy access dashboard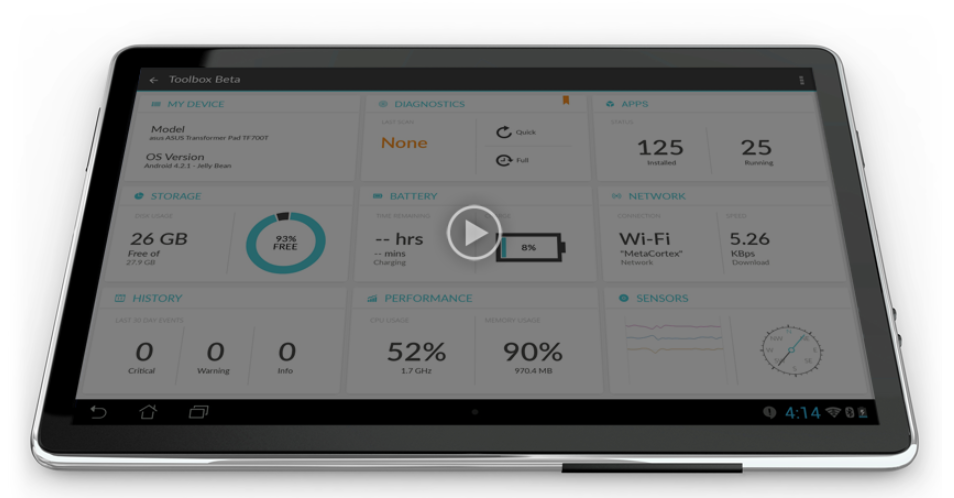 Gain fast access to tools through the easy-to-use dashboard.
Keep your Android device running smoothly. Equip yourself with the right tools today.
---
My Device
View detailed system information quickly to know if your system needs an update. No need to search through settings or contact technical support with instant access to info that includes:
Device model
Operating system
CPU
System memory
Battery
Sensors
Wi-Fi
NFC
---
Diagnostics
Run quick, full or stress tests for a thorough device check, or target specific components for testing. We reviewed analyses, case studies, and input from industry leaders and used this knowledge to develop tests that efficiently handle any scenario.
View the full test list.
---
Storage
View your device's internal and external storage usage—conveniently organized into categories—to see the current available space for your favorite apps, music, videos, and more!
---
Apps
Get detailed information quickly when your device is running slow, your battery is draining, or other issues arise. Toolbox shows which apps are installed and running, along with CPU, memory and storage usage per app. Easily access each app's settings, stop apps, or delete them directly from Toolbox.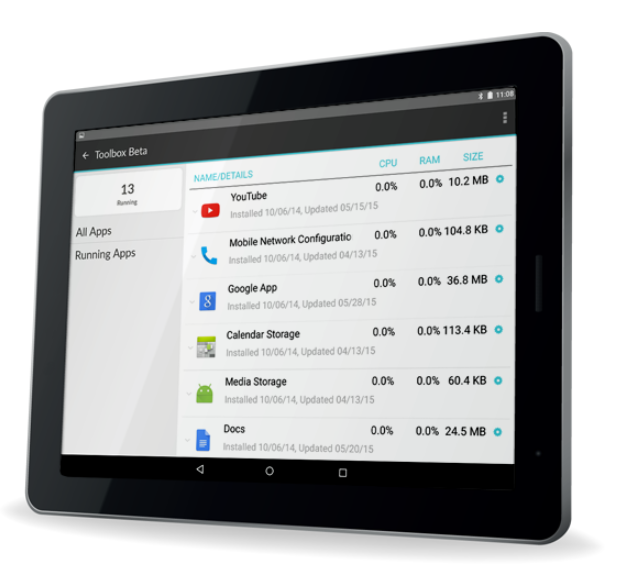 ---
Battery
Monitor battery health with Toolbox, and gain current and historical info that includes time remaining, charge, temperature, and voltage.
---
Network
Keep tabs on data usage by monitoring mobile and Wi-Fi networks, current connection speeds, and the apps using the most data.
---
History
Review historical diagnostic results and see critical, warning, and informational events through the easy-to-use calendar—helpful in understanding when and why device issues occur.
---
Performance
Know instantly if your device's CPU, memory, and storage are optimal.
---
Sensors
View beautifully graphed real-time data for magnetometer, accelerometer, ambient light, proximity, gyroscope, pressure, ambient temperature, relative humidity, and GPS, and instantly know if you have a bad sensor.
---