GoodSync for Business Server
Backup and Synchronization for Server Operating Systems
Powerful Enterprise-Wide Data Protection Tool
Multi-Destination Support (including SMB, AFP, etc)
Unlimited Number of Connections
Incremental Block-Level Data Transfer
Unattended Backup Support
One Solution for Three Challenges
Complete data backup solutions for businesses in the following scenarios:
Backup
Backup all your mission critical data from your servers and workstations to your file server.
Multiple backup options ensure full data redundancy and ease of recovery.
Exceptional ease of deployment and use.
Synchronization
Keep all of your file server data synchronized between critical operation centers.
Ensure high availability and uninturupted access through real-time, automated, unattended synchronization service.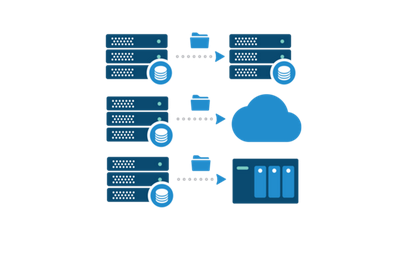 Replication
Replicate for your mission critical data to any destination with GoodSync Server.
Real-time, automated, unattended disaster recovery service to any server, NAS, or cloud.
Ensuring complete data redundancy.
Advanced Features
GoodSync for Business offers all Advanced backup/synchronization functionality, including:
Real Time Data Transfer
GoodSync monitors all Files and Folders for any changes and propagates them in real time between your server and other devices over your Local Area Network / Wide Area Network.
Block Level Data Transfer
Incremental backups identify only the changes made since the last backup, significantly reducing backup time, network consumption, and storage requirements.
Unattended Service
Run as a background Service in unattended mode and perform automated, scheduled, and real-time backup and synchronization jobs without user logged in.

GoodSync Enterprise
Workstation

GoodSync Enterprise
Server

GoodSync Enterprise Control Center

Ideal for businesses with:
Workstations needing offline access to shared files; Disaster recovery backup; or "Roaming profiles"
Servers/virtual machines that need disaster recovery backup; Distributed file access; Block-Level Backup/Synchronization
A need for centralized management/reporting of workstation/network backup and syncronization
Activations
Activate on Workstation OS
Activate on Server OS
OS Support Compatibility
Windows Workstation
MAC OS X
Linux Workstation
Windows Server
MAC OS X Server
UNIX/Linux Server
Cross-platform; Supports all Workstation and Server OS
Backup & Synchroniation
Physical Systems
Virtual machines
Snapshots
Big Data
Protocols & Storage
Network Features:
Local File System, Network Shares, NAS/SAN Devices, Media Devices, WinMobile
Protocols:
FTP, SFTP, WebDAV, GoodSync Connect
Cloud Storage:
Amazon S3, Google Drive, Windows Azure, SkyDrive, Dropbox, OneDrive, OneDrive Pro, Office365, Amazon Cloud Drive, One File
Advanced Features
Real Time Backup & Syncronization
Bandwidth Throttling
Multi-threading
ACL Transfer
Integration with Volume Shadow Copy Service (VSS)
Block-Level Transfer
Unattended Service
Inbound Connections
3
Unlimited
Unlimited
Centralized Management
Zero User Interaction
Active directory and SQL Server Authentication
Centralized User Management
Advanced Reporting