SyncBackPro, the professional's tool to backup, synchronize, and restore data files.
SyncBackPro for Windows is used by individuals, small businesses, and mission critical organizations throughout the world including law enforcement agencies, hospitals, and government departments.
Install SyncBackPro on a Windows computer and backup your data across multiple operating systems using SyncBack Touch (licensed separately). SyncBack Touch works with Windows, macOS (Apple), and Android (Mobile phones and Devices).
Professional Backup
SyncBackPro, the most powerful backup and synchronization utility in its class. Version 7 now supports more Cloud services than ever.
Transfer media files to and from portable devices automatically. Backup your pictures, music files and movies. With notifications about profile runs, creation etc. scripting functions, and automatic drive failure detection (S.M.A.R.T.), SyncBackPro delivers the complete backup solution.
SyncBackPro, together with SyncBack Touch provide an outstanding multi-platform (Windows, macOS and Android) backup solution.
SyncBackPro also connects to the SyncBack Management System (SBMS) which makes monitoring and managing remote backups a whole lot easier and more secure.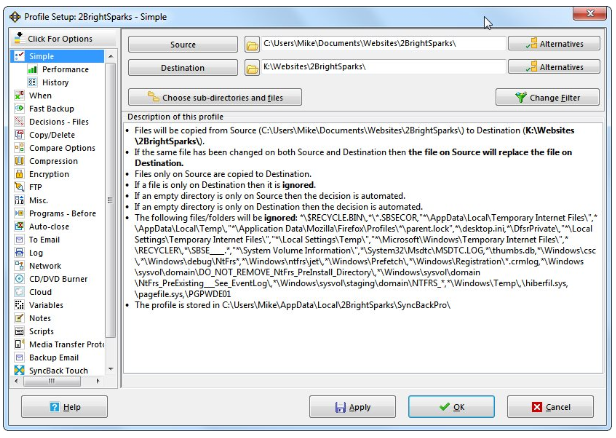 Licensing
One registered copy of the software may be used by a single person who uses the software personally on up to 5 computers to process personal data (home use). When used to process non-personal data (e.g. the workplace, but including processing non-personal data on a personal computer), a separate license must be purchased for each installation of the program (including one per virtual machine). Installing the program on a server, or on a single workstation used non-simultaneously by multiple people, counts as one installation.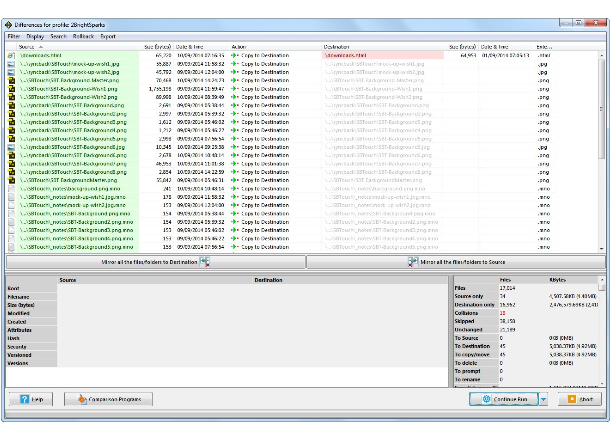 Support
Windows 10, 8, 7 & Vista, 2003 and newer (32/64-bit)

Copy Locked or Open Files

Supports Google Drive, OneDrive, Box, Dropbox, Amazon S3, Amazon Drive, Azure, Google Storage, Office 365 (OneDrive for Business and SharePoint) and SugarSync.

Fast Backup, Smart Synchronization and Incremental Backups

Backup Emails Stored on a POP3/IMAP4/Exchange Server

Versioning - Keep Previous Backup Versions

Scripting - Configure How SyncBackPro Runs

Powerful FTP/FTPS/SFTP Engine and Encryption

Automatic Drive Failure Detection (S.M.A.R.T.)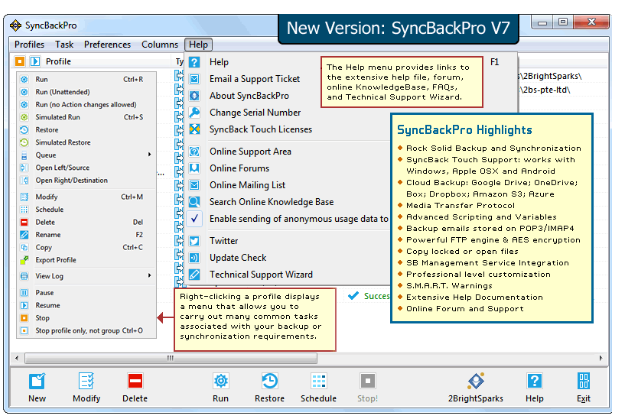 Outstanding Performance & Value
SyncBackPro V7 supports Cloud services (Google Storage, Amazon S3, Azure, Dropbox, OneDrive, Google Drive, Box, Amazon Drive and SugarSync), and the Windows, macOS and Android App SyncBack Touch (licensed separately) supports multi-platform backups and every V7 licensee enjoys two free connections!