Do your best work with a powerful macOS app. Bring your people and projects together with real-time collaboration. Then take things further with plugins and extensions.
Begin with powerful tools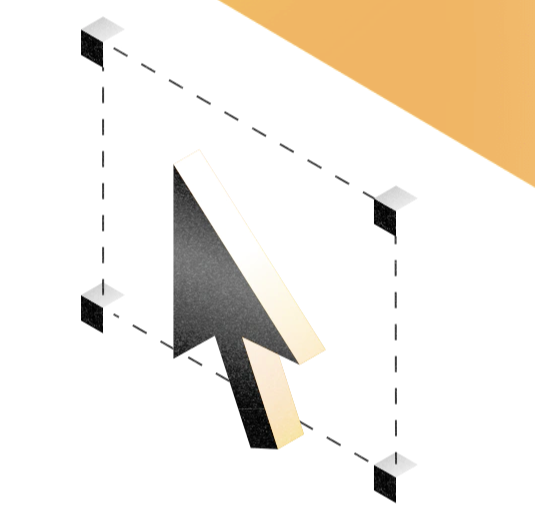 Flexible vector editing
With a set of intuitive vector editing tools and editable boolean operations, you can easily iterate on your work — whether it's a new icon or your next breakthrough product — at any stage of the design process.
Design with pixel-level precision
Details matter. That's why we've made it easy to zoom to the pixel level, align things perfectly with Snapping and Smart Guides, and adjust your layers until they're just right.
Pro features. Designed for everyone.
Infinite Canvas. Fine controls.
Keep things organized across your infinite Canvas with flexible Artboards and presets that let you design how you want. Plus, with customizable grids and simple resizing tools, you can scale your work to any screen size.
Save time with math operators
Use shorthand and math operators to design faster. Need to double the width of a layer and have it resize from the center? Simply add *2c to its width attribute, hit enter and watch it happen.
Variable and OpenType fonts
Get infinite control over typography in your designs with Variable fonts support, and unlock alternate characters, ligatures and more with full support for OpenType features.
Scale up your designs
Reusable, smart components
With Symbols, you can create a Component once, reuse it anywhere, and update every instance of it across your design when you need to make a change. And with Smart Layout, your Symbols will automatically resize to fit their content.
Keep things consistent with Styles
Keep things consistent by defining Color Variables, Text and Layer Styles. Then use, reuse and update them across your designs. With Color Tokens you can even export, integrate and sync Color Variables to your development projects.
Manage your Design System
As your Symbols, Colors and Styles grow into a Design System, Sketch gives you the tools to manage them. Components View lets you browse, organize and edit everything in one place, while inserting is super-fast thanks to searchable menus and a dedicated Insert Window.
Collaborate, sync and share
Design together in real-time
With real-time collaboration in the Mac app, and a set of cross-platform tools for feedback, sharing and developer handoff in the browser, you can keep everyone (literally) on the same page.
Stay in sync with Libraries
Create Libraries of your Symbols, Text and Layer Styles, and Color Variables. Share them automatically with collaborators, and push updates that keep everyone in sync as your design system evolves.
Sharing, on your terms
Share your work with anyone, in any web browser through your Workspace. There, you can get feedback, handoff to developers, or invite clients to view your work — with document permissions to keep you in control.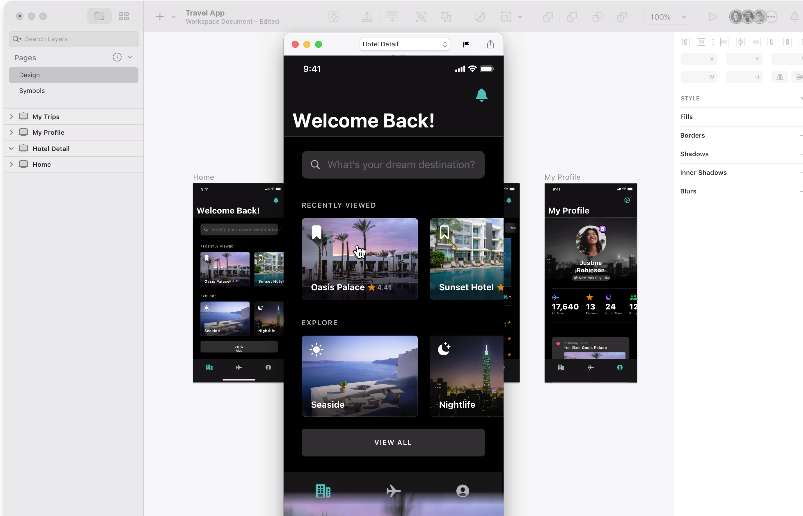 Design beyond the Canvas
Powerful export options
Designing for multiple platforms? Export in all the sizes and formats you need with detailed options — including P3 Color support — or set up custom presets to speed things up for everyone.
Test your designs
Quickly link different parts of your design and create prototypes to test out your ideas. Share them in the browser with a link, try them in the Mac app or test them on your device.
Native to macOS
Sketch feels right at home on the Mac. No compromises. With a UI that'll feel instantly familiar if you've used any native macOS app, you can take full advantage of things like:
Dark and light user interfaces
Full support for Retina and non-Retina displays
Touch Bar support
Local document versioning
Super fast performance on Apple silicon
Work locally and offline, any time
Built-in spellcheck and RTL support
Customizable toolbar and shortcuts
Native font rendering and emoji support