Key Features
· Bandwidth monitoring
· Application traffic alerting
· Network traffic analysis
· VMware vSphere distributed switch support
· Performance analysis dashboard
· Advanced application recognition
Features Overview
Add NetFlow Traffic Analyzer to Network Performance Monitor to boost your NetFlow monitoring capabilities.
Clear visibility
Monitor your network, discover traffic patterns, and avoid bandwidth hogs with NetFlow Traffic Analyzer (NTA) and User Device Tracker NetFlow solutions.
Faster. Leaner. More secure.
Faster troubleshooting, increased efficiency, and greater visibility into malicious or malformed traffic flows with NetFlow analyzer insights.
Full integration
Work seamlessly with Orion Platform products, including Network Performance Monitor and Network Configuration Manager.
Conversation by Policy
Combine NTA with Network Configuration Manager (NCM) to show traffic conversations by policy in the context of the NCM Policy Details page.
l Bandwidth monitoring
Monitor bandwidth use by application, protocol, and IP address group.
View both IPv4 and IPv6 flow records. Monitor Cisco NetFlow, Juniper J-Flow, sFlow, Huawei NetStream, and IPFIX flow data identifying the applications and protocols consuming the most bandwidth.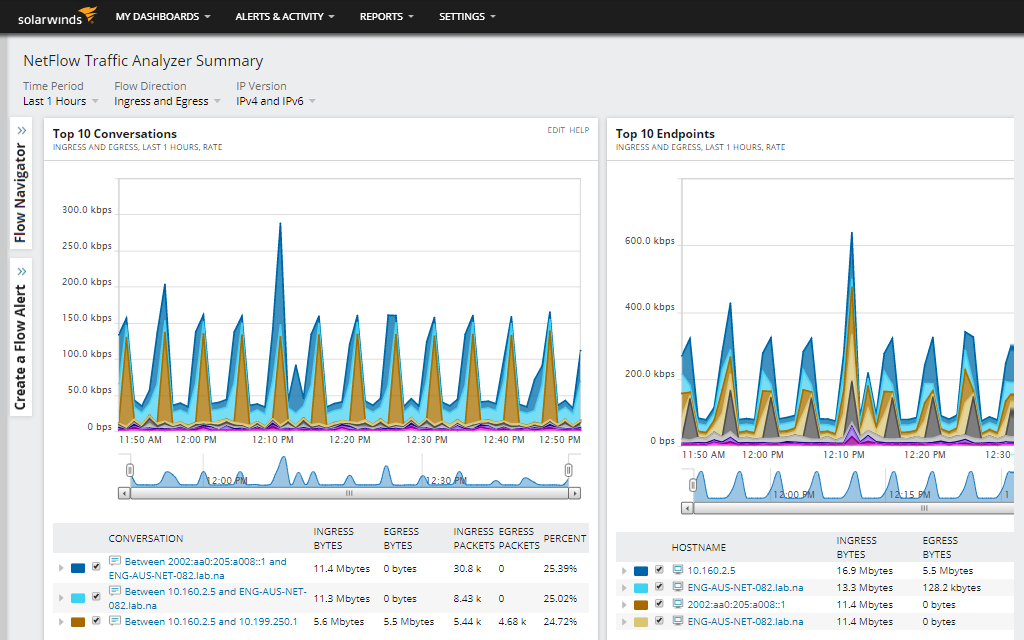 l Application traffic alerting
Get alerted if application traffic suddenly increases, decreases, or disappears completely.
Be able to quickly act if there's an unusual change in application traffic. You can also set alerts to be notified if a device stops sending flow data, so you can efficiently remediate the problem.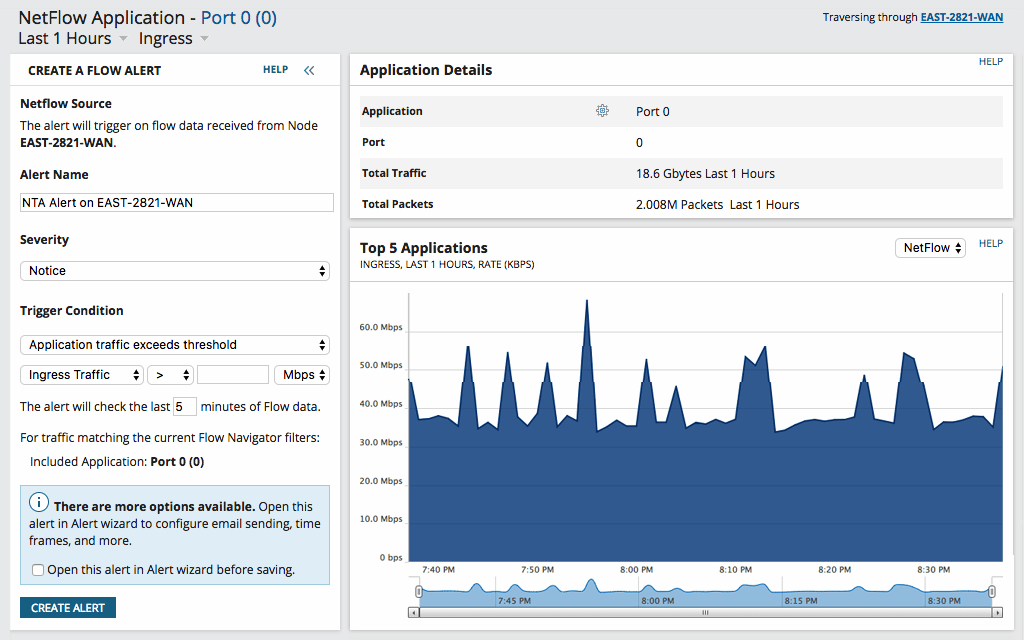 l Network traffic analysis
Analyze network traffic patterns over months, days, or minutes by drilling down into any network element.
NetFlow Traffic Analyzer collects traffic data, correlates it into a useable format, and presents it to the user in a web-based interface for monitoring network traffic.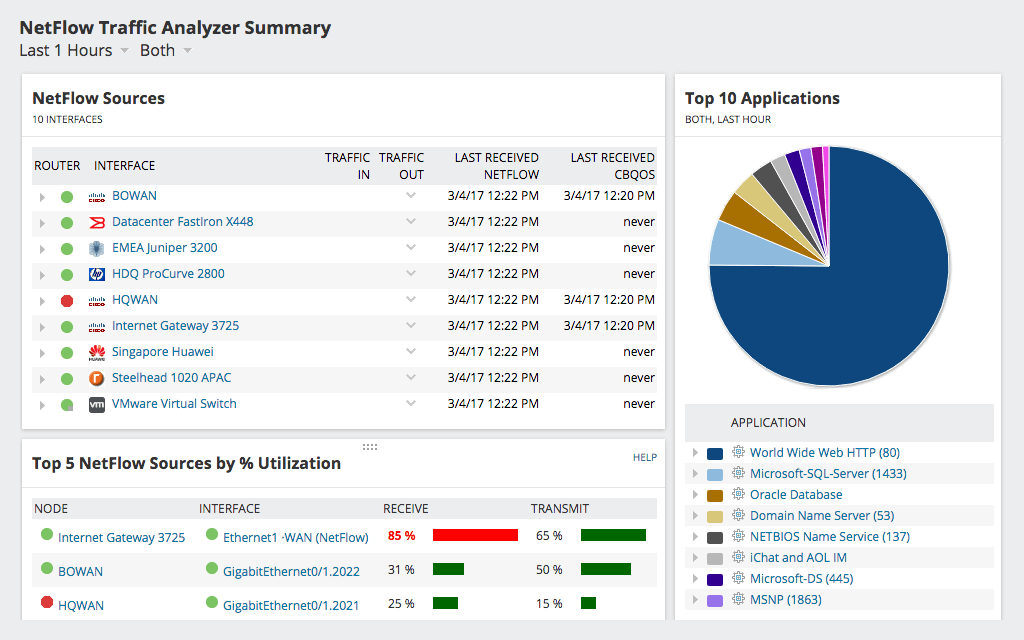 l VMware vSphere distributed switch support
Advancements in East-West Traffic Filter
NTA has added visibility into flow data from VMware vSphere switches. IT pros can now filter out east-west traffic on specific hypervisors to avoid service impacts when moving workloads.
l Performance analysis dashboard
PerfStack™ cross-stack network data correlation.
Accelerate identification of root cause by dragging-and-dropping network performance metrics on a common timeline for immediate visual correlation across all your network data and NetFlow analytics.
l Advanced application recognition
Identify which applications and categories consume the most bandwidth for better network traffic visibility with NBAR2 support.
Cisco NBAR2 support gives you visibility into HTTP (port 80) and HTTPS (port 443) traffic without the need for additional probes, spanning ports, etc.
l Customizable network traffic reports
Create, schedule, and deliver in-depth network traffic analysis and bandwidth reports with just a few clicks.
Don't spend money on additional bandwidth if it's not needed. NetFlow software can help you review historical data to identify peak bandwidth usage and adjust policies for better management.
l WLC traffic monitoring
Monitor Wireless LAN Controller traffic to keep tabs on applications and clients utilizing bandwidth on your wireless network.
In today's mobile world, it's important to keep your wireless network running smoothly. With WLC network traffic analysis, you can easily see what's using your wireless bandwidth.
l Cisco Meraki wireless monitoring
View traffic data on Cisco Meraki interfaces
Visualize the traffic flows on your Cisco Meraki MX and Z series interfaces for better monitoring of the bandwidth use in your Cisco Meraki wireless environment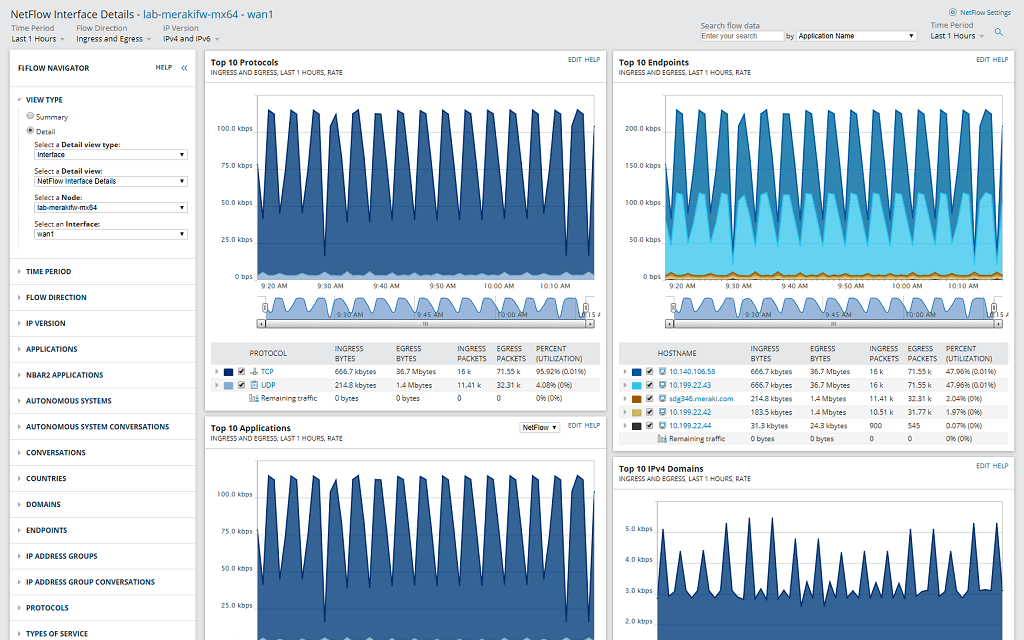 l CBQoS policy optimization
Measure the effectiveness of pre- and post-policy traffic levels per class map to determine if QoS policies are working as planned.
If your business relies on VoIP, e-commerce, or other cloud-based applications, the NetFlow analyzer software will help confirm that prioritized traffic passes smoothly through the network.
NetFlow Traffic Analyzer is a part of the SolarWinds Orion® Platform.
Change the way you think about IT. SolarWinds delivers central visibility and control through a tightly integrated experience.
One vendor. One platform. One single pane of glass.
· Leverage the Orion® Platform's modular structure with NetFlow Traffic Analyzer (NTA) to integrate with and easily surface data from other from SolarWinds Network Configuration Manager, SolarWinds IP Address Manager, and SolarWinds User Device Tracker.
· Get in-depth tools like PerfStack™, NetPath™, and Orion Maps, giving users insights from correlated data historically and in real time.
· Utilize the Orion Platform's modular structure to see all events and alerts on your network in one view and troubleshoot advanced devices across the platform.