Key words: remote control software
Splashtop Enterprise
Splashtop is a professional developer and provider of remote desktop access control software and services, which enable customers to remotely control computers, cellphones and smart mobile devices to meet the needs of working from home, IT remote support and remote device management.
Splashtop provides different products and solutions according to users' different purposes and needs, among which Splashtop Enterprise is the most full-featured and powerful software, offering all-in-one enterprise-level remote access and support solutions. It is especially suitable for large enterprises, IT operation and maintenance, Managed Service Provider (MSP) terminal management, remote labs and other complex and demanding use cases.
Splashtop Enterprise supports the following three main use cases:
Remote Desktop Access:
Provide customers with high-performance remote desktop access services in use cases like mobile office and working from home. Enable users to seamlessly remote into their work computers and access to their resources from Windows, Mac, iOS, Android and other platforms. Plus, distance education and remote lab resource access are also available.
Remote Technical Support:
Enable large enterprises to provide remote technical support for IT operation and maintenance, and Managed Service Providers (MSPs). In addition to remote desktop access capability, it also offers terminal management capability, such as operating system update management, system security management, system log summary, asset management and other functions.
On-Demand Technical Support:
Ensure that IT of large enterprises to get on-demand technical support (such as internal help desk system and ticket system), and to quickly access target machines through quick connection codes, including the support of Windows, Mac, Linux, Android, iOS (view only) and other platforms.
Splashtop Enterprise provide both cloud and on-premise options.

Highlights of Splashtop Enterprise:
Unattended Remote Access Control:
Allow users to deploy in advance, so that they can remotely access to Windows, Mac and Linux computers from anytime and anywhere. This feature is suitable for remote device management, operation and maintenance.
Attended Remote Access Control:
With a 9-digit access code, you can access Windows and Mac computers, as well as iOS and Android devices on demand, which is suitable for IT remote support.
High Performance
Our award-winning high-performance engine is used to provide high-definition quality, real-time fast connections and multiple concurrent sessions. 4K streaming at 40fps is available and it can even achieve 60fps in a 5G environment.
Broad Device Support
You can access and support Windows, Mac, iOS and Android devices from any other Windows, Mac, Android and iOS devices. Access and support your IoT devices, including self-service terminals, point-of-sale (POS), etc. It is suitable for store equipment management, outdoor advertisement screen management, remote equipment operation and maintenance and other use cases.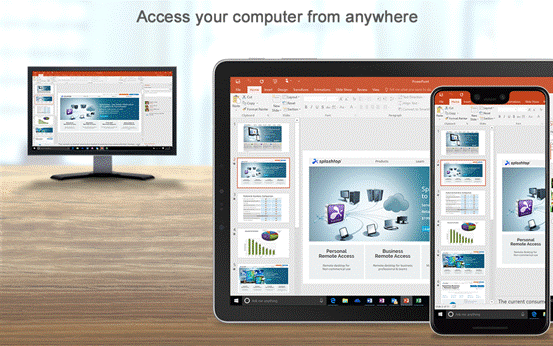 Endpoint Management
It includes operating system update management, system asset management, system security status management, system log collection and export (SIEM integration), batch remote command and other endpoint management features.
Robust Security
All remote sessions are protected by security features, including TLS and 256-bit AES encryption, device authentication and two-factor verification. Splashtop is compliant with SOC 2, GDPR, HIPAA, PCI and other industry standards and regulations. All connections, file transfers, and management events are logged.
SSO / SAML Integration
Authenticate through SSO / SAML. Provide support for Okta, Azure AD, ADFS, JumpCloud, OneLogin, Workspace ONE, G-Suite and TrustLogin.
Scheduled Access
IT admins can schedule times for individuals or students to give them access to specific computers. It is especially suitable for remote lab access and other use cases.
USB device redirection
Redirect a USB device (smart card reader, security key, stylus/HID device, or printer) on your local computer to the remote computer. The redirected device works on the remote computer as if it's plugged in directly at that computer (Windows only).
Other Features:
Multi-to-multi monitor, group-based access permissions, two users into one computer, file transfer, chat, share your screen, remote reboot, session recording, microphone input, etc.
Typical Use Cases
As a food service retailer, Bill Miller Bar-B-Q is headquartered in San Antonio, Texas, with more than 80 branches.

Challenges:
The company's 4-person IT team will support over 1,000 terminal devices in more than 80 branches across the country, including POS terminals, computers used by business personnel and office computers within the company. They hope that the remote technical support software can solve the following problems:
To enable them to monitor and manage POS terminals and computers, update software, and transfer files

To allow them to provide immediate technical support remotely when needed

To provide uninterrupted high-performance remote sessions, so that they can effectively train users how to run reports and use POS software and other apps

Powerful security model supporting PCI compliance

To enable them to provide effective remote IT support
Solutions:
After comparing various solutions, the company finally adopted Splashtop Enterprise to solve the problems it faced.
Deployment and Implementation: Splashtop Enterprise is easy to deploy and implement, and its deployment can be completed in a short time.
Performance: Splashtop Enterprise can provide high-speed, stable remote connections with low operational latency. Taylor, the admin at Bill Miller Bar-BQ, further commented on Splashtop's performance: "When I am using Splashtop on my Mac, I have a stable connection even if I remotely access more than five computers at the same time."
Security: Splashtop provides high security, including PCI specification compliance and other features.
Remote Monitoring and Management of POS Terminals: Most of Splashtop's POS terminals and computers use Windows OS and have some Linux servers. Splashtop's endpoint monitoring and management features enable IT teams to offer effective support. Taylor commented on several features of Splashtop that they often use:
1-to-Many: "We use 1-to-Many to send self-extracting zip files to all devices at once."

Configurable Alerts: "We set alerts to monitor disk space, CPU utilization, and so on. So far, they have worked well. "
Instant Support for Users: In case of POS system failures, technicians will immediately give remote access through Splashtop and solve them, so as not to bring inconvenience to customers or affect business.
Training Requirements: In addition to managing and supporting POS systems, IT teams often get requests from business users on how to use POS software, such as running labor reports, sales numbers, etc. With Splashtop, technicians can immediately and remotely enter the user's POS terminal and show them how to achieve it. Splashtop's fast and seamless sessions make effective training courses possible.

Why Splashtop?
Brand History
Splashtop Inc. is an international technology company, founded in 2006. The company provides remote desktop access control software and services, serving 30 million users and 200,000 businesses worldwide, and achieving over $1 billion valuation.
Customers Recognition
Splashtop is preferred by Toyota, Microsoft, Disney and other top 500 enterprises, Harvard University, Stanford University and other top universities, as well as many banks, governments, media and medical institutions.
High-Performance
Splashtop is popular with users for its fast and seamless features. Near real-time remote access is available with 4K streaming at more than 40 frames per second. It is very easy to remotely produce videos, games and 3D animation.
Low Price
Splashtop is more competitive over its rivals in pricing.
Word-of-Mouth
In 2021, Splashtop has received 93 Net Promoter Score (NPS), ranking first in the industry; and it was awarded the "Best Telecommuting Solution" in Canada. Extensive user word-of-mouth recommendation reduces marketing investment, which is a key reason for Splashtop to keep its price low.
Security and Specification
Splashtop has advanced infrastructure, intrusion protection, and multiple features that can keep your data safe; all its remote sessions are protected by TLS (including TLS 1.2) and 256-bit AES encryption. Splashtop is compliant with SOC 2, GDPR, HIPAA, PCI and other industry standards and regulations.
Learn more at https://www.splashtop.com/, or contact our customer service to schedule a trial.