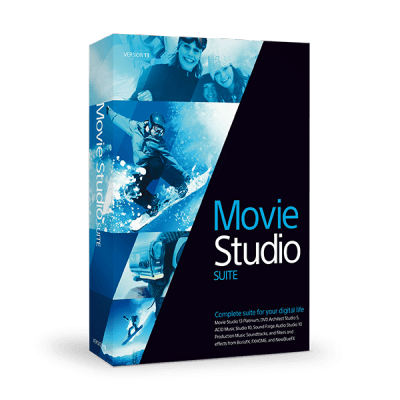 VEGAS Movie Studio 13 Suite
HD video editing, DVD creation, and more
Satisfy your suite tooth
Movie Studio 13 Suite brings four impressive applications together to produce a complete multimedia experience. Create video in beautiful 4K XAVC S or AVCHD™, develop original music, and enhance multichannel audio. Take control of your own creativity and make movies that matter. Weave your ideas into high-quality videos that can be burned to a DVD or Blu-ray Disc™!
Movie Studio 13 Suite includes:
Movie Studio Platinum

DVD Architect Studio
NewBlueFX 3D Titling and Video Effects

BorisFX Units*

FXHOME HitFilm Effects
Sound Forge Audio Studio

ACID Music Studio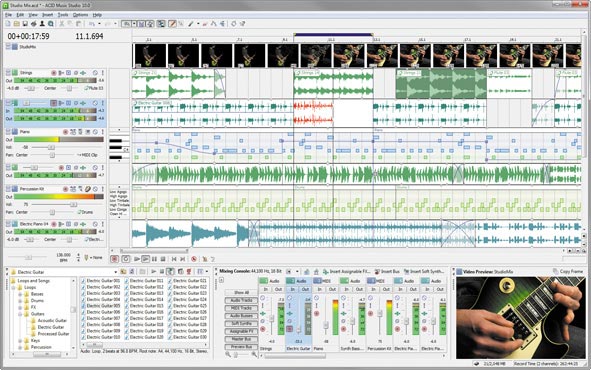 Create stunning movies
Show your best side with Movie Studio Platinum. Edit video in nearly any format, including beautiful 4K XAVC S (4 times the resolution of HD). Stylize your movies with high-quality video effects, transitions, titles, and filters. Fix washed-out footage or match the color of different clips to provide continuity from scene to scene.
Produce your own music
Take advantage of tools from ACID Music Studio and enjoy total creative control when working with your own music production. No previous experience is necessary! With the software's loops, creating your own standout tracks has never been easier. Open the door to the world of professional music production with production tools for audio recording and effects editing.
Make original music
ACID™ Music Studio gives you the freedom and flexibility to interact with music creation tools at the skill level that's right for you – no experience necessary! Our loops take the guesswork out of making great tracks, and our MIDI, effects processing, and audio recording tools open the door to the world of professional music production.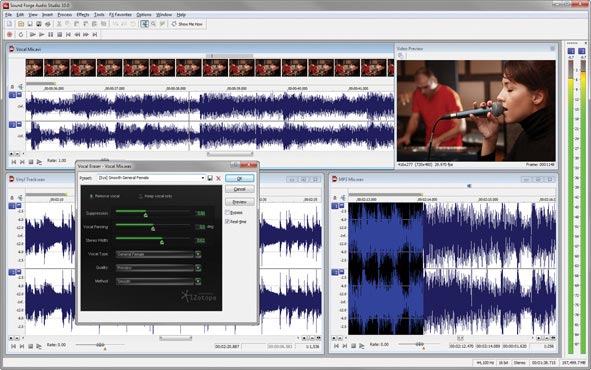 Record and edit audio
Sound Forge™ Audio Studio software is the easiest way to record, edit, process, render, and share audio. Key features include high-resolution 24-bit, 192 kHz support, vinyl recording and restoration tools, Vocal Eraser plug-in technology, the exclusive Audio Enhancer plug-in by iZotope®, and FLAC file format support.
Create dazzling DVDs and Blu-ray Discs
Produce picture slideshows, single-movie DVDs, music compilations, and menu-based DVD and Blu-ray Disc™ projects in no time. Choose from dozens of ready-made templates or create your own custom backgrounds and buttons. Add a menu and scene-selection menu to any title.
Third party plug-ins
Create stunning effects with the included BorisFX*, FXHOME, and NewBlueFX plug-ins.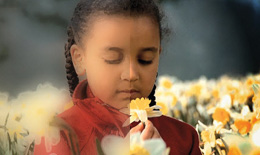 NewBlueFX 3D Titling and Video Effects
The Movie Studio 13 Suite includes an exciting group of audio and video effects by NewBlueFX, a leading manufacturer of audio and video plug-ins. Once installed, the tools are available directly from the Video FX window, providing a seamless editing experience without ever leaving the application. These additional transitions, effects, and titling tools provide more options to enhance audio and video projects with a professional look and feel.
BorisFX Units*
Two powerful Boris Continuum Units every editor needs. Create seamless composites and quickly handle the tedious task of chroma keying with BCC Key and Blend's precise keying and matting options. Plus, save imperfect footage with BCC Image Restoration. Apply digital make-up, remove flicker, reduce noise, and fix pixels.
*BorisFX Units available for 64-bit operating systems only.
FXHOME HitFilm Effects
A selection of powerful visual effects plug-ins are included from the HitFilm collection, designed by FXHOME. Create light flares, sun rays, TV damage, bleach bypass looks and much more. The plug-ins use the same FXHOME technology behind HitFilm 2 Ultimate, combining professional quality with fast performance.