Open-E JovianDSS - General information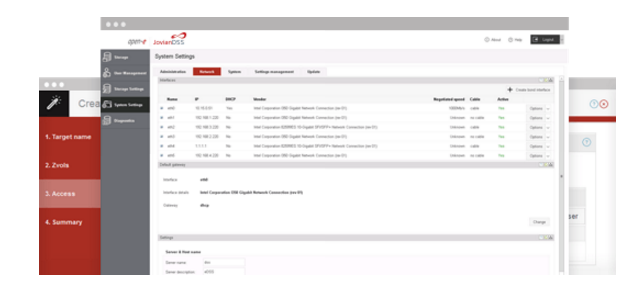 Open-E JovianDSS is a ZFS- and Linux-based Data Storage Software designed especially for enterprise-sized Software Defined Storage environments. With its unique features, the product ensures highest data reliability and integrity – for optimal data storage, protection and recovery. It addresses the needs of enterprise users seeking a unified NAS and SAN solution with thin provisioning, compression and deduplication.
Store your data
Open-E JovianDSS uses shared storage to provide unlimited options to architect HA storage environments. It is the answer to almost any storage requirement, either as a single node, a virtualized HA setup or a Big Data cluster environment. Benefit from a full-service, Software Defined Storage package which you can customize according to your needs.
Protect your data
Off-site Data Protection is a new feature of Open-E JovianDSS that provides a strategy for Backup, Archiving and Disaster Recovery by enabling asynchronous replication to local sites or co-locations. This way, servers with crucial data can be easily and instantly restored in case of an unexpected disaster. The functionality now allows to create consistent snapshots and to asynchronously replicate snapshot deltas to local or remote destinations. Additionally, replication tasks can be scheduled according to the specific user requirements for secure archiving. Encryption enhances security even further while buffered data replication significantly increases the efficiency of storage environments with Open-E JovianDSS. The functionality can be managed via the Command Line Interface (CLI) in Open-E JovianDSS. The software now also includes VMware vSphere Storage APIs - Array Integration (VAAI) for iSCSI data acceleration.
Recover your data
Off-site Data Protection effectively prevents data loss and minimizes the recovery time with high-speed Disaster Recovery, lowering the Recovery Point Objective (RPO) and Recovery Time Objective (RTO) in every backup strategy. It allows setting up an application-consistent backup with a retention interval as a Disaster Recovery plan for virtual environments based on VMware. The software does not require the installation of any backup agent. This way, servers with crucial data can be easily and instantly restored in case of an unexpected disaster.
Features & benefits
Open-E JovianDSS utilizes all features provided by the ZFS technology to the fullest. Its functionalities ensure a streamlined management with pools instead of single volumes, as well as consistent data protection and integrity.
Open-E JovianDSS key features
ZFS File System
128-bit ZFS file system - The most scalable and flexible 128-bit file system.
Unlimited file size - Most legacy solutions limit the file sizes, in ZFS there is no reachable limit.
Unlimited scalability - Easy and intuitive storage extensions enable unlimited storage capacity.
Unlimited Compatibility - The Linux architecture provides Open-E JovianDSS with much better compatibility than competing products based on other operating systems.
Warranted data integrity - Self-healing check-sums, atomic writes and transactional copy-on-write I/O operations eliminate silent data corruption and 'write-holes'.
Data Management
Data Migration Tool - to easily transfer from Open-E DSS V7 and other storage software.
Disk Multipathing support - for higher fault tolerance, Data Integrity and performance.
Software RAID support - for bootable mediums for improved High Availability and security.
System management via RESTful API - for more flexibility.
VMware Auto Storage Rescan - for an automatic scan after planned or unplanned reboots.
maxView Storage Manager - for a simplified monitoring, an easy maintenance process, and configuration of storage controllers in systems built on Microsemi Adaptec HBA or RAID adapters.
Support for SMB/CIFS protocol (SMB ver. 3.02) - Protocol for Windows environments which includes fully compatible Access Control Lists (ACL) and ADS (Active Directory Service) authentication. Enables direct access to previous file versions with snapshots and is compatible with the Open-E JovianDSS failover feature.
Off-site Data Protection - Enables asynchronous replication to local sites or co-locations with consistent snapshots, secure archiving, encryption and buffering.
High Availability Load-balanced Cluster for SMB, NFS and iSCSI - Provides highest data security with failover functionality.
HA cluster management software - Enables quick and easy management of all cluster functionalities.
Independent VIP (Virtual IP Addresses) feature - Guarantees no downtime during maintenance.
Open-E JovianDSS WebGUI - Open-E is a specialist at creating intuitive and practical WebGUIs for ease-of-use and saving of time.
Native compression & data deduplication - Compression and inline data deduplication drastically reduce physical disk usage.
Disk redundancy - Mirrors and RAID arrays with up to 3 parity disks ensure data safety and uptime.
Tiered cache - RAM and SSD cache tier hot data between each other to increase performance.
Hybrid storage pools - Utilize the I/O performance of SSDs and high capacity of HDDs in a single system.
Unlimited snapshots & clones - In most legacy solutions, the limit for snapshots is set to 255. Open-E JovianDSS allows unlimited snapshots and auto-snapshots that can be remotely activated via CLI and enable easy cloning, versioning and backup.
Storage & service reports - Generate automatic and periodic reports to manage the performance of the system and integrate it into SNMP based management solutions.
Thin provisioning - Virtually simulates a bigger volume than is physically available, and allows growing it on the fly without the need to re-format the file-system.
General
Storage operating system - Includes latest stable packages for higher storage security.
Open-E JovianDSS OS - built on Linux and ZFS on Linux which offers superior stability and performance.
1 year of support - included with each new product license.
Easy-to-use WebGUI - for quick and simple storage management and administration.
Products comparison
Business type

Large, Medium & Small Enterprises
Small & Medium Business
Data Centers
Public and private cloud providers
MSPs

Small & Medium Business
Private cloud providers
MSPs
Description

ZFS based storage operating system: It is the answer to almost any storage requirement, either as a single node, a virtualized HA setup or a Big Data cluster environment.

Thin provisioning, tiered caching and deduplication make this a solution for high demand enterprise solutions.

XFS based unified storage operating system: It helps both small and medium businesses to implement high performing, yet cost-effective and robust data storage solutions.

iSCSI and NAS unified in one flexible software solution. The iSCSI active-active failover adds extra performance for demanding installations.

One year of support included.



Characteristics

Maximum storage

Unlimited

Unlimited
(recommended < 200TB)

Maximum volume size

Unlimited

64TB

Min. hardware requirements

4 CPU cores, 16GB RAM, HBA

4 CPU cores, 8GB RAM, H/W RAID adapter

Architecture

64-bit

64-bit

Storage model

Storage pools

Logical volumes

Cost
High availability capabilities

HA cluster architecture

Physical drives shared between nodes

Logical volumes replicated over Ethernet

Metro storage cluster

Yes
(SMB, NFS, iSCSI)

Yes
(NFS, iSCSI)

Shared storage cluster

Yes
(SMB, NFS, iSCSI)

No

Independent Virtual IPs for HA Cluster

Yes

No

Max. clustered volume size

Unlimited

16TB

Max. clustered storage size

Unlimited

Unlimited

Persistent Reservation Synchronization

Yes

Yes

Node replacement with no cluster downtime

Yes

No
High availability architecture examples

Cluster in a Box (CiB)

Yes

N/A

Common Storage Cluster
over SAS

Yes

N/A

Cluster over SAS with
internal SAS expander

Yes

N/A

Cluster with multiple JBODs over SAS

Yes

N/A

Cluster with multiple JBODs over FC

Yes

N/A

Cluster with multiple
JBODs over SAS / FC
(with ATTO bridges)

Yes

N/A

Cluster over Ethernet

Yes

Yes
Protocols

iSCSI

Yes

Yes

NAS (SMB/CIFS, FTP, Secure FTP, HTTP, Apple Talk, NFS v2, v3)

NFS, SMB/CIFS

Yes

Fibre Channel

No

Yes

IP over Infiniband (connector mode)

Yes

Yes
Enterprise-grade features

Off-site Data Protection

Yes
Read more »

No

VAAI

Yes

No

Caching

Native, tiered RAM and SSD

Hardware support

Thin Provisioning

Yes

No

Over Provisioning

Yes

No

Deduplication

Yes

No

Compression

Yes

No

Snapshots

Unlimited

Up to 20

Clones

Unlimited

No

VSS Hardware Provider

Yes

No

Data & metadata check-summing

Yes

No

Atomic transaction writes

Yes

No

WORM (Write Once Read Many)

No

Yes

Online data checking and repairing (Scrub)

Yes

No

Storing multiple copies of user data

Yes

No

iSCSI and NFS restricted connections

Yes

Yes

Storage live expansion without downtime

Yes

Yes

SNMP

Yes

Yes
Certifications

VMware certification

VMware Ready V5.5, V6.0, V6.5

VMware Ready V5.5, V6.0, V6.5

Citrix certification

In progress

Citrix Ready

Hyper-V certification

Tested and confirmed

Tested and confirmed