AirDrive - Your Smartphone as a Disk Drive
Access Android phone contents from Windows Explorer
Automatic PC-Phone instant pairing through Wi-Fi
Manage phone pictures and music files with ease
Quick Start Guide
1. Install AirDrive to your Android phone
First search for AirDrive in the Google Play Store or click here to open PlayStore. Click install and then press accept. Once it is installed, open it.
There will be a popup allowing you to change your device name so you can recognise it more easily on your computer.
2. Install NetDrive to your Windows PC
3. Initial one-time pairing
Once AirDrive and Netdrive are installed, you should see a popup on your phone requesting access from your computer. Press allow and wait a few seconds for the connection to complete. You should then see a green dot next to the computer.
Once connected, a window will pop up on your computer giving you access to all your phone files.
4. Access your smartphone from your Windows PC
To make it easier to access your phone storage, your phone will show up in both Windows Explorer and in NetDrive.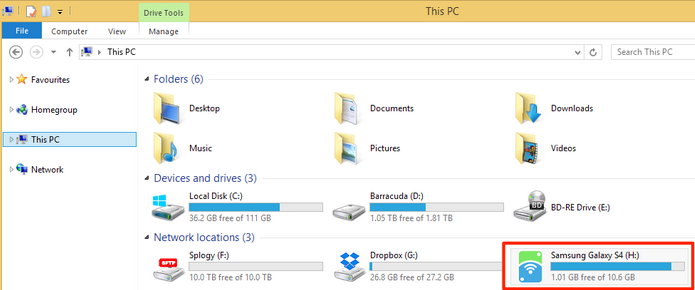 To access all your phones files, enter the [Internal] folder or the [External SD] folder if your phone has an SD card.
If you want to quickly copy audio, images, or videos, your phone creates a virtual folder which contains all the respective media. Note that you can only view and copy files from these folders, and not upload, if you want to upload files you have to browse your phone's storage.
If you want to upload files to your phone, such as music, simply copy the songs into [Internal] or [External SD] and they will be available to use on your phone.