Simple, neat, yet powerful, safe and fast. The best file renamer for multiple files and folders (MP3, EXIF files).

Simple, neat, yet powerful, safe and fast. The best file renamer for multiple files and folders (MP3, EXIF files).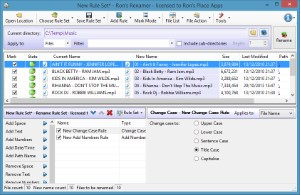 Rons Renamer is a tool for renaming many files in one go, using rules like search and replace. Batches of files can be 10's to 1000's, and span multiple directories, with an unlimited number of rules that can be combined to achieve almost any result.
Rons Renamer has been designed from concept to execution to be simple and fast to use, without compromising on power; in short to make a difficult job as easy as possible.
Ideal for renaming collections of photographs or music, or even a general tidy up of your documents!
Testimonials
"Thank you for your truly excellent software. I could do without the license but it is not right for us to use a software that is invaluable to us, and not pay for it. Once again thank you...."
Dionisis
"Ron's Renamer is the simplest and most effective tool I have found in years. It simply does exactly what I want it to do in an intuitive and user focused way. It has the capacity to do all the quirky things I need it to do. I love it. Thank you for saving me a mind-numbing 40+ hours of tedium!"
Paul Mannering
"I found this utility very useful, as I had to remove the version numbering from 292 document filenames. Thank you."
Annie
Powerful
Any number of rules can be combined in any order to satisfy almost all renaming needs. Complex rule sets can be saved to give instant access to frequently used renaming tasks.
Easy
With two or three clicks files can be renamed: drag a folder onto the main window, choose files or folders, add some rules and click rename. Job done!
Safe
With instant visual feedback of what will be renamed, and full rollback after files have been renamed it could not be safer to use.
Fast
Tested with tens of thousands of files, and designed for easy operation the job will be done in no time.
Features
15 EASY TO USE RENAMING RULES
Add Space

Add Text

Add Numbers

Add Date/Time

Add Path Name

Remove Space

Remove Text

Remove Numbers

Add Music Tag

Add Image Tag

Change Case

Replace Date/Time

Replace Text

Replace Numbers

Split Name
Combine any number of rules
Any number of rules can be combined into rule sets and saved allowing total flexibility and fast operation.
Saved rule sets are listed on the toolbar for quick retrieval.
Use the files tags in its new name.
Instant preview of the new file names - know what the application will do before any files are renamed.
Conflict check and illegal file name fixing built in.
Instant visual display of each file's state making it easy to see what will be renamed and if conflicts will arise.
Any rule set can be exported as a complete script for later automation.
Rollback option after rename for that final check.
Support for filename up to 32,000 characters.