CubexSoft OLM to PDF Converter
OLM to PDF Tool to Export Mac Outlook OLM Files to Adobe PDF File Format Along with Attachments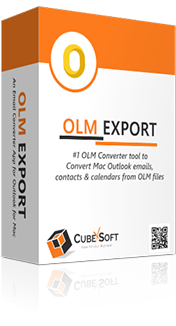 Effortlessly OLM to PDF Converter - Highlights
Export multiple Mac Outlook OLM Files to PDF with attachments
Transfer inaccessible OLM data to PDF in an exact form
Preserves email components during OLM to PDF conversion
Offers multiple file naming options to save OLM as PDF
Installation of Outlook application is not required
Facility to select desired destination path to save resultant data
Tested application, no limitation of file size exists
Supports all editions of Adobe Reader without an error
Operable easily on all earlier and latest Windows OS versions

Keeps Email Metadata like Read / Unread Status & Message Dates

Supports to convert both Outlook 2011 & 2016 versions of Mac OLM file
Features & Benefits of OLM to PDF Converter
Batch Convert & Copy OLM Files to PDF Adobe Format

Migrate OLM Files to PDF in a Bulk
The OLM to PDF is a complete and precise solution which is fully capable to migrate several Mac Outlook OLM files to PDF Adobe format at one time. Simply collect all the individual OLM files, keep in a folder and directly add the same on the software for batch migration into PDF without wasting any time and efforts.
Dual Modes to Print & Save OLM as PDF
OLM to PDF software is equipped with two conversion modes to add OLM files i.e. Add File and Add Folder. By clicking the Add File option, the tool allows to load only the required files and convert into PDF. Whereas Add Folder enables to load complete OLM folder and move all the contained OLM files into PDF with attachments.

Offers Multiple File Naming Options
The application comes with the property to export OLM files to PDF by applying a suitable file naming option. The options are helpful to keep resultant PDF document in different required styles i.e. original file name, subject+date+from, date+subject+from, from+date+subject, auto increment etc.

Print OLM to PDF with all Components
The OLM to PDF Converter has the capability to maintain email components during the conversion of OLM files to PDF. After successful process completion, the software maintains all the email attributes and other properties like attachments, send/receive information, subject, emails, emails folder, internet header etc.

Advance Options for Saving PDF Files
When a user chooses PDF as a saving format, the software will display more advance sub-options to export Mac OLM Outlook files into PDF in a more precise way. Once PDF has been clicked, two options will appear, choose as per need:
Save separate PDF Files for each emails
Save all emails in a single PDF

Multiple Options to Save Attachments
OLM to PDF Tool is all-in-one solution which delivers powerful options to print OLM files into PDF with attachments. Users can choose the options accordingly and continue with the conversion process:
Embeds Attachments in PDF
Save Attachments in Separate Folder
System Specifications
Hard Disk Space: 50 MB of free hard disk space
RAM: Minimum 512 MB is required
Processor: Intel® Pentium 1 GHz processor(x86, x64) or equivalent
Supported Editions: Win 10 & All Below Windows Versions
Frequently Asked Questions
Commonly Asked User's Questions and Answers regarding OLM to PDF Tool
Can I copy multiple OLM files into PDF format?
Yes, by selecting the Add Folder option you can convert several OLM files to PDF with accurate attachments in a single time.
Are there any limitations related to the file size for conversion into PDF format?
No, there are no file size limitations. OLM to PDF Converter has the capability of migrating unlimited OLM files into PDF without giving any data loss trouble.
How will I know the location of the resultant files?
The OLM to PDF Tool provides the option which allows to select the required destination path and save the converted data. During the option selection, click on Browse, a window will appear asking to choose the existing folder or allows to Make New Folder to save PDF file.
Can I use the software on Mac OS X and convert my files?
No, the software is completely a Windows based application. If you download it on Mac OS X then an error will occur. And if you are using Windows, then there is no issue, it is flexible to use and supports all versions of Windows OS.
Client Reviews
"I am very impressed with the CubexSoft OLM to PDF software because it permits to move batch OLM files to PDF in a single time process. I have access this application for exporting email messages from OLM folder to PDF because I need to print them with accurate details. It saved my lot of time and finished the task with 100% accuracy."
Stewart | Sweden
"Greatly recommended program to save OLM email files into Adobe PDF format. It takes very less time to migrate OLM to PDF format after accomplish the conversion process, users can simply print and open exported PDF files with Adobe Reader software. The GUI of this conversion software is very simple and attractive, so it can be smartly run by every type of user."
Claire | San Francisc