EaseUS MS SQL Recovery Superior database repair software for the enterprise environment. Repair corrupt MDF NDF SQL ser...
EaseUS MS SQL Recovery
Superior database repair software for the enterprise environment. Repair corrupt MDF & NDF SQL server database and resolve all types of SQL database repair problems.
Features
Proficient Recovery Solution for MS SQL Recovery
It can recover database components (tables, triggers, indexes, keys, rules&stored procedures) as well as deleted records from SQL database. It supports MS SQL Server 2017, 2016, 2014, 2012, 2008 and older versions.
Restore (.mdf and.ndf) Files
When a database becomes corrupt, usually both the primary data file (.mdf) and the secondary data files (.ndf) are affected. The software capably scans for, identifies, and repairs corrupt data files leaving you with a fully-functional database.
Fix Database Log Files
A corrupted transaction log file (.ldf) can result in many database errors. EaseUS MS SQL Recovery automatically fixes a corrupt log file while it repairs the rest of the database. The repaired transaction log is then placed in the save location along with the other recoveries.
Recover Corrupted Objects
Database corruption can arise for a variety of reasons, on both the micro or macro scales. Recovery of all corrupted or lost database objects is supported: tables, indexes, triggers, keys, views, stored procedures, functions, and more.

Restore Deleted Data
In addition to repairing corrupt files, EaseUS MS SQL Recovery is also capable of locating and restoring deleted data and records. The recovered deleted data can optionally be saved separately from the repaired files for better organization.

Multiple Saving Options (4 formats + Live or New)
A repaired SQL database can be saved in a new database or in the live database, providing you with flexibility. Repaired SQL databases can be saved in one of four different formats—MSSQL, CSV, XLS, or HTML.
Additional Features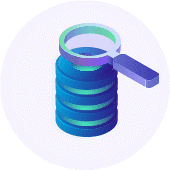 Search Feature
After EaseUS MS SQL Recovery scans the entire database, it will list all of the repairable and recoverable items. You can keyword search for the exact items you need, which greatly improves browsing efficiency.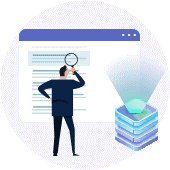 Preview Database Items
All items in the scan results can be previewed before you restore them. This allows you to check the quality of the recovery and to verify that the items you select to restore are indeed the intended files.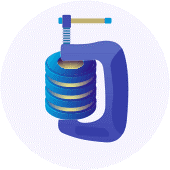 Compressed Data Recovery
Data compression is important for ever-growing databases. EaseUS MS SQL Recovery restores SQL tables with PAGE and ROW compression in their original format.
Automatic Reconnection
If connection to the SQL database is interrupted for any reason during the repair process, the repair will simply pause. The software will reconnect automatically and resume right where it left off without issue.
Tech Specification
Operating System
Windows 10 (32bit/64bit) / Windows 8.1 (32bit/64bit) / 8 (32bit/64bit) / Windows 7 (32bit/64bit) / Windows Vista (32bit/64bit)
MS SQL Server 2017, 2016, 2014, 2012, 2008 and older versions
Installation & Usage
Can use the software on 3 systems at single location
Hardware Requirments
Hard Disk: 50 MB of Free Space
Memory: 1 GB Minimum
Processor: Pentium Class
Language Supported
English
User Guide-How to Recover MS SQL Database?
Step 1: Select the corrupt database for recovery
Select corrupt database file using 'Select Database', 'Search in Folder' or 'Find' options.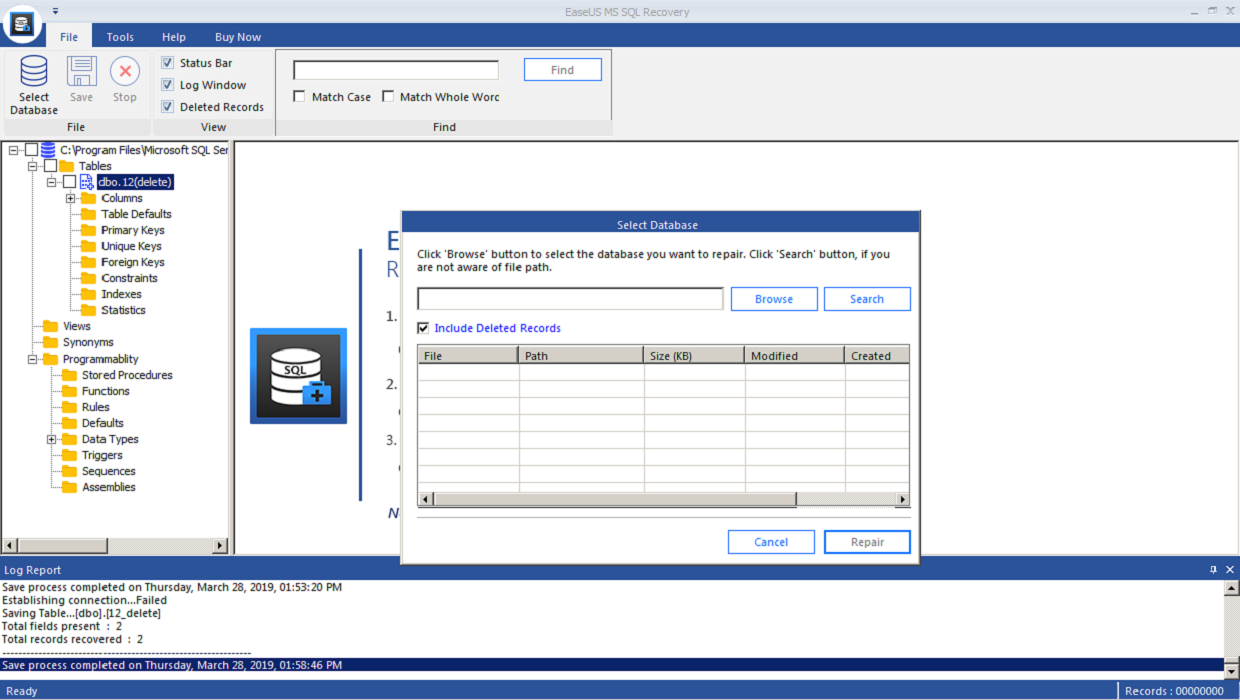 Step2: Repair the corrupt database
After selecting the file, click on the 'Repair' button to start the repairing process.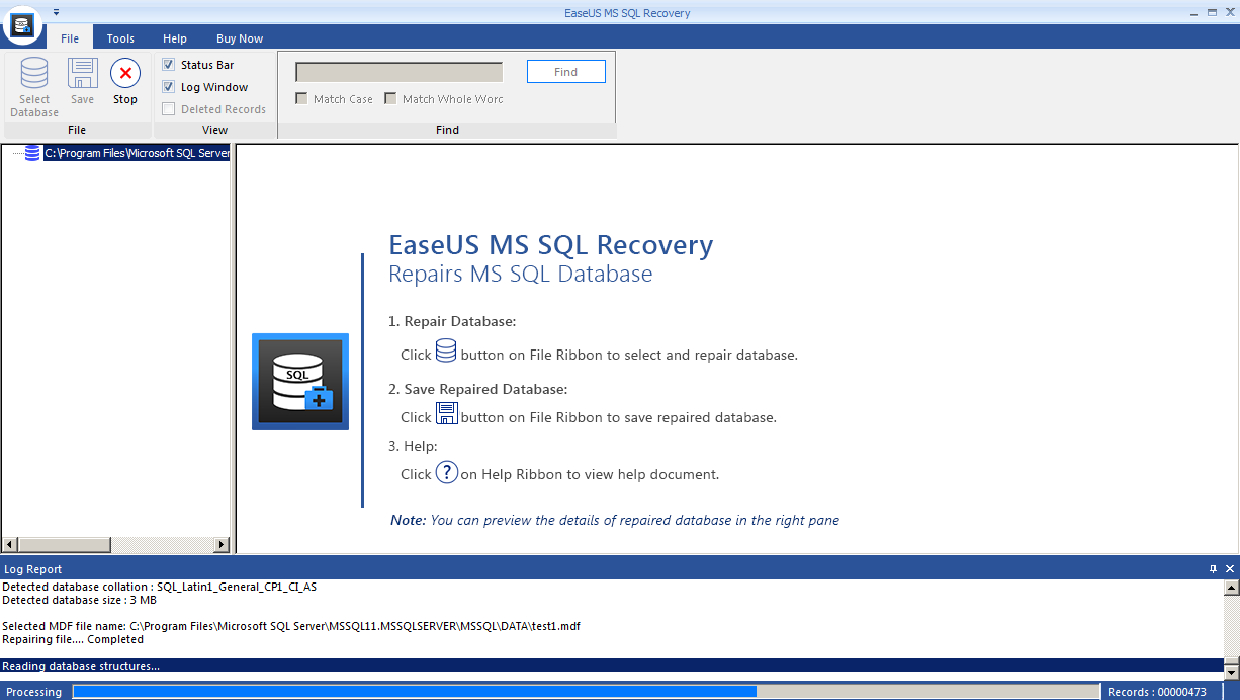 step3: Preview and save the repaired database
Preview the repaired database first. Click on the 'Save' to save the repaired database.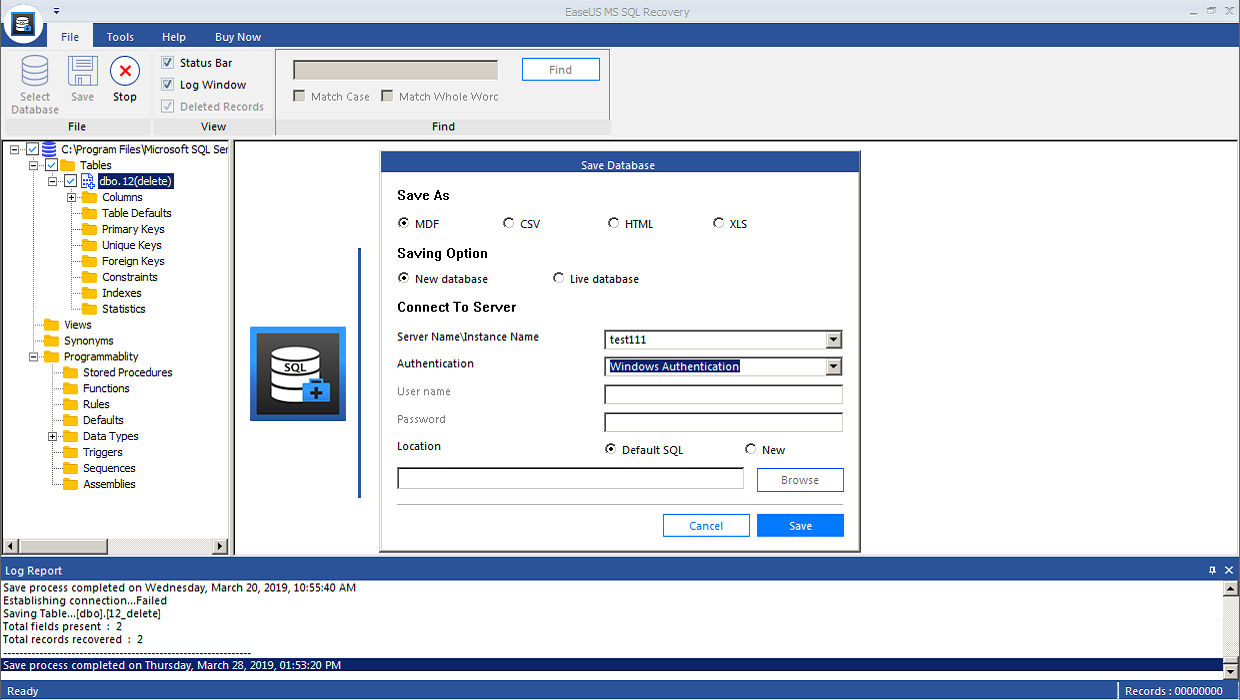 Users' Review
Peter Smerdon
When I had a problem their support was first class even though it took a couple of hours to resolve the issue there was never any pressure to end the chat. Proper support!!
PCCO GROUP
The support / after service was superb. They will assist you on any problems about your product till success.